The updated PTO World Rankings have been released after weekend races in Australia, Poland and America.
There were minimal changes to the top-20 positions – men and women – but two notable exceptions were Braden Currie and Matt Hanson.
IRONMAN World Championship third Currie's fine form continued with a runner-up spot at IRONMAN Cairns.
While Hanson's victory at IRONMAN North American Championship Des Moines vaulted him up from 19th to eighth which means he also overtakes Sam Long as becomes the top-ranked American male as the countdown continues to the Collins Cup.
In the women's the one upward move into the top 20 was Tamara Jewett (18th from 24th) following her second place behind Sarah True at IRONMAN 70.3 Eagleman.
How do the PTO Rankings work?
This is not just about kudos – the athletes are fighting it out for a bonus pool worth a cool $2million in the 'Race For The Rankings'. This will be dished out based on rankings at the end of 2022.
Each athlete has a points total which is an average of their three best races during the ranking period.
Without becoming too technical and explaining the algorithm in detail, an athlete's score for a single race is based around their time – and not finishing position. The base is 100 points and the variance below or above depends on their time compared to what the PTO calls the 'Ideal Time' for that specific race.
As for which races are points-eligible, within reason it brings in any non-drafting race which has at least a minimum professional prize pool and is greater than Olympic distance.
Current PTO Rankings – Men
The leading men – as of June 13, 2022 – are as follows:
1. Kristian Blummenfelt (NOR) 111.39
2. Gustav Iden (NOR) 109.62
3. Lionel Sanders (CAN) 107.62
4. Braden Currie (NZL) 104.07
4. Daniel Bækkegård (DEN) 103.73
6. Jan Frodeno (GER) 102.82
7. Florian Angert (GER) 101.93
8. Matt Hanson (USA) 99.72
9. Sam Long (USA) 99.62
10. Patrick Lange (GER) 99.26
11. Magnus Ditlev (DEN) 99.25
12. Leon Chevalier (FRA) 97.05
13. Joe Skipper (GBR) 96.88
14. Chris Leiferman (USA) 95.82
15. Jackson Laundry (CAN) 95.75
16. Ben Kanute (USA) 95.50
17. Sam Laidlow (FRA) 95.14
18. Rudy Von Berg (USA) 94.95
19. Ben Hoffman (USA) 94.69
20. Kristian Hogenhaug (DEN) 94:07
Current PTO Rankings – Women
The leading women – as of June 13, 2022 – are as follows:
1. Daniela Ryf (SUI) 120.68
2. Laura Philipp (GER) 117.21
3. Anne Haug (GER) 113.63
4. Kat Matthews (GBR) 111.22
5. Lucy Charles-Barclay (GBR) 107.65
6. Taylor Knibb (USA) 106.26
7. Skye Moench (USA) 105.50
8. Emma Pallant-Browne (GBR) 102.08
9. Jeanni Metzler (RSA) 101.23
10. Paula Findlay (CAN) 99.65
11. Jackie Hering (USA) 96.17
12. Holly Lawrence (GBR) 95.68
13. Lisa Norden (SWE) 94.57
14. Nicola Spirig (SUI) 94.40
15. Heather Jackson (USA) 93.15
16. Ruth Astle (GBR) 91.84
17. Chelsea Sodaro (USA) 91.47
18. Tamara Jewett (CAN) 91.08
19. Jocelyn McCauley (USA) 90.82
20. Sara Perez Sala (ESP) 90.60
PTO 2022 Race For The Rankings
Like we said, the PTO will dish out $2million at the end of the year based on the final rankings positions of pro athletes.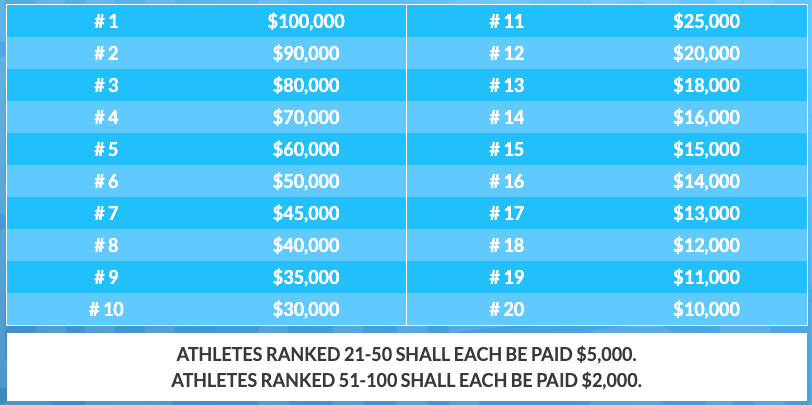 Final PTO Rankings for 2021
The final rankings for 2021 saw Charles-Barclay and Iden top their respective lists, both claiming a bumper $100k bonus in the process.
You can check out the final 2021 PTO Rankings by clicking here.