It's just the men's standings in the revamped PTO World Rankings which have changed after the latest action.
For IRONMAN Hamburg, which was completely overshadowed by the horrific collision which left a motorcycle operator dead and an age-group athlete in hospital, was men-only for the professionals – with the women's European Championship taking place at IRONMAN Frankfurt at the start of July.
Frodeno working his way back
And it will come as no surprise to see the three men who were on the subdued podium all move significantly up the rankings.
Runner-up Pieter Heemeryck is just a whisker away from the top 10 now after jumping six places to #11, winner Denis Chevrot – who was defending his European crown – is up nine at #16 and third-placed Kristian Høgenhaug leaps from #29 to #19.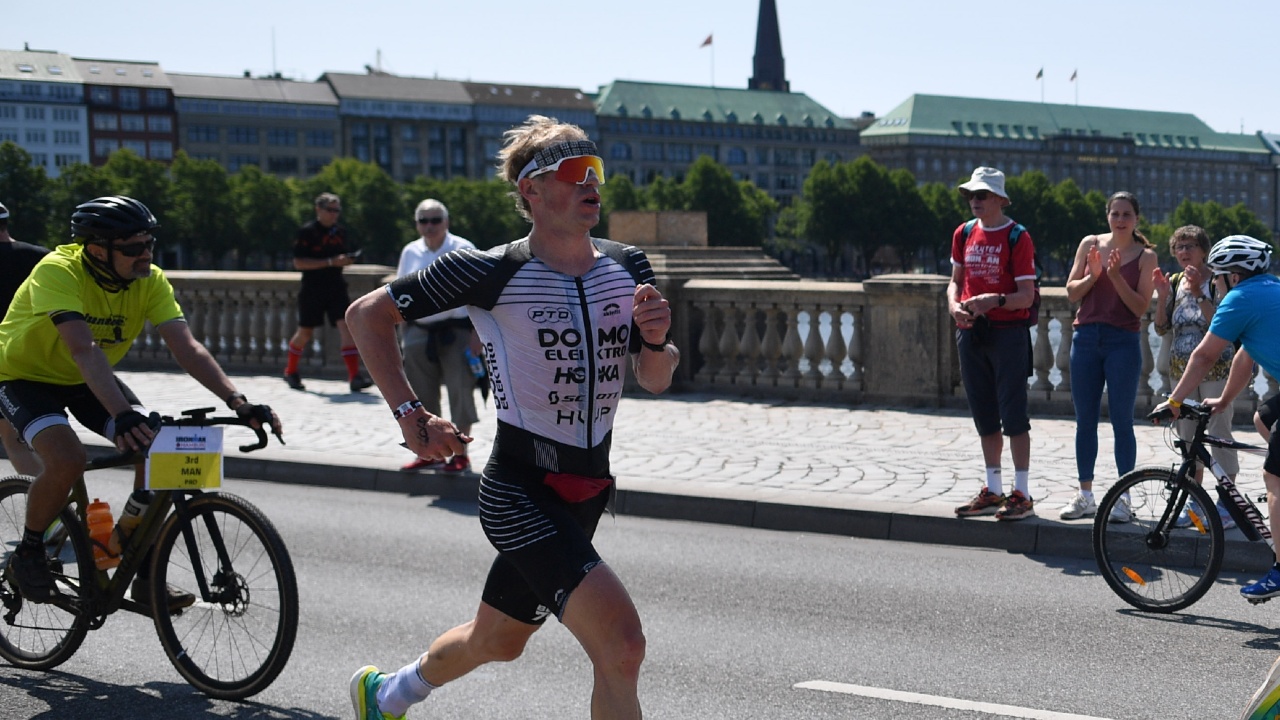 Three-time Kona winner Jan Frodeno was fourth but as this was only his second event to count for ranking purposes over the last 12 months, he remains down in 152nd place.
But another tally around the 92.66 points he earned for another fourth place in his comeback race at the PTO European Open will take him well inside the top 10. Next up on his schedule is the PTO US Open in Milwaukee on August 6.
How do the PTO Rankings work?
This is not just about kudos – the top 50 athletes are fighting it out for a bonus pool worth a cool $2million in the 'Race For The Rankings'. This will be dished out based on rankings at the end of 2023.
Each athlete has a points total which is an average of their three best races during the ranking period and all aspects of the process are covered here.
Current PTO Rankings – Men
The leading men – as of June 5, 2023 – are as follows:
1. Kristian Blummenfelt (NOR) 96.15
2. Gustav Iden (NOR) 95.83
3. Magnus Ditlev (DEN) 93.42
4. Max Neumann (AUS) 92.72
5. Sam Laidlow (FRA) 92.11
6. Sam Long (USA) 91.68
7. Leon Chevalier (FRA) 88.54
8. Aaron Royle (AUS) 88.14
9. Daniel Bækkegård (DEN) 88.03
10. Ben Kanute (USA) 87.78
11. Pieter Heemeryck (BEL) 87.68
12. Frederick Funk (GER) 87.49
13. Patrick Lange (GER) 86.94
14. Lionel Sanders (CAN) 86.48
15. Florian Angert (GER) 86.42
16. Denis Chevrot (FRA) 86.06
17. Jason West (USA) 85.83
18. Clement Mignon (FRA) 85.81
19. Kristian Høgenhaug (DEN) 85.06
20. Joe Skipper (GBR) 84.69
Current PTO Rankings – Women
The leading women – as of June 5, 2023 – are as follows:
1. Ashleigh Gentle (AUS) 95.99
2. Lucy Charles-Barclay (GBR) 94.02
3. Anne Haug (GER) 94.00
4. Paula Findlay (CAN) 91.98
5. Chelsea Sodaro (USA) 90.50
6. Laura Philipp (GER) 89.71
7. Emma Pallant-Browne (GBR) 89.29
8. Holly Lawrence (GBR) 87.97
9. Tamara Jewett (CAN) 87.48
10. Daniela Ryf (SUI) 86.98
11. Flora Duffy (BER) 85.40
12. Fenella Langridge (GBR) 85.36
13. India Lee (GBR) 85.14
14. Kat Matthews (GBR) 85.06
15. Lisa Norden (SWE) 84.91
16. Skye Moench (USA) 84.06
17. Jocelyn McCauley (USA) 83.85
18. Julie Derron (SUI) 83.63
19. Marjolaine Pierre (FRA) 83.52
20. Sara Perez Sala (ESP) 82.23
Final PTO Rankings for 2020
2020 was the first year that PTO implemented their Year End Annual Bonus Programme, to be based upon the PTO Rankings, eligible for the top-100 ranked athletes. Initially set at $2million, the impact of the COVID pandemic saw that paid out early – and with the total topped up to $2.5million.
That first year saw Jan Frodeno and Daniela Ryf top the pandemic-impacted rankings – Men | Women.
Final PTO Rankings for 2021
The final rankings for 2021 saw Lucy Charles-Barclay and Gustav Iden top their respective lists, both claiming a bumper $100k bonus in the process.
You can check out the final 2021 PTO Rankings by clicking here.
Final PTO Rankings for 2022
While Gustav Iden (second) and Lucy Charles-Barclays (fifth) still featured strongly in the 2022 points roundup – winning $90k and 60k, respectively – it was Kristian Blummenfelt and Anne Haug that took the tops spots and $100k bonuses.
You can check out the final 2022 PTO Rankings by clicking here.