The pro field for the 2023 Challenge Wanaka is beginning to come together as triathletes from around the world head to one of the world's most scenic events on February 18.
The New Zealand half-distance race is filled with a number of high-profile Australian and New Zealand competitors but they'll be joined by a handful of outsiders who will look to put up impressive performance amidst the stunning backdrop of New Zealand's Southern Alps and the Te Wahipounamu World Heritage Area.
Moody and Phillips lead NZ men
New Zealanders Jack Moody and Mike Phillips will look to be the frontrunners in the Challenge Wanaka men's race in a rare home event, after the two finished third and second respectively at the recent Tauranga Half.
Moody finished third in Wanaka last time out (2021) behind Kyle Smith and this year's Tauranga Half winner Braden Currie, but the 29-year-old wants to climb up the podium this year.
"It will be maybe my fourth time racing in Wanaka after finally cracking the podium back in 2021," Moody explained, "I would love to go better."
"The updated course looks great and was definitely a big factor for enticing me back down."
That course will see athletes swim a lap in the sheltered Glendhu Bay on Lake Wanaka, before taking in two alpine lakes as the bike route winds around the edge of Lake Wanaka towards the Wanaka township. The final running stage takes place in two laps of the new trails of the Glendhu Mountain Bike Park.
It's a remarkable setting, and it keeps bringing athletes like Phillips back for more.
"I have competed in Challenge Wanaka over both the full and half distance in the past," Phillips said, "after racing all over the world it still remains one of my all time favourites, with such a spectacular course."
There's plenty of other New Zealand men also expected to compete; young Scott Harpham will take the field following his seventh-place finish at Tauranga, while Matt Kerr starts off with Wanaka as he emerges from Age Group racing to take on the elite circuit in 2023.
Kingsford eyes test
There's a number of New Zealand women who will also be looking to pick up podium spots in the Challenge Wanaka showcase, including Samantha Kingsford who finished fourth at Tauranga.
"I'm really excited to race this race and test myself against some of the best girls from this side of the world," Kingsford explained. "This race is appealing to me as the off road run hopefully will make feel more within my comfort zone coming from off road.
"Also who wouldn't want to race in the most beautiful part of New Zealand!"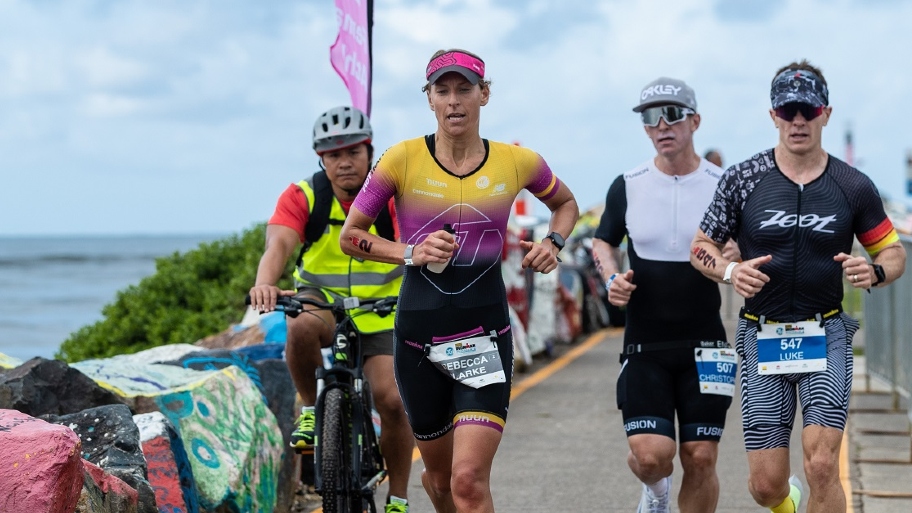 But Tauranga winner Rebecca Clarke will look to add the Wanaka title to her 2023 trophy cabinet in what will be her fourth time racing the event, having finished second in 2021.
"After racing all over the world it is still top of the list for me," she said of Wanaka, "I can't wait to be back racing this event."
Ambitious Aussies
As always, a number of Australians are making the short trip over to Wanaka to compete in one of the Southern Hemisphere's premier events.
Matt Burton, third in 2018 and second in 2019, will look to finally take the men's top spot.
"Wanaka showcases one of the most idyllic places for an event," he said, "The beauty of Wanaka even makes a bad day feel ok."
He'll face competition from fellow pro countrymen Caleb Noble, Kieran Storch and Fraser Walsh; Walsh claimed two top fives at the end of last year in two other Southern Hemisphere races, Melbourne 70.3 and Busselton Full, so will look to kick start his season well.
Leading the Aussie women's pack will be Grace Thek; #47 on the PTO rankings, with the qualified physiotherapist be competing at Wanaka for the first time.
"I have never raced in Wanaka or been to the south island of New Zealand," she said, "Challenge Wanaka is a bucket list race for me and I am really excited to be heading there to compete in such a beautiful part of the world.
"I have heard nothing but great things."
Courtney Gilfillan will also be competing for her first time, although that shouldn't be the case.
"I travelled to Wanaka in 2020 to compete falling in love instantly with the town and its surroundings," she explained, "but unfortunately my bike didn't arrive in time and was left in transit.
"I am yet to experience the race in full and I am really excited to be returning this year and kick starting my season."
Fearless foreigners
But it will not be just be Aussies and Kiwis descending upon Challenge Wanaka; the race's beauty attracts a whole host of Europeans, Americans and other athletes from across the globe who seek glory in a glorious location.
The highest profile is surely Sebastian Kienle. The German is on his self-proclaimed 'retirement tour', and what a career it has been; 2014 IRONMAN World Championship winner, a medallist in the full-distance event a further three times, a two-time winner and two-time runner up in the IRONMAN 70.3 World Championship, and the owner of a pantheon of other honours far too exhaustive to list, the German is surely one of the favourites for the men's title in Wanaka.
Els Visser will fancy her chances in the women's field, but for the Dutch triathlete there's far more to focus on than just the race. After a boat she was on sank whilst she was travelling Indonesia, she swam eight hours to safety alongside a woman from Nelson, who she will reunite with for the first time since the 2014 incident.
Another Dutch woman will also be competing; Lotte Wilms finished the 2022 season ranked 25th in the PTO rankings and will look to start off 2023 strongly.