The Tauranga Half at Mount Manganui, New Zealand is one of the longest standing events on the Kiwi triathlon calendar and home favourites Braden Currie and Rebecca Clarke defended their titles in style.
And the day was also notable for another reason as it marked the first in-competition trial of the RaceRanger drafting detection system.
Currie makes it four
The highlight in 2022 for Currie was his third place at the rescheduled 2021 IRONMAN World Championship in St George and he started 2023 in perfect fashion with a course record time of 3:37:47.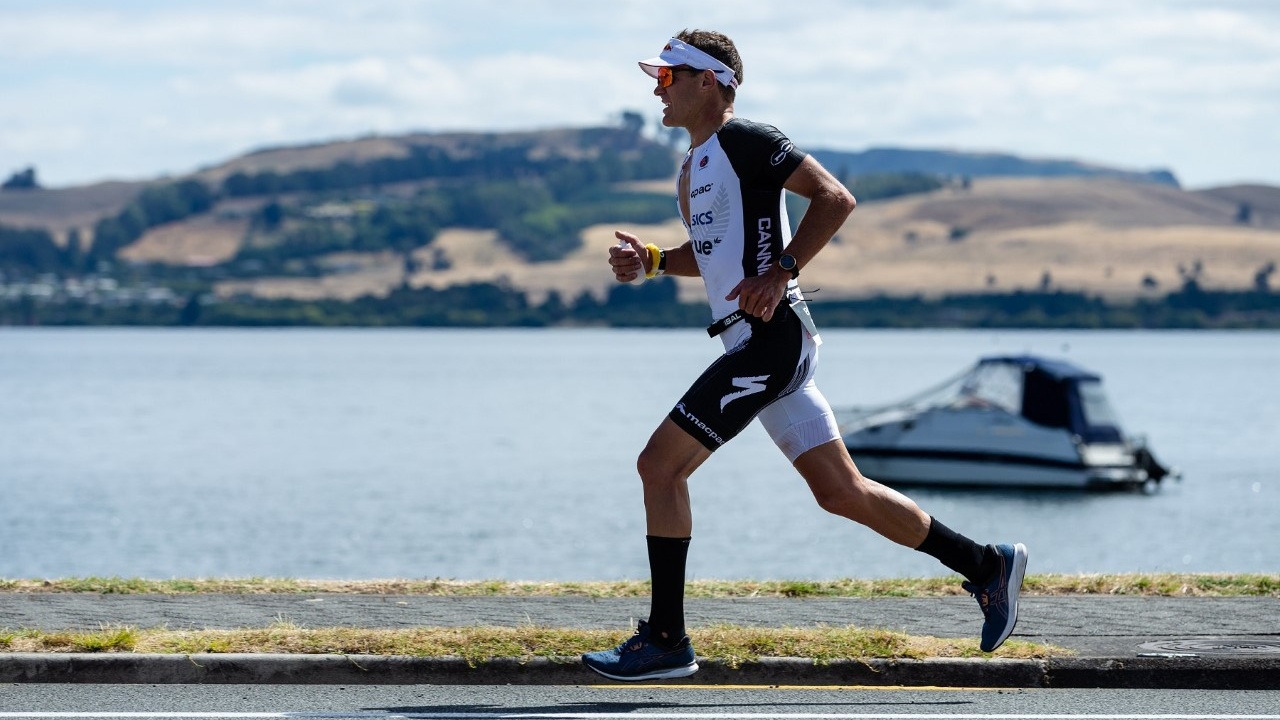 It was a wire-to-wire win too – he led out of the water from compatriots Sam Osborne and Mike Phillips before the latter closed the gap with a new best time on the bike course.
But Currie asserted again on the run with his best-of-the-day half marathon time of 1:13:40 on the two loops around the base track of Mount Manganui. Phillips claimed second and Jack Moody third.
It was a fourth title for Currie to add to his victories in 2016, 2017 and 2022, with his time improving the previous best of Kyle Smith by nearly two minutes, who he referenced when posting on Instagram afterwards: "Coach told me he wanted the course bike record and the course record today. @mikephillipsnz took the bike record but I managed to get the course record back from @kylesmithnzl.
"Missed Kyle out on the course this year though. It doesn't really count without having him on the start line. But then if the coach is happy, then we will call it a win!"
Clarke doubles up
Until last year Clarke had previously finished 6th / 5th / 3rd / 2nd / 3rd over the previous five editions in Tauranga.
But having broken her duck she wasted no time in adding a second title against a strong field.
Clarke led after the swim but 2016 and 2017 winner Amelia Watkinson powered from two minutes down to take the lead on the bike leg which she maintained to T2.
But it was on the run where Clarke made what proved the winning move, surging from third to overhaul Watkinson and another two-time winner in Hannah Berry. She put daylight between herself and the rest on the second lap to stop the clock in 4:07:48.
That was more than two minutes ahead of Watkinson, with Berry rounding out the podium.
Tauranga Half results, New Zealand – Saturday 21st January 2023
1.9km / 90km / 21.1km
MEN
1. Braden Currie (NZL) – 3:37:47
2. Mike Phillips (NZL) – 3:40:37
3. Jack Moody (NZL) – 3:42:25
4. Sam Osborne (NZL) – 3:46:39
5. Simon Cochrane (NZL) – 3:55:38
WOMEN
1. Rebecca Clarke (NZL) – 4:07:48
2. Amelia Watkinson – 4:10:12
3. Hannah Berry (NZL) – 4:10:45
4. Samantha Kingsford (NZL) – 4:26:08
5. Fiona Gallagher (IRL) – 4:31:31