With IRONMAN 70.3 Oceanside set for April 1, the final start list with bib numbers has been published, and the field is brimming with talent in what promises to be a stunning Pro Men's race.
Some of the biggest names in men's triathlon are set to descend on California to battle for the IRONMAN 70.3 Oceanside crown – with 2022 champion Jackson Laundry wearing the number one bib as he seeks to pick up a second successive title.
Pro Men racing at IRONMAN 70.3 Oceanside 2023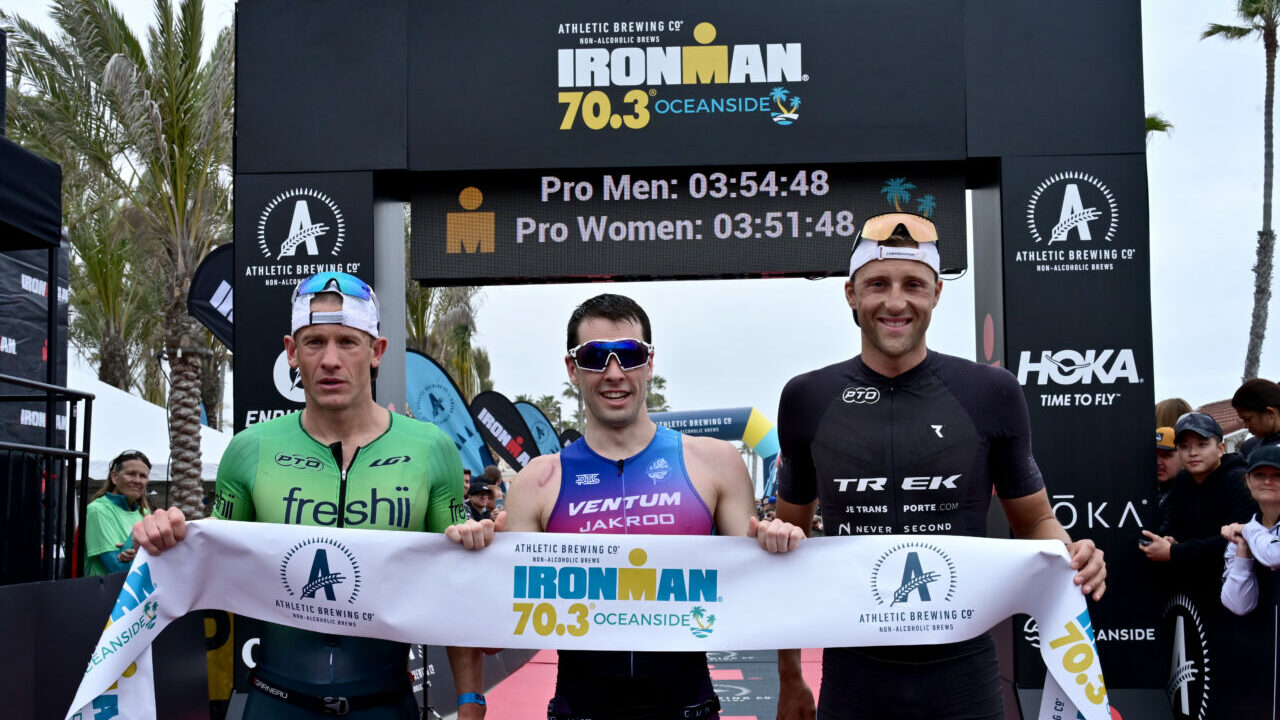 Potentially no fewer than 71 men will now dive into the water at Oceanside Harbour in California, though there have been two high-profile withdrawals with bib two Jan Frodeno being ruled out of his comeback event by flu while #4 Lionel Sanders also misses through sickness has been ruled out
But lining up against Laundry will be Americans Ben Kanute (3), Sam Long (5), Jason West (7), and Trevor Foley (9) who will want to win on home soil.
Miki Taagholt (5), Léo Bergère (8) and Sam Appleton (10) round out the first 10 bibs of a field truly packed with star names.
Start list and bib numbers – Pro Men
| | | | |
| --- | --- | --- | --- |
| BIB | FIRST | LAST | COUNTRY |
| 1 | Jackson | Laundry | CAN |
| 2  | Jan  | Frodeno  | GER |
| 3 | Ben | Kanute | USA |
| 4 | Lionel | Sanders | CAN |
| 5 | Miki | Taagholt | DEN |
| 6 | Sam | Long | USA |
| 7 | Jason | West | USA |
| 8 | Léo | Bergère | FRA |
| 9 | Trevor | Foley | USA |
| 10 | Sam | Appleton | AUS |
| 11 | Chris | Leiferman | USA |
| 12 | Bart | Aernouts | BEL |
| 13 | Andy | Potts | USA |
| 13 | Eric | Lagerstrom | USA |
| 14 | Luciano | Taccone | ARG |
| 15 | Rasmus | Svenningsson | SWE |
| 16 | Matt | Mcelroy | USA |
| 17 | Jason | Pohl | CAN |
| 18 | Klodian | Mitri | USA |
| 19 | Michael | Raelert | GER |
| 20 | Benjamin | Deal | USA |
| 21 | Andre | Lopes | BRA |
| 22 | Dylan | Gillespie | USA |
| 23 | George | Goodwin | GBR |
| 24 | Arnaud | Guilloux | FRA |
| 25 | Ivan | Tutukin | KAZ |
| 26 | Fraser | Walsh | AUS |
| 27 | Kevin | Portmann | FRA |
| 28 | Simon | Viain | FRA |
| 29 | Marty | Andrie | USA |
| 30 | Tomas | Rodriguez Hernandez | MEX |
| 31 | Patrick | Brady | USA |
| 32 | Travis | Wood | USA |
| 33 | Eduardo | Perez Sandi | MEX |
| 34 | Matthew | Schafer | USA |
| 35 | Ted | Treise | USA |
| 36 | Marek | Bialkowski | CAN |
| 37 | Tripp | Hipple | USA |
| 38 | Andy | Krueger | USA |
| 39 | Antoine | Francoeur | CAN |
| 40 | Nick | Cosman | CAN |
| 41 | Lukas | Siska | SVK |
| 42 | Christopher | Hammer | USA |
| 43 | Evan | Price | USA |
| 44 | Michael | Vulanich | USA |
| 45 | Jamie | Hayes | USA |
| 46 | Steven | Parker | USA |
| 47 | Brennen | Smith | CAN |
| 48 | Scott | Haeberle | USA |
| 49 | James | Lubinski | USA |
| 50 | Conor | Bollinger | USA |
| 51 | Branden | Scheel | USA |
| 52 | Justin | Riele | USA |
| 53 | Loren | Nelson | CAN |
| 54 | Benjamin | Ford | USA |
| 55 | Timothy | Winslow | USA |
| 56 | Yorlliry | Moreno | USA |
| 57 | Yegor | Martynenko | UKR |
| 58 | Malachi | Henry | USA |
| 59 | Erik | Peterson | USA |
| 60 | Benny | Smith | USA |
| 61 | Ben | Stern | USA |
| 62 | Vinicius | Canhedo | USA |
| 63 | Emmett | Gross | USA |
| 64 | Tom | Hutchison | USA |
| 65 | Fielding | Fischer | USA |
| 66 | Nicholas | Quenet | RSA |
| 67 | Hampus | Månsson | SWE |
| 68 | Nicholas | Scott | CAN |
| 69 | Isaac | Diaz | USA |
| 70 | Miguel | Mattox | USA |
| 71 | Jackson | Konkin | CAN |
| 72 | Kevin | Bishop | USA |
| 73 | Jan | Stepinski | USA |