What a finish on Saturday at the Athletic Brewing IRONMAN 70.3 Oceanside 2022 in California.
The entire top five in the men's race changed in the last 3km, with a seemingly in-control Alistair Brownlee going from race leader to missing out on the podium. We had a photo-finish for second place and the performance of his career to date from race winner Jackson Laundry. It was Canada's day.
Swim – Kanute leads the way
The start list was packed with strong swimmers – yet the opening 1.9km didn't do too much to split up the pre-race favourites with the lead athletes – perhaps – realising that the chances of breaking away were pretty limited.
Defending and two-time champion Ben Kanute led out of the water in 22:28, with double Olympic Champion Brownlee just a step or two behind, looking comfortable. There were just 10 seconds separating nine athletes, with Steve McKenna (AUS), Sam Appleton (AUS), Brennen Smith (CAN), Rudy Von Berg (USA), Eric Lagerstrom (USA), Jason West (USA) and David McNamee (GBR) completing that lead group.
Some of the big names a littler further back were Andreas Dreitz (GER) +1:33 (19th), Lionel Sanders (CAN) +1:57 (24th) and Bart Aernouts (BEL) + 3:12 (36th). The Belgian was going to be hard pushed to make an impact from there, but Dreitz and Sanders had started pretty much in line with previous form. They could be expected to quickly blast their way back towards the top 10 based on prior history.
Bike – And then there were five
An hour into the bike and no surprise, that large lead group was being thinned out. Kanute and Brownlee were regularly towards the head of affairs and pushing the pace, and nine was soon reduced to five – namely Brownlee, Appleton, Kanute, Von Berg and Laundry.
Making big moves from behind were Arnaud Guilloux (FRA) and Sanders, who were now into the top 10 but still losing a few seconds to the leading group over the first 40km.
The opening half of the ride was pretty quick in terms of terrain, but as the athletes moved towards Camp Pendleton, the Marine Corps Base, the roads started to rise. Brownlee hit the front and turned the screw a little more in his favourite environment. He was looking pretty comfortable on his new BMC Time Machine, and taking the opportunity to try and further split the field.
Typically one of the strongest and most aggressive riders on the circuit, Von Berg was rarely seen at the front, perhaps playing a smart tactical game in his first race of the 2022 season. We would find out in an hour's time if Rudy also had his running legs.
Despite the Brownlee pressure, the leading group of five all arrived at T2 in close order, just seven seconds separating Appleton (1st) and Von Berg (5th) at the dismount line. Guilloux and Sanders maintained position over the closing miles, reaching T2 just over two minutes down – but far from out of contention.
Run – Laundry surges to glory
Kanute was quick through transition while Brownlee wasn't, but 2km into the run, the pair – along with Von Berg – were all together at the front of the run. Laundry and Appleton were just a few seconds off the pace, with Sanders having put a few seconds into Guillaume, now 2:21 back on the leading trio.
Approaching the 10km mark and Brownlee started to make a move, opening up on some of the downhills and pulling clear of Von Berg, who now had Laundry completing the top three. A third straight Oceanside win for Kanute was now looking unlikely, almost a minute back in fourth, while Sanders was set to leapfrog Appleton and move into fifth. While 'No Limits' was running well, he was matching almost to the second the pace of Brownlee.
Brownlee continued to move well. His lead wasn't huge, but visually he was looking relaxed and very much in control with seemingly more cards to play if needed. Sanders was the fastest on the course 15km in, but was gaining less than two seconds per kilometre. While Kanute was in reach for the Canadian, the pace of Laundry and Von Berg was going to make even a podium slot for Lionel a challenge.
Into the last 5km and Laundry was pushing hard. He was not only looking to make second place secure, but seemingly set on challenging Brownlee for top spot. We saw how quickly Jackson closed out his race at the Collins Cup – could he take the highest profile win of his career here? Fifth at the Intermountain Healthcare IRONMAN 70.3 World Championship presented by Utah Sports Commission, the Canadian is a proven performer.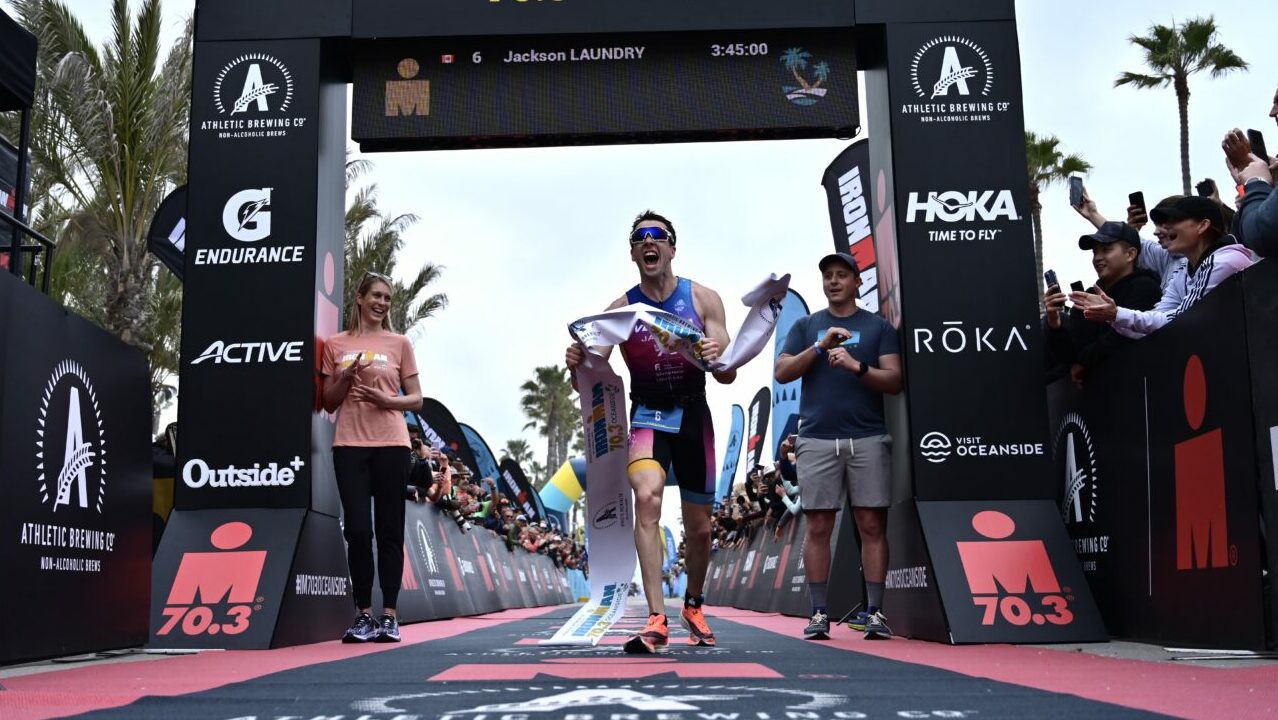 Laundry caught Brownlee and didn't look back – he surged straight past and the double Olympic champion had no response. A nine-second lead for Brownlee turned into a 38-second deficit inside a mile. What a turnaround, seemingly from nowhere.
Alistair was fading so badly that even a podium was suddenly not guaranteed. From nowhere, the race was exploding in the final 10 minutes.
Laundry took the title in some style, "executing like you would in your dreams, I can't believe it", while behind him Sanders and Von Berg blew past a fading Brownlee in sight of the finish line and sprinted shoulder-to-shoulder down the finish carpet. Crossing the line together, in the same time, it needed a photo finish to separate the pair with Sanders claiming second by five-hundredths of a second.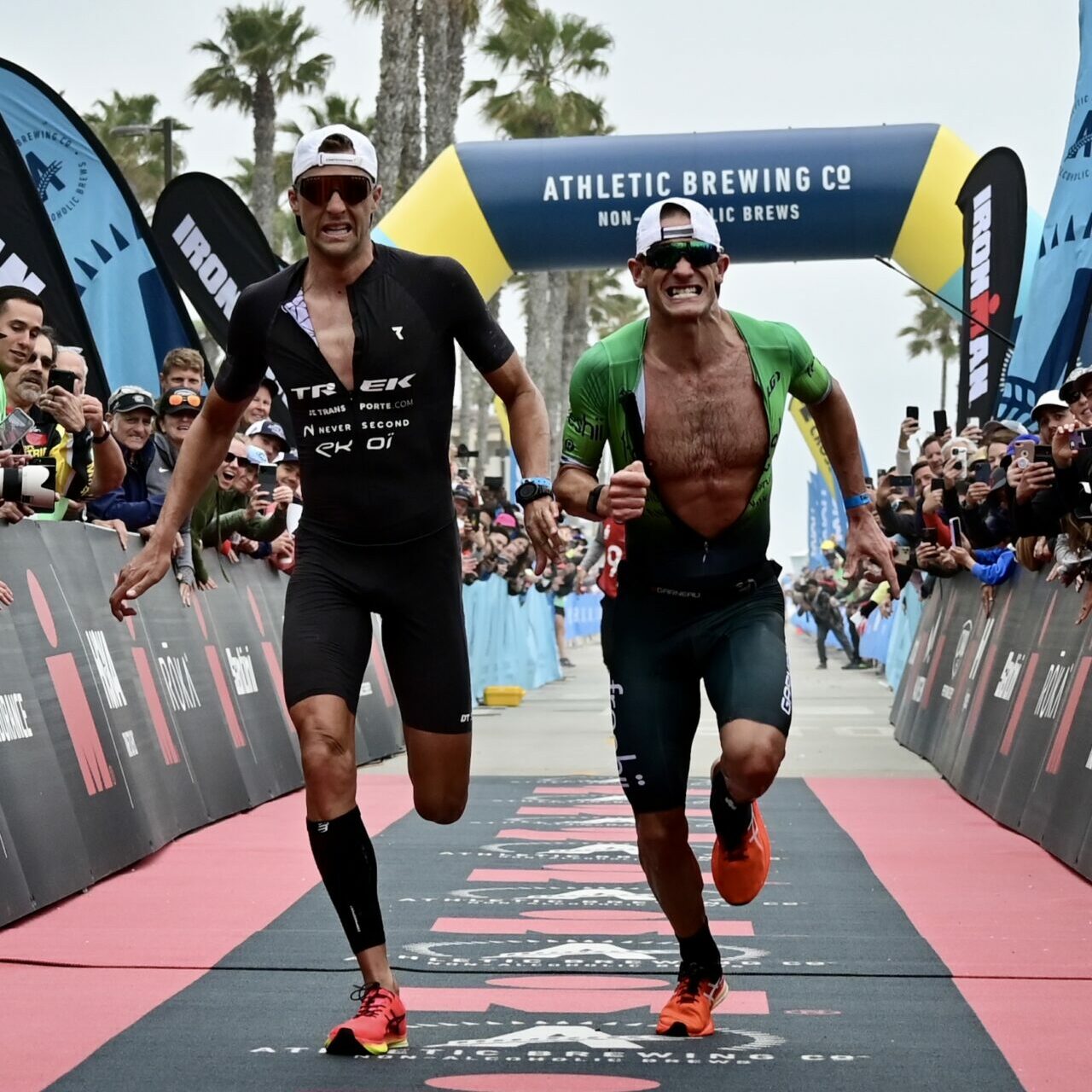 Sanders closed with a 1:08:29 run while Brownlee went from seemingly certain winner to off the podium – and a few more questions to answer before he races at the IRONMAN World Championship in St George.
IRONMAN 70.3 Oceanside 2022 Results
PRO Men
Saturday April 2, 2022 – 1.9km / 90km / 21.1km
1. Jackson Laundry (CAN) – 3:45:00
2 Lionel Sanders (CAN) – 3:45:33
3 Rudy Von Berg (USA) – 3:45:33
4.Alistair Brownlee (GBR) – 3:45:55
5. Ben Kanute (USA) – 3:46:32
6. Jason West (USA) – 3:48:20
7. Sam Appleton (AUS) – 3:49:45
8. Eric Lagerstrom (USA) – 3:50:39
9. Arnaud Guilloux (FRA) – 3:52:01
10. Bart Aernouts (BEL) – 3:52:56