New Zealand triathlete Kyle Smith, a regular contributor on TRI247, has said he is committed to becoming "world class" in the next two years. 
The 25-year-old was speaking on the latest PTO mini-documentary, embedded below, discussing how he got into triathlon and what his plans are for the future. 
"A brutal sport" 
Smith started triathlon from a young age and explains he has had a long love affair with the sport.  
"Triathlon as a sport where hard work is rewarded," the New Zealander said, "It's a brutal sport. 
"We're training more than 30 hours a week, and it's almost a sport where the more you put into it, the more you get out of it.
"Unlike some other sports where talent kind of prevails a lot more."
When speaking about Triathlon, his passion for the sport is obvious – but he isn't just competing for fun. 
"As an athlete, I'm extremely hungry," Smith said, "I'm not in the sport to get rich. I'm in the sport to be the best in the world.
"I'm super passionate for the sport." 
In it for the long run
But he's more than aware that passion won't get him where he wants to be, competing at the very top level, and he's got a plan to get there.
"Last year, I really felt like I could have been top 10 [PTO] ranked in the world," Smith said, "I really believe that I'm a better athlete than, I guess, than what I've shown. 
"I just want to be the best athlete that I can be.
"I really feel like my swim and my bike is world class, but now I've got to improve the run.
"And so now it's going to be really working on that, working on myself, working on my running, and just committing to developing myself as an athlete and just accepting that maybe I won't be world class yet in the next two, three months.
"But if I commit to being world class in the next two years, the next three years, that's what I'm going to do."
"I chose Triathlon"
Far from "falling in" to the three-discipline competition like some pro triathletes do, he was set on making it in his favourite sport from the outset.
"Everyone always talks about the sacrifice that they have to make to get into a sport," Smith explained, "but it wasn't really a sacrifice. 
"I chose a life. I chose triathlon. I chose my life to go down that avenue.
"I remember going through uni. Working a full-time job during uni, trying to do triathlon as well.
"I'd wake up at 4.30am in the morning and then go to bed at 9:00pm at night and I'd just be out the whole day trying to train.  
"I really feel like everyone needs something in their life to give them fulfilment. And this is what I do. I couldn't see myself doing any other job than this."
Difficult moments
But whilst Smith might love the sport, it hasn't always been easy to keep going. 
After moving into long distance racing, he chose to take a risk and move to Europe rather than working on a building site in New Zealand. Staying in a small apartment and racing in French Grand Prix races, Smith's participation in the PTO's Collins Cup event in 2021 proved to be a major moment in his career.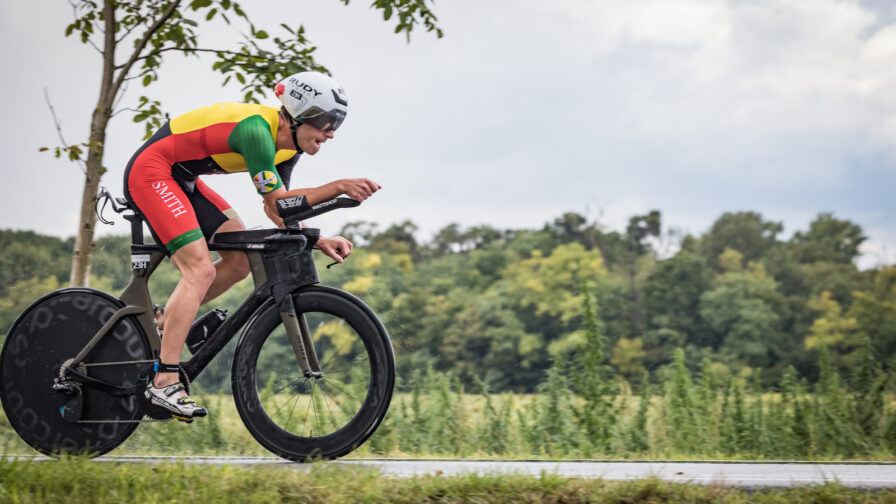 "It was the Collins Cup then that was my, I guess, one big break," Smith explained.
"It was like €20,000 or whatever it was to race, which is just like… I was like choking up when I got the call up.
"This actually means that I can be comfortable, I can have security, and then you can kind of build on performing on top of that.
"You could say that the PTO is literally life changing.
"That allowed me to then be a full-time athlete and actually be secure in Europe."