IRONMAN 70.3 Indian Wells winner Paula Findlay praised runner-up Tamara Jewett's incredible run, as the Canadian held off her fellow countrywoman by less than a minute to take first place at La Quinta. 
Findlay put up a time of 4:06:10 and had gone into the run with a lead of 6.48, but Jewett ran a 1:14:05 half marathon to push her all the way.
"I knew Tamara was going to be running me down and I thought I'd need more than seven minutes to win and I almost did," Findlay said, speaking after the race. 
"You know that was a huge, huge run by her and the hardest I've ever had to push in the last 5K of a 70.3.
"That wasn't very fun, but congrats to her. That's just raising the bar for the women running in this sport. I need to keep pushing my bike so I can have bigger gaps!" 
Signing off in style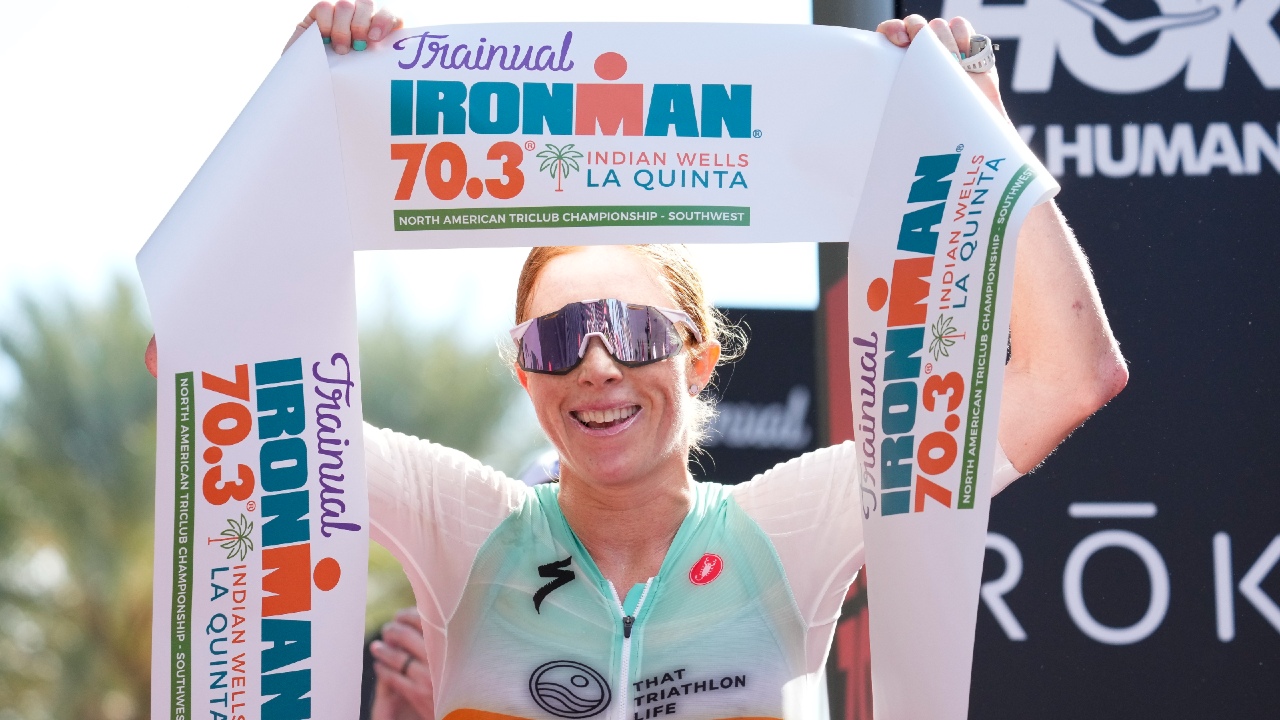 It was Findlay's first win of the season, despite being consistently impressive throughout the year, reflected in her PTO world ranking of #8.
"I'm so relieved," she said. "I'm really happy to be done with my season. 
"It's been a long one and the most consistent probably of my life, so I'm really happy to have actually my first win of the season here."
Jewett: 'Can't say I didn't try!'
Completing a Canadian one-two, Jewett was all smiles despite her narrowly missing out on the win.
"My mantra today was 'can't say I didn't try!'," Jewett said.
"It's a good day if you can scare Paula a little bit. People back in Ontario right before I came asked me to get two Canadians on the podium so mission accomplished, I guess." 
"I was really tuned into pushing myself and it was comforting to hear the time coming down and that was really great motivation through the whole thing."
It was the second year in a row Jewett had finished as runner up at La Quinta, and her third podium of the season having won IRONMAN 70.3 Mont Tremblant and claimed silver at IRONMAN 70.3 Eagleman. 
"I think each leg of my race felt a lot stronger here than last year," Hewett said. "So second again, but much stronger second time." 
Lewis finishes on a high 
American Danielle Lewis completed the podium and whilst the defending champion couldn't keep a hold of her title, she still put in an impressive performance to take the bronze in a time of 4:11:29. 
"This is a great way to end this season," Lewis said.
"It's always nice ending the season on a high note because you can go into the off-season and relax, not have too much stress and then you have motivation going into building a base. 
"I love this course, I love this venue. This is my third time here, it's just one that I love putting on the calendar."
Two weeks ago Lewis competed at IRONMAN Arizona, where she also finished third – despite a lengthy bike mechanical – to give herself two successive podiums to round out the campaign. 
"That was my second full, and my first time doing a 70.3 after a full two weeks later," explained Lewis. 
"So I didn't know what to expect, but I knew that I had good fitness and it was just a matter of getting out there and executing.
"I am definitely ready for a break."