Joe Skipper (GBR) and Sarah True (USA) produced superb displays to notch runaway victories at IRONMAN Arizona.
Skipper, already qualified for Kona next year after his victory at IRONMAN Wales, was to the fore throughout against a stacked men's field and settled the issue on the run.
And it was a similar story for True – second after the swim and in the front two on the bike before asserting in the marathon.
Pro Men – No average display from Joe
All eyes early on were on 70.3 World Championships runner-up Ben Kanute (USA) who was making his IRONMAN debut.
Only the PTO's #1 ranked swimmer Andrew Horsfall-Turner (GBR) was ahead of him in the water, 18 seconds separating them as they headed into T1.
But Skipper (+3:13 in 11th) and American Sam Long (+4:33 in 13th) weren't too far back as they started the bike.
And it didn't take long for the leading duo to become a front four, Skipper and Kristian Hogenhaug (DEN) bridging the gap.
They dropped Kanute not long after, while Horsfall-Turner would start to move in the wrong direction through the field and eventually finish outside the top 10.
But up front there was a prolonged duel between Skipper and Hogenhaug, the latter leading off the bike and stretching his advantage to 39 seconds starting the marathon.
That was gradually whittled down by Skipper and he patiently ran alongside the Dane until putting the hammer down between miles eight and 10 and never looked back from that point onwards.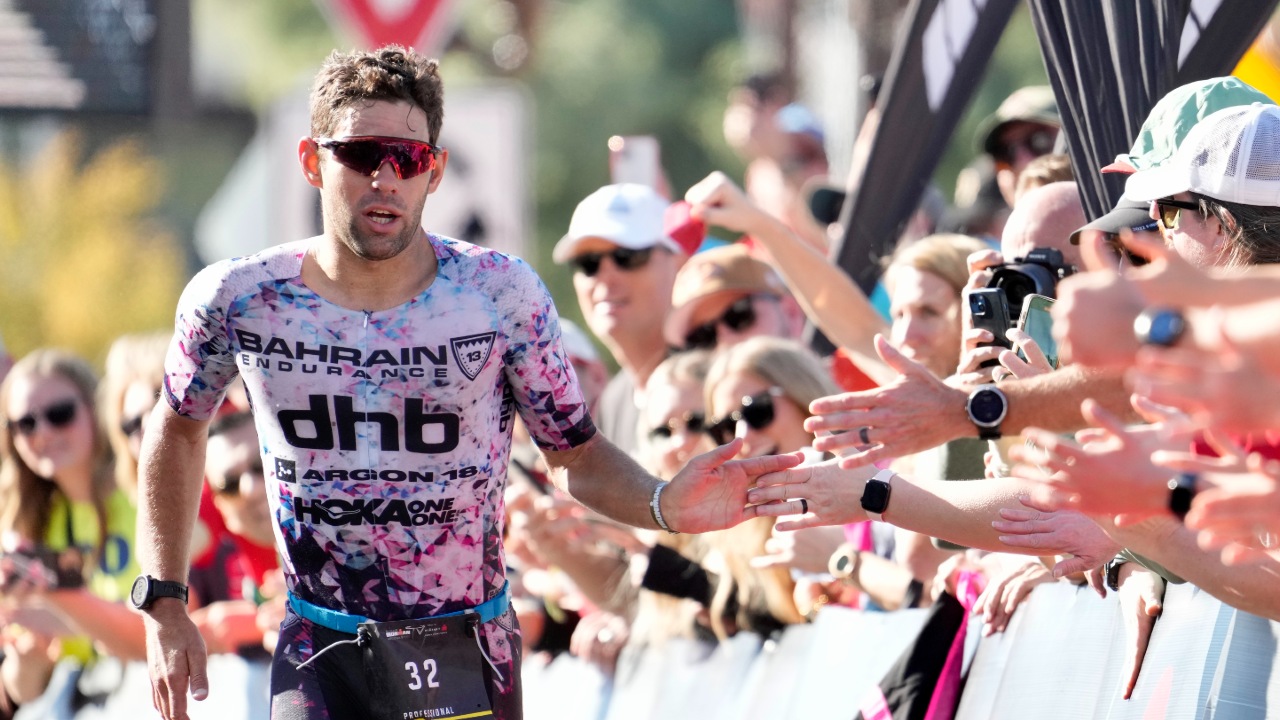 It briefly appeared as if Alistair Brownlee's all-time GB fastest full-distance time of 7:38:48 (from IRONMAN Kalmar this year) might be under threat but Skipper eventually crossed the line in 7:46:00 after a 2:44:43 marathon.
There was drama in behind as the run speed of American Matt Hanson, who clocked 2:35:30, had seen him power through the field and he overtook Kanute and Hogenhaug in quick succession with five miles remaining to claim second place.
But Kanute kept on superbly to round out the podium and earn the second of the two available Kona spots on his very first attempt at the distance, setting himself up perfectly for his 2023 campaign.
In contrast, one man who faded into 10th on the run was Long who appeared to be suffering from cramp early on as he looked to bounce back from his controversial penalty at the 70.3 Worlds.
But for Skipper it rounded out the season in style – he said he'd wanted more than his fifth place at Kona last month and also stressed that a below-par feel in training earlier this week didn't worry him, proving both those points emphatically as he was greeted on the line by Mike Reilly, announcing at his final American IRONMAN event.
Pro Women – True and Moench book Kona spots
It was no surprise at all to see Lauren Brandon go straight into the lead in the swim as she produced another dominant display in the water.
Heading into T1 she was 2:40 and 5:08 respectively ahead of pre-race favourites True and Skye Moench, with all three women having swum solo in an American 1-2-3 at that point.
On the bike True initially dropped back early on, with her and Moench joining forces after 28 miles, just over four minutes adrift.
Danielle Lewis' chance looked to have gone as she was stuck on the roadside for almost 20 minutes with a mechanical when in fourth place.
Meanwhile things were changing swiftly up front, with True and Moench making the catch on Brandon after 56 miles and quickly moving clear.
The front duo finished the bike leg together and settled down for a battle on the run, with the lead changing hands early on.
But it was True – whose Kona chance was ruined by illness – who began to assert and she gradually put distance between herself and Moench, breaking the tape in 8:42:38, 4:50 ahead.
Incredibly it was Lewis who somehow put her bike issues behind her thanks to a fastest-of-the-day 2:52:44 marathon (a record for the event) to take the final podium spot.
IRONMAN Arizona Results 2022
Sunday 20 November 2022 – 3.8km / 180km / 42.2km
PRO Men
1. Joe Skipper (GBR) – 7:46:00
2. Matt Hanson (USA) – 7:49:48
3. Ben Kanute (USA) – 7:51:25
4. Kristian Hogenhaug (DEN) – 7:56:38
5. Bart Aernouts (BEL) – 8:03:25
PRO Women
1. Sarah True (USA) – 8:42:38
2. Skye Moench (USA) – 8:47:28
3. Danielle Lewis (USA) – 9:03:18
4. Jen Annett (CAN) – 9:06:26
5. Alice Alberts (USA) – 9:15:29