Solid Sunday racing at the 2022 Trainual IRONMAN 70.3 Indian Wells – La Quinta saw some strong performances in California. It may be the end of a long season for most, but the men's podium featured two athletes that raced IRONMAN Arizona two weeks ago, and another that also raced at CLASH Daytona on Friday!
As for the Pro women, when even a lead of almost six minutes starting the run was under threat for the IRONMAN 70.3 World Championship silver medallist, you know you have an exciting finish.
When the racing was in the books however, it was Sam Long and Paula Findlay who took the titles on the finish line next to the Indian Wells Tennis Garden stadium.
Pro Men
The front of the men's swim had a distinctly ITU / draft-legal feel about it. First out in 23:19 was Leon Pauger (AUT), a winner on the European Triathlon Cup circuit this year. Right with him was Matthew McElroy (USA) in his first 70.3 start, Brennan Smith (CAN), Marty Andrie (USA), Danilo Pimental (BRA) and Justin Riele (USA).
Sam Long and Jackson Laundry (making good on his plan to race both here and at Friday's CLASH Daytona, where he finished eighth), were 1:46 back and in a good spot. By contrast, way back and 25th out of the water (+3:35 in arrears), was Lionel Sanders – winner of every previous race here – who had started his defence with an absolute shocker. He was reported to have had a panic attack at the start of the swim in what was pretty cold water conditions.
40km into the bike and the middle distance specialists, Long and Laundry, had made light of their swim deficits and were alone at the front of the race. Sanders had moved from 25th to 10th on the road. However, he was still losing time to the leading duo.
90km down and it was Laundry and Long side-by-side at the dismount line, and with identical T2 times, they were out onto the half marathon together as well. They would have almost a four minute start over Bart Aernouts (BEL), Sanders and Riele – who was making his Pro debut in style.
There was little to split the leading duo over the first 5km, before is was Yo Yo Yo who made the move, as he pulled away from the IRONMAN 70.3 Oceanside champion, Laundry. A the midpoint of the run, Sam's advantage was 24 seconds, while Aernouts and Sanders were having a great battle, now three minutes back, having made up around one-minute. That rate would not be enough for a victory, but could there yet be big changes at the front?
Into the last 5km and Long was 52 seconds up on Laundry, but the Aernouts / Sanders charge was on. Still together and pushing each other, they were now just 2:25 down on the leader. After a terrible start to the day, the three-time champion at Indian Wells was not giving up. Could it be another sprint finish for No Limits?! After racing on Friday, Laundry was more than justifying his decision to fly across the country from Florida to California.
After his penalty at the IRONMAN 70.3 World Championship and then a tough day at IRONMAN Arizona, Sam Long was going to end a topsy-turvy season with a smile on his face, taking the win and ending the winning streak at Indian Wells of his friend and rival, Lionel Sanders.
He crossed the line 48 seconds clear of Jackson Laundry, while inside the final kilometre it was the former World Duathlon champion, Aernouts, who was able to break clear of Sanders and complete the podium, eight seconds ahead of the Canadian.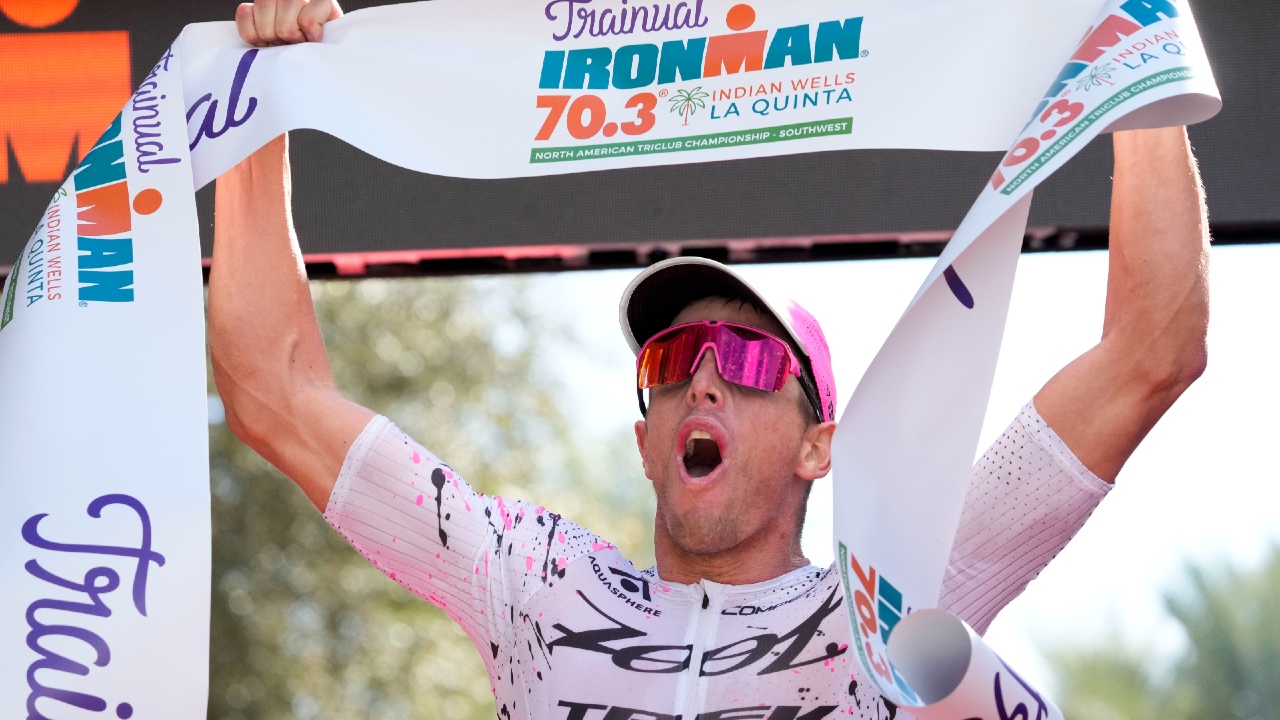 Pro Women
Making a welcome return to racing was the 2021 IRONMAN 70.3 World Championship silver medallist, Jeanni Metzler. 'Little Metz' was first out of the water with Paul Findlay – this year's silver medallist in St George – just a handful of seconds back.
They had more than a minute of advantage over Lisa Perterer (AUT), uber-runner Tamara Jewett (CAN), Rachel Faulds (CAN), Brittany Vocke (USA) and Elizabeth Heinbach (USA). Defending champion, Danielle Lewis was more than four minutes down, and with the likes of Findlay ahead, surely her chances of a repeat were slim.
Findlay was the clear pre-race favourite, and on a flat and fast course, the Canadian time trial champion was in total control now four minutes up and extending her lead with every pedal stroke. Metzler, Perterer and Jewett were now the chasing trio – but defending champion, Danielle Lewis, was closing in.
At the completion of the ride it was still Findlay a long way clear. Her advantage was now 5:46, but alone in second place heading towards her run shoes was Lewis, who set the second quickest bike split in the process. 3rd/4th/5th was Jewett (+6:48), Metzler (+7:28) and Perterer (+11:29).
Findlay had a big lead starting the run, but everyone knows that run speed of Tamara Jewett. Surely close on seven minutes though, was far too much time to make up on someone who had had the season that Paula has produced? Heading out onto the second lap, Jewett had moved past Lewis into second place, and cut a 6:48 deficit to 3:18. Wow, it really was possible.
Findlay ran a more than respectable 1:20:07 half marathon on a far from simple run course to take the win, but a stunning 1:14:05 from Jewett left her just 47 seconds short at the finish line. For context, second-placed Male Pro, Jackson Laundry, ran 1:14:12. Impressive – but not quite enough to topple Paula Findlay today.
IRONMAN 70.3 Indian Wells 2022 Results
Sunday 4 December 2022 – 1.9km / 90km / 21.1km
PRO Men
1. Sam Long (USA) – 3:43:34
2. Jackson Laundry (CAN) – 3:44:22
3. Bart Aernouts (BEL) – 3:45:08
4. Lionel Sanders (CAN) – 3:45:16
5. Matt McElroy (USA) – 3:51:48
PRO Women
1. Paula Findlay (CAN) – 4:06:10
2. Tamara Jewett (CAN) – 4:06:57
3. Danielle Lewis (USA) – 4:11:29
4. Jeanni Metzler (USA) – 4:15:46
5. Lisa Perterer (AUT) – 4:19:36