Last September Great Britain's Lucy Charles-Barclay put on one of the all-time great performances at the IRONMAN 70.3 World Championship in St George, taking her first senior world championship title by a huge margin of over eight minutes.
Today, aged just 24, Taylor Knibb added to her Junior (two) and U23 World Championship victories in similarly dominating fashion. On the feet of the defending champion exiting the swim, she took a stranglehold on the race on the bike, to start the run almost seven minutes clear.
Never under threat on the run, she rounded out an incredibly impressive display to become the new IRONMAN 70.3 World Champion. Team USA now rules the long-distance women's world, with Chelsea Sodaro also holding the IRONMAN crown.
Swim – No breakaway today
Kicking off at 0730 local time, the pre-race attire of both athletes and commentators (big coats, bobble hats and gloves), was confirming what we knew about the air conditions in St George this week – it was cold! A wetsuit-clad 1.9km swim, starting in the dark, was probably the best place to keep warm / be less cold.
Defending champion Lucy Charles-Barclay, of course, was straight to the front which is a line that even my cat could have forecast. Last September, her swim at Sand Hollow was worthy of the term remarkable, a performance which saw her reach T1 with a lead of 90 seconds, all alone.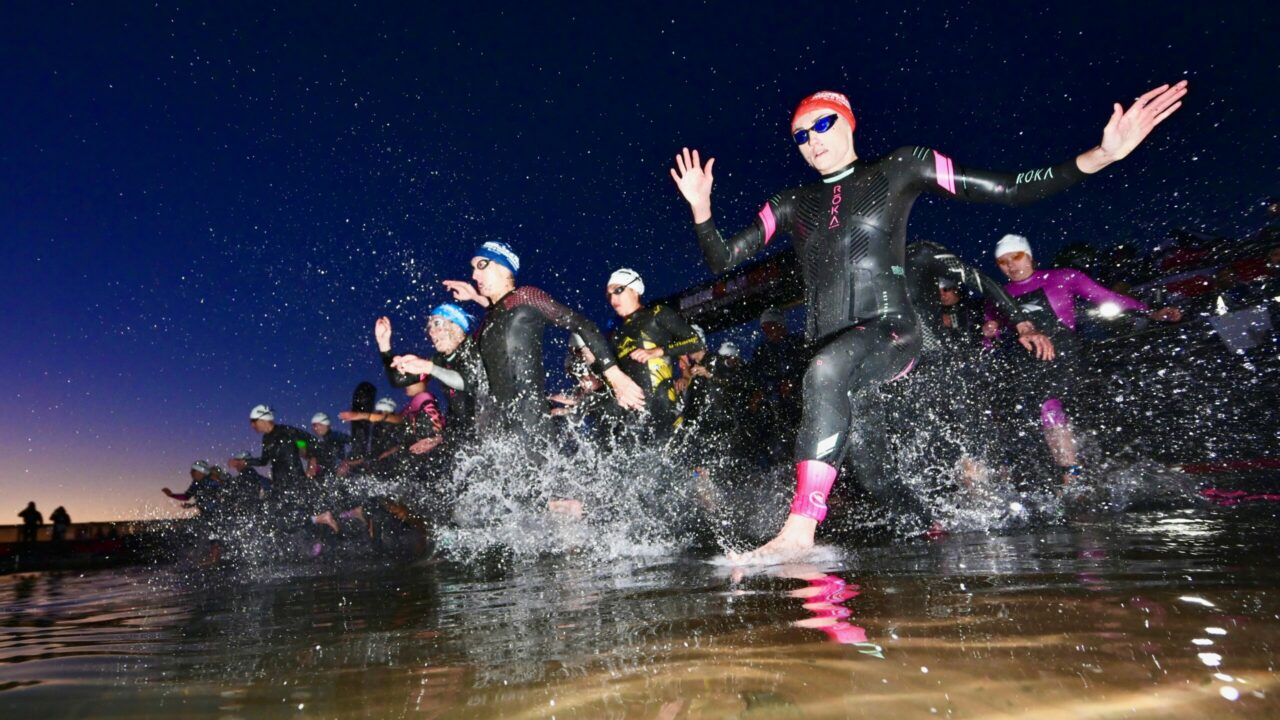 It was always going to be tough to reproduce anything like that, especially when you consider that Taylor Knibb managed to stick on the feet of the Brit over a similar distance recently at the PTO US Open in Dallas. Knibb was there again, as was Lotte Wilms (NED), winner this year of 70.3 events in Geelong and Sunshine Coast. 20 minutes in and Wilms pulled alongside LCB – which was manna from heaven for Taylor Knibb, who now had two sets of feet to focus on. A dream scenario for the bronze medallist from 2021 – especially with Flora Duffy behind.
At the exit ramp it was LCB, Wilms and Knibb separated by just four seconds, 30 seconds up on the chasers who were headed by Flora Duffy, with Holly Lawrence, Grace Alexander, India Lee and Ellie Salthouse right with her.
Just 1:10 back on the leaders was Emma Pallant-Browne, alongside Paula Findlay. That represented a fantastic start for the Brit, something she would later describe as the best swim of her career.
As much as the swim was key, transitions today in the cold conditions made just as much impact. Pallant-Browne was rapid in T1 (1:27), Knibb much slower (2:20), but the impacts of that – and what clothes you did (or didn't) add – would only be determined over the next two hours. Who got the socks / gloves / arm-warmers / jacket / gilet balance right?
All-in-all, the top 12 athletes started the 90km bike within 80 seconds of each other – less than the advantage that Lucy had over second place last year.
Bike – Taylor takes off
Any thoughts that Taylor Knibb was 'losing' time in T1 took around five minutes to be answered, as the young American absolutely blitzed past everyone in front inside the first 5km. Remember those overhead shots of the Sebastian Kienle 'pass' at the 2012 Championship in Las Vegas? This had similar vibes.
20km in and Knibb was 1:13 clear, with Duffy, Charles-Barclay, Lawrence and Findlay in chase, each separated by around 10 seconds. That was five of the six names we highlighted pre-race at the front of the race. The sixth name, Emma Pallant-Browne, was now three minutes down on the pace-setting American, with India Lee in between her and that chasing quartet, holding sixth position.
42km in and Knibb had extended her advantage to 3:10, with the chasing pack now a clear group of five – Paula Findlay, India Lee, Flora Duffy, Lucy Charles-Barclay and Holly Lawrence. Findlay was the to the fore of the chasers, with the next group a clear quartet, 6:10 down, of Nikki Bartlett, Imogen Simmonds, Emma Pallant-Browne and Lotte Wilms.
Penalties played a material impact on the racing at the IRONMAN World Championship three weeks ago, and the big news around the halfway mark was a 5-minute penalty for Great Britain's India Lee. Difficult to assess that visually, but there was certainly an overtaking move from Holly Lawrence – going past the entire chasing group – that, on first glance at least, looking to be a risky move from Lawrence. Whatever the merits, from a brilliant first half of the race, India Lee was now well down the field after she exited the penalty tent.
A chasing five became four after that India Lee penalty, and the resulting quartet became a trio around the 60km. 2016 world champion, Holly Lawrence, was the next to depart, no longer able to stay with the pace of Findlay, Duffy and Charles-Barclay. No change at the front though, as Taylor Knibb's charge continued. Five minutes clear, pulling away and with 20km – including Snow Canyon – still to come… she was flying.
Knibb rolled into T2 clocking a 2:14:41 bike split, just 17 seconds quicker than the time that Lucy Charles-Barclay recorded last September. While an interesting stat, far more important was that her lead at the end of 90km of riding was 6:44, as Lucy, Flora and Paula dismounted their bikes together.
Holly Lawrence came off the bike in fifth place (+9:33), with 6/7/8/9, 11 minutes behind the leader, comprising Lotte Wilms, Nikki Bartlett, Emma Pallant-Browne and Imogen Simmonds. A long way down on Knibb perhaps, but the run speed of Pallant-Browne was within 4:30 of the podium with 13.1-miles of running to go. This was far from over.
After her penalty, India Lee was still off the bike in 10th, 12:36 back on Knibb, but within a minute and a half of the Pallant-Browne group.
Run – Knibb brings it home as EPB catches LCB
Taylor Knibb's bike efforts didn't seem to adversely impact her early in the run. Indeed, over the first 5km she extended her advantage to 7:32 on Findlay, Duffy and Charles-Barclay, who were locked together in, potentially, a 'three athletes for two podium spots' battle.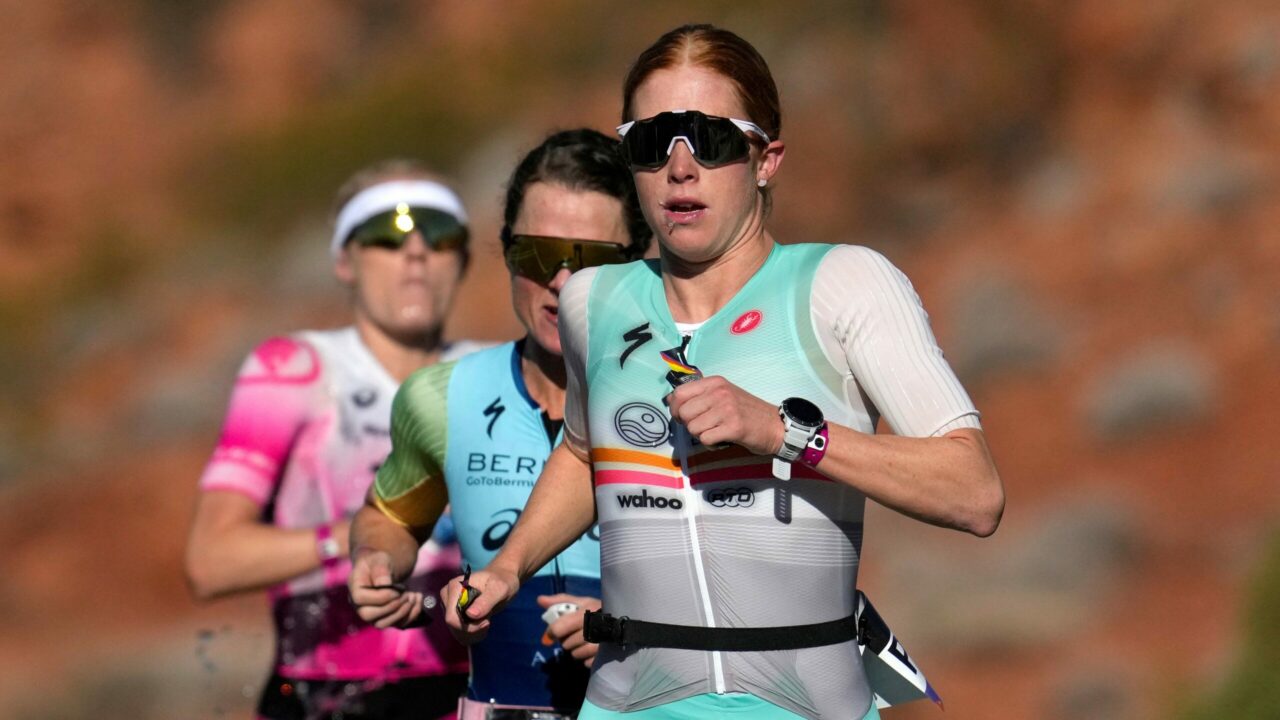 One athlete on the move was Emma Pallant-Browne, who quickly departed her bike companions and – running quicker than Taylor Knibb – caught and passed Holly Lawrence to move up to fifth place. At that 5km marker she was 11:13 down on the leader, but now 3:40 behind the podium battle in front. Could she still be a podium contender?
10km in and the Taylor Knibb lead was holding at around that seven and a half minute mark, but the chasing trio was now two, as Paula Findlay and Flora Duffy had put the pressure on and gained 20 seconds on the defending champion, Lucy Charles-Barclay.
Pallant-Browne was still moving well and making up ground, but she would need a little fade from those ahead, combined with her pace, if the podium was going to come into sight in the late stages.
Taylor Knibb did not fade, Paula Findlay continued to look brilliant in second place and – yet again – Lucy Charles-Barclay proved how tough she is, by fighting back to retake third place from the Tokyo 2020 Olympic champion, Flora Duffy. Could she hold off the fast-moving Pallant-Browne however? This was an exciting run finish!
A 1:21:48 run brought Taylor Knibb home as World Champion, Paula Findlay took silver via a 1:20:33 while the fast finishing Emma Pallant-Browne did indeed move into third, overtaking the defending champion to secure another world championship podium with a 1:17:45 run.
IRONMAN 70.3 World Championship 2022 Results
Friday October 28, 2022 – St George, Utah
PRO Women
Taylor Knibb (USA) – 4:03:20
Paula Findlay (CAN) – 4:08:57
Emma Pallant-Browne (GBR) – 4:10:45
Lucy Charles-Barclay (GBR) – 4:11:24
Flora Duffy (BER) – 4:13:33
Holly Lawrence (GBR) – 4:14:15
Jackie Hering (USA) – 4:15:05
Nikki Bartlett (GBR) – 4:15:38
Tamara Jewett (CAN) – 4:15:57
Anne Reischmann (GER) – 4:16:50
India Lee (GBR) – 4:19:20
Lotte Wilms (NED) – 4:20:14
Ellie Salthouse (AUS) – 4:20:42
Imogen Simmonds (SUI) – 4:21:17
Giorgia Priarone (ITA) – 4:23:04