Max Neumann (AUS) and Lotte Wilms (NED) took the honours in Sunday's Qatar Airways IRONMAN 70.3 Sunshine Coast.
Neumann, who in June made it three straight IRONMAN Cairns victories, won a thriller against fellow Aussies Steve McKenna and defending champion Nicholas Free in third, who were locked together for most of the day.
It was more fractionally more clear-cut for Wilms who took the women's crown in 4:00:20, 1:33 ahead of New Zealand's Hannah Wells, though they too had been battling side by side until relatively late on the run.
Pro Men – Kona next for Neumann
Neumann last raced on the Sunshine Coast in 2020, where he finished second, with the Brisbane-based athlete going one better this time.
The top three men were the class of the field all day – part of a bigger group on the bike, but on the run it was all about them.
They ran together for virtually the whole of the half marathon, leaving the others trailing. With 5k to go there was still less than a second between them but it was soon after that point that Free began to drop back as his hopes of retaining his title slipped away.
But the other two were inseparable until Neumann pushed on in the closing stages to be first across the line.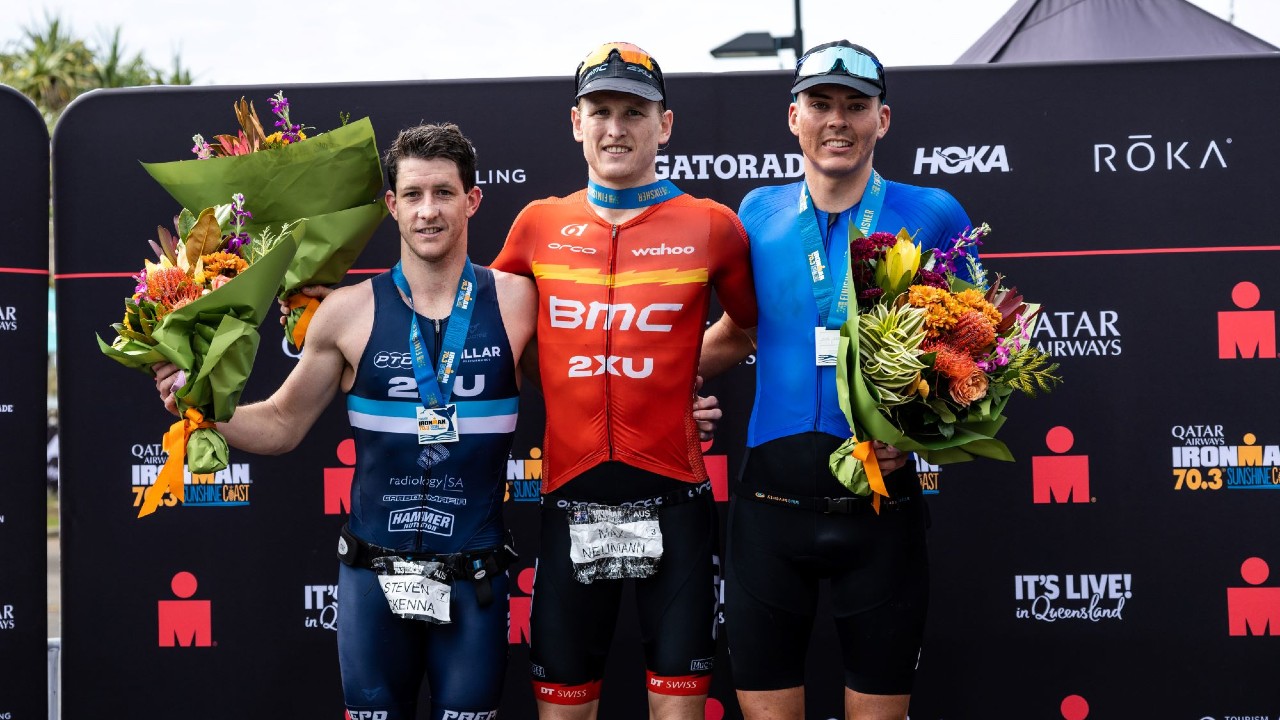 "It was a tough day, it's always good to come back here," he said. "The Sunshine Coast is a local race for me, just an hour drive from home and to have a good hit out four weeks before Kona is a good confidence booster and the perfect lead in to the final four weeks so it couldn't have gone better.
"We swam well, broke up the group after the first 10kms, I just rode hard there at the front, then we consolidated that gap and got about two minutes at the front and then us three boys really ran a quick race to be honest, 1:09 here on a pretty tough course with the hills is actually pretty quick," said Neumann. "It was about as quick as it gets today to be honest with you, so I think we're all pretty happy.
"With about 5km to go I reckon we were running at about three minute pace and we really knocking it down there, I couldn't crack Steve and then I got him on the last hill and just held it till the end," he said.
Next stop for Neumann is the IRONMAN World Championship next month, with it set to be his first trip to Hawaii's big island and the most famous event on the IRONMAN calendar.
"It's going to be my first Kona, it will bring something special out of me and I think the humidity will suit me so I'm pretty excited to be honest," said Neumann.
Pro Women – Wilms sticks to the plan
Sunshine Coast-based Dutch athlete Wilms impressed once again at her adopted home race, winning the title for the second straight year, after claiming victory on her IRONMAN 70.3 debut in 2021.
Coming out of T2 she had an advantage two minutes over Wells and Penny Slater (AUS).
Wells had whittled that down to less than a minute in the first 5k and joined Wilms in the lead at the halfway point before taking over briefly.
But Wilms – as she explained later – then put her plan into action and picked up the pace to move clear in the latter part of the race.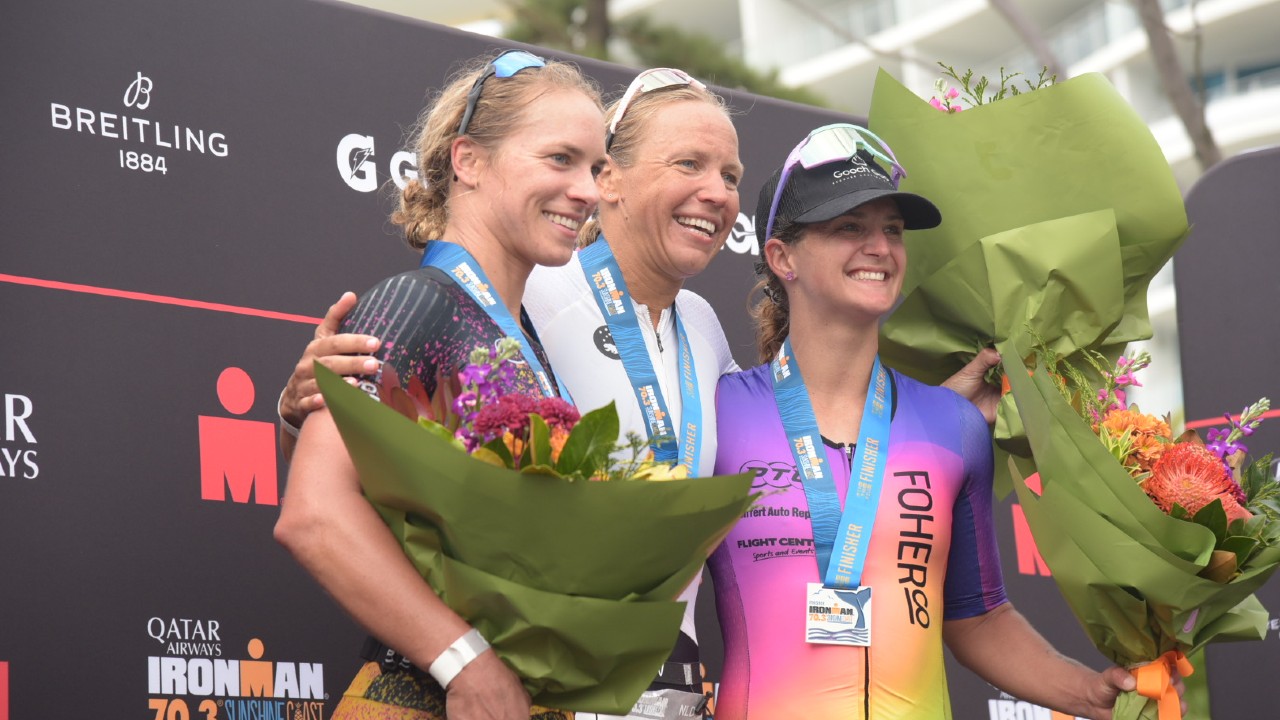 She said afterwards: "It was a great day, the conditions were really good, it wasn't too windy, it was cloudy which is really nice on the Sunshine Coast as it can get really hot here.
"I felt really good in the swim and on the bike I had some goals and I could see the girls were making up some time on me after one lap so I pushed a little bit harder on the second lap.
"Then on the run I also had some goals, I wasn't allowed to go full gas for the first 10kms because I'm going to race in America next week [for the PTO US Open in Dallas], later in the run I was supposed to go harder which was lucky because Hannah was catching me so I had someone to chase.
"After 16kms I retook the lead and I didn't let it go until the finish so it was a really good day."
IRONMAN 70.3 Sunshine Coast 2022 results
Sunday 11 September 2022 – 1.9km / 90km / 21.1km
Mooloolaba Beach, Queensland
PRO Men
1. Max Neumann (AUS) – 3:29:47
2. Steve McKenna (AUS) – 3:29:59
3. Nicholas Free (AUS) – 3:31:16
4. Mitchell Cunningham (AUS) – 3:34:05
5. Mitch Kibby (AUS) – 3:34:36
PRO Women
1. Lotte Wilms (NED) – 4:00:20
2. Hannah Wells (NZL) – 4:01:53
3. Penny Slater (AUS) – 4:02:51
4. Kylie Simpson (AUS) – 4:04:16
5. Kirra Seidel (AUS) – 4:11:05