Valencia in Spain welcomed close to 1200 athletes across Elite, Para and Age-Group categories this past weekend for the now rebranded Europe Triathlon Championships.
We've covered the Elite racing, where Sian Rainsley was the top British athlete with a bronze medal. Here we turn our attention to the Age-Group athletes, initially looking at the Sprint distance.
The 489 athletes racing in the Sprint represented 17 different nations, with the British in typical style being the largest of those (203), ahead of the home nation of Spain (128). Those 203 athletes secured a total of 41 medals of the 80 awarded, including 14 of the 27 gold medals.
Top Brits in Spain
Hannah Flaherty lead the way for the Brits, winning the 30-34 division but also being the fastest female overall in the Sprint distance event. Rebecca Goodwin (third) and Georgina Huddleston (fifth) also made the top five fastest overall.
For the men, the two fastest Brits overall were Cameron Keast (fifth) and Reece Ashfield (sixth), with the Spain taking the top two positions.
Fastest Age-Group athletes overall
FEMALE
1st – Hannah Flaherty (GBR) – 1:04:36 (30-34)
2nd – Pilar Garcia Llorena (ESP) – 1:05:24 (20-24)
3rd – Rebecca Goodwin (GBR) – 1:05:46 (35-39)
4th – Carina Reicht (AUT) – 1:05:48 (20-24)
5th – Georgina Huddleston (GBR) – 1:05:57 (20-24)
MALE
1st – Guillem Segura Arnau (ESP) – 57:52 (25-29)
2nd – Carlos Vizcaino Navarro (ESP) – 57:59 (16-19)
3rd – Antoine Ealtzing (BEL) – 58:02 (20-24)
4th – Arnau Rosaleny Aznar (ESP) – 58:31 (16-19)
5th – Cameron Keast (GBR) – 58:40 (30-34)
6th – Reece Ashfield (GBR) – 58:42 (20-24)
Europe Triathlon Championships Valencia – Saturday 25 September 2021
AGE-GROUP SPRINT: 750m / 20km / 5km
BRITISH AGE-GROUP MEDALS (41)
GOLD (14)
Maddie Hughes 16-19 – Female AG Sprint
Brittany Tate 25-29 – Female AG Sprint
Hannah Flaherty 30-34 – Female AG Sprint
Cameron Keast 30-34 – Male AG Sprint
Rebecca Goodwin 35-39 – Female AG Sprint
Jane Eaton 40-44 – Female AG Sprint
Lena Poulton 45-49 – Female AG Sprint
Andrew Martin 45-49 – Male AG Sprint
Jacqui Phillips 50-54 – Female AG Sprint
Sara Northover 55-59 – Female AG Sprint
Kerstin Mogull 60-64 – Female AG Sprint
Linda Russell-Bond 65-69 – Female AG Sprint
Sue Cannaby 70-74 – Female AG Sprint
Michael Smallwood 75-79 – Male AG Sprint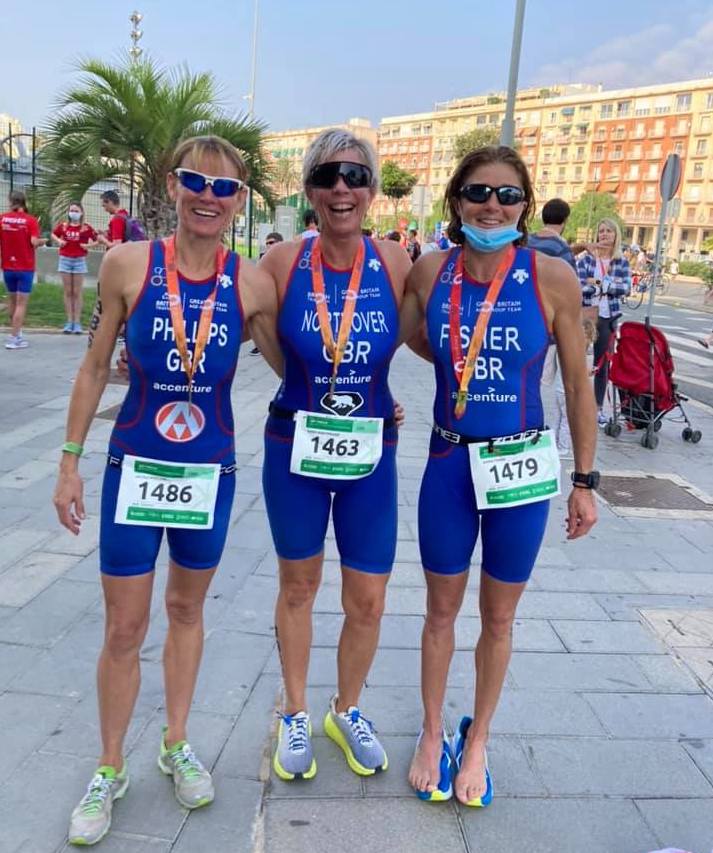 SILVER (16)
Reece Ashfield 20-24 – Male AG Sprint
Nick Flower 30-34 – Male AG Sprint
Essie Amery 35-39 – Female AG Sprint
Christine Lutsch 40-44 – Female AG Sprint
Alison Grinnell 45-49 – Female AG Sprint
Timothy Watson 45-49 – Male AG Sprint
Emma Fisher 50-54 – Female AG Sprint
Simon Crook 50-54 – Male AG Sprint
Beverley Childs 60-64 – Female AG Sprint
Jane Neal 65-69 – Female AG Sprint
David Neal 65-69 – Male AG Sprint
Anne Fish 70-74 – Female AG Sprint
Ted Hamilton 70-74 – Male AG Sprint
Peggy Crome 75-79 – Female AG Sprint
Douglas Wood 75-79 – Male AG Sprint
Barry Johnson 80-84 – Male AG Sprint
BRONZE (11)
Abigail Kerr 16-19 – Female AG Sprint
Georgia Huddleston 20-24 – Female AG Sprint
Daniel Phillips 30-34 – Male AG Sprint
David Kettle 35-39 – Male AG Sprint
Anna Bellamy 40-44 – Female AG Sprint
Janet Fletcher 45-49 – Female AG Sprint
Claire Bloom 55-59 – Female AG Sprint
Christian Seymour 55-59 – Male AG Sprint
Kelvin Spencer 60-64 – Male AG Sprint
Karen Cole 65-69 – Female AG Sprint
Catherine Williams 70-74 – Female AG Sprint