Can ANYTHING stop 'Wonder Woman' Gill Fullen?!
Ok, if you don't get the context of the intro… READ THIS FIRST!
Impressive, eh? I didn't write 'incredible' for no reason!
And that is just what Gill Fullen was yesterday, at a brilliant Outlaw Half Triathlon in Nottingham. I think this event just gets better and better – and the 2017 edition had perfect weather condition (a far cry from the downpours on Saturday afternoon at Holme Pierrepont).
Ok, to be fair, her swim was pretty awful! Standing by the swim exit, I did wonder if perhaps she was a DNS for a few minutes… but Gill is not the sort of person to give up having lost more than her expected time in the water. "I'm a pants swimmer… I was so far behind, and I thought there must be at least 40 in front of me."
But, once on two wheels she did start making up lots of time and places. However, it wasn't going to be made easy for her as it would be Laura Fidler (ETE TriSutto) first back to T2 with a lead of almost two minutes over Anna Weaver (Manchester Tri Club), with Gill and Beth Wilmott in close contention for third and fourth, around a minute later. Knowing that Gill ran a 2:53 marathon last year, she was going to be in a strong position – even if she thought that commentator (that was me…!), meant third in age-group, not overall, as she left to start the run…
Two miles in and the gap to the leader was closing and by the end of the first of two run laps, Fullen was in the lead and looking in total control. Smiling as she came past the boat house area, there was no sign of fading and the question was going to be by how much she would win. That would end up being by almost seven minutes….
The battle for second was close. Weaver was making up time, slowly, on Fidler, but would she be able to bridge the gap before the finish? That she did, and she would take second, just 30 seconds ahead of the long-time leader.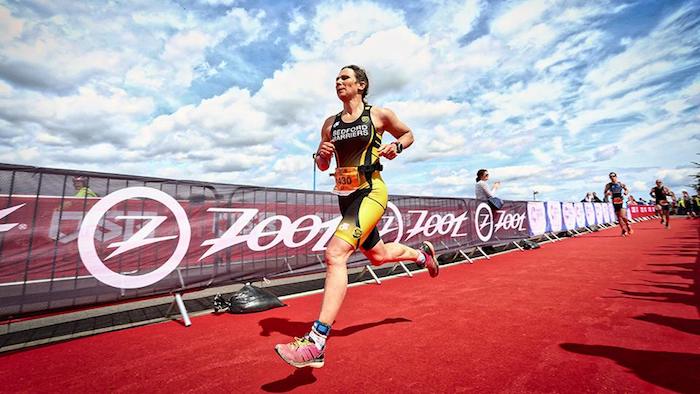 She also achieved one of the few triathlon feats she hasn't experienced before – crossing the line with the finishing tape! "That's the first time I've ever had a banner! That's been my aim for so long… I'm over the moon, it was ridiculously emotional!"
It truly was an amazing day, fully recognised by a very appreciative crowd. Next stop, the Outlaw Half Holkham.
The ladies from #OutlawHalf @OutlawTriathlon @OSBevents pic.twitter.com/3RfMNsIQLb

— Erdinger Alkoholfrei (@ErdingerAF_UK) May 21, 2017
Outlaw Half, Nottingham – Sunday 21st May 2017
1.9km / 90km / 21.1km – WOMEN
1st – Gill Fullen (Bedford Harriers) – 4:42:01
2nd – Anna Weaver (Manchester Tri Club) – 4:48:45
3rd – Laura Fidler (ETE TriSutto) – 4:49:15
4th – Beth Wilmot 4:53:24
5th – Gema Snape (Tri Preston) – 4:54:32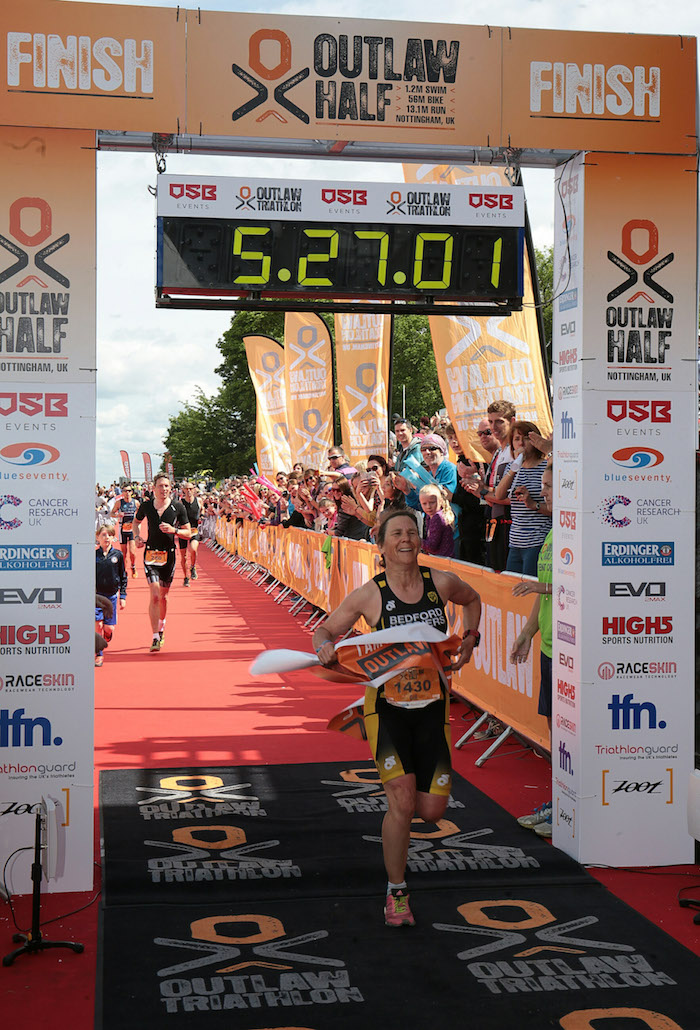 (You can find the men's race report HERE)