£1500 bonus for dominant display in Nottingham on Sunday
A brilliant day of racing at the National Water Sports Centre saw Mark Threlfall produce an impressive display to win the Outlaw Half – and reduce the previous course record by 15 minutes.
It was a fast day of high quality racing at Sunday's Outlaw Half Triathlon. Matt Leeman broke the existing course record of 4:11:12 set last year by Karl Alexander… and yet still finished 'only' fourth.
Old course holder and new course holder @karlralexander @markthrelfall @OutlawTriathlon @OSBevents pic.twitter.com/vC0nqI4hQ0

— Erdinger Alkoholfrei (@ErdingerAF_UK) May 21, 2017
We had looked set for a great battle between Mark Threlfall and Phil Graves, until news reached us over the radio that Phil had punctured around the 30km mark – having just taken the lead from Mark – and was out of the race. Threlfall put that out of his mind however and produced a flawless race. The leader out of the swim (he exited in tandem with Carl Shaw, who was racing in a Relay team), his 2:12:56 bike split was beaten by only his bike coach, Matt Bottrill (2:10:38), to which he would add a very strong and consistent 1:17:44 run. The net result of all of that was a very quick 3:56:00 finish. Is that the fastest 70.3-distance finish in the UK? Perhaps, I'm not sure!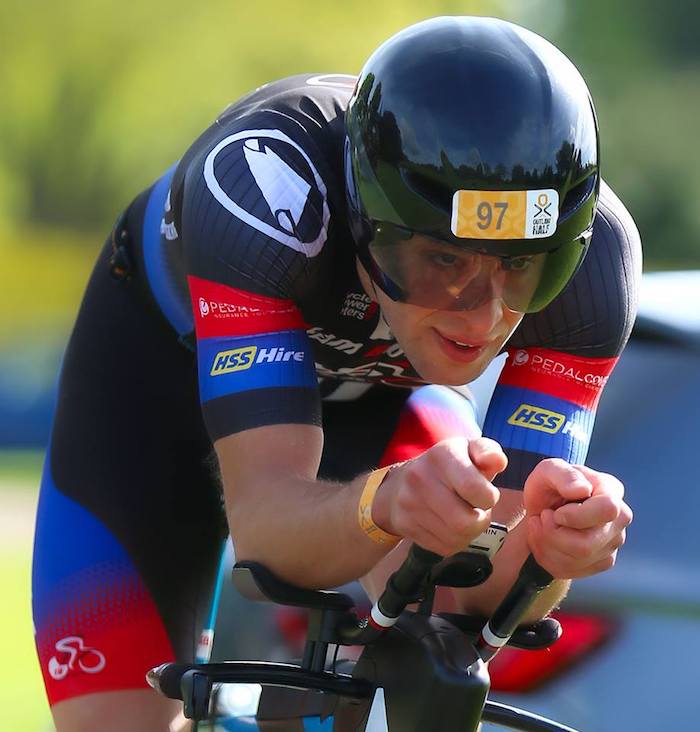 Richard Ebbage took second place, while twice Outlaw full winner, Craig Twigg, took third place overall having started in a later wave. All three – as with the women – ended up going home smelling of beer, after their podium 'ERDINGER shower'.
Followed by the men! #OutlawHalf @OSBevents @OutlawTriathlon pic.twitter.com/NTC67Ah3V6

— Erdinger Alkoholfrei (@ErdingerAF_UK) May 21, 2017
After the race Matt said, "that's probably the best I've run for a long time… today went really smoothly so I had a lot of energy on the run for once". In addition to the race win, Mark also earned a £1500 course record-breaking bonus. He has also made breaking this again in the future a lot harder.
Outlaw Half, Nottingham – Sunday 21st May 2017
1.9km / 90km / 21.1km – MEN
1st – Mark Threlfall (Team Bottrill / HSS Hire) – 3:56:00
2nd – Richard Ebbage (Royal Marines / Triology) – 4:05:25
3rd – Craig Twigg (Speedhub Race Team) – 4:06:34
4th – Matthew Leeman (ETE TriSutto) – 4:10:34
5th – Andy Sloan (Bustinskin Triathlon Club) – 4:13:06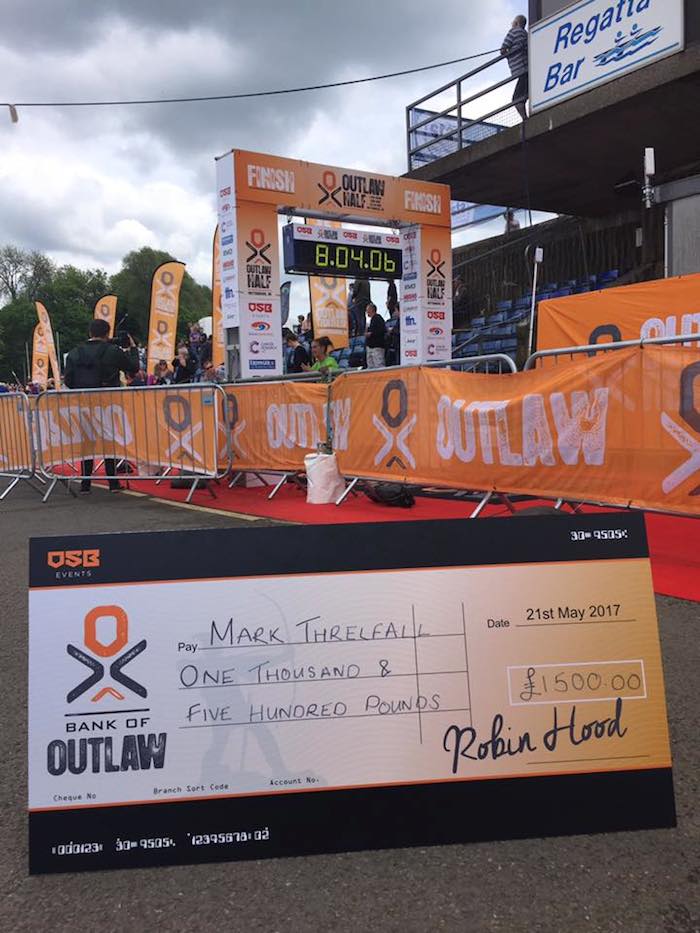 (You can find the women's race report HERE)