Kelley Haniver defends Age-Group Gold in Asiago, Italy
The run / MTB / cross country ski discipline provided the first major championship of the season over the past weekend, courtesy of the Asiago ITU Winter Triathlon World Championships in Italy.
While Russia once again dominated the Elite races, with Pavel Andreev and Daria Rogozina adding to their already extensive previous success, a small number of British Age-Group athletes were probably grateful for bing on the snow in sunshine, rather than at home and battling Storm Ciara.
Among those racing, Kelley Haniver was the sole British medallist, taking the Gold in F40-44. No stranger to the discipline, Hanniver had previously won in both 2013 (35-39) and last year at the same venue (40-44). Kelley is pictured in the header image – photo credit to Ben Lumley / ITU Media.
Asiago ITU Winter Triathlon World Championships, Italy – 8/9 February 2020
ELITE – 7.2km run / 12km MTB / 10.4km cross-country ski
AGE-GROUP – 3.6km run / 6km MTB / 5.2km cross-country ski
ELITE MEN
1st – Pavel Andreev (RUS) – 1:17:25
2nd – Marek Rauchfuss (GER) – 1:17:32
3rd – Dmitriy Bregeda (RUS) – 1:17:58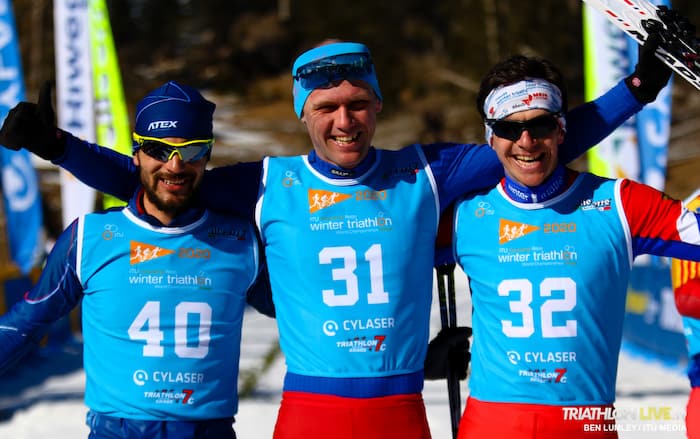 ELITE WOMEN
1st – Daria Rogozina (RUS) – 1:32:22
2nd – Anna Medvedeva (RUS) – 1:33:10
3rd – Yulia Surikova (RUS) – 1:34:01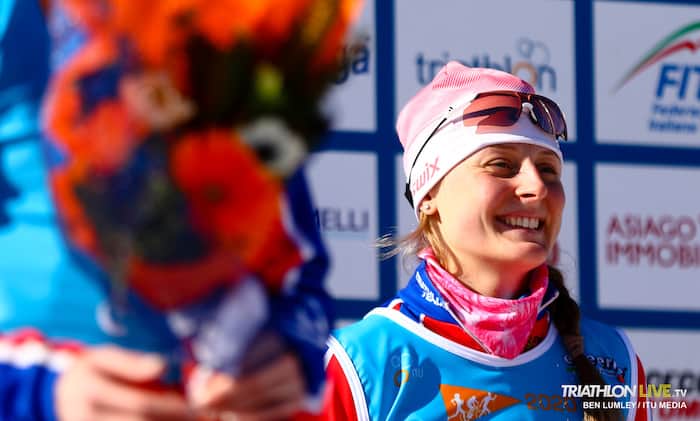 FEMALE 40-44
1st – Kelley Haniver (GBR) – 55:09
2nd – Sandra Le Luca (ITA) – 57:37
3rd – Christina Herbst (AUT) – 58:08
OTHER BRITISH ENTRIES
Christopher Gouldsmith (GBR) – 52:54 – 9th, M30-34
Nicholas Farnell (GBR) – 1:01:13 – 16th, M60-64
Joanne Pitten (GBR) – 1:03:24 – 7th, F40-44
Nicola Don-Wilder (GBR) – 1:07:28 – 7th, F45-49
Frances Hooper (GBR) – 1:27:12 – 4th, F60-64