Now THAT is how you pace a marathon….nice work James Cracknell
James Cracknell got two Olympic Gold medals in rowing and has won the Rowing World Championships six times.
At one point was the highest British finisher ever in the Marathon Des Sables and has a history of endurance challenges and achievements to rival almost anyone. He's also battled back from the brink of death.
James Cracknell is also pretty good at triathlon (and especially cycling), with a sub two hour Olympic distance finish on his C.V. – and even a couple of G.B. Age-Group starts. Clearly, not a man who has retired to the pipe and slippers brigade, telling tales of past successes (which he'd have earned the right to do…!).
Now, his build would suggest that he's not a natural marathon runner. His style – can I use that word? – of running suggests that his body truly does not want to run. Honestly, watch the last few 100m of him finish the London Marathon – without knowing how fast he's covering the ground – and tell me you think that is a 'fast' runner. It is far from fluid movement. It is painful viewing. To be brutal, he looks bloody awful. And that is putting the positive spin on it.
But, he's got a mind, physical capacity and drive which suggests that he is able to totally ignore that and feel no pain. Want someone to run walls for you? Give James a call.

Yet again, James Cracknell broke his marathon PB today, running 2:43:12. Impressive, very – but check out how he did it above. That is pretty close to flawless pacing. You need to get fit – but you need to execute that fitness on race day – and that is about as good as it gets. Respect to you James.
Ironically, he said he started hoping to break 2:50 and this wasn't planned at all…!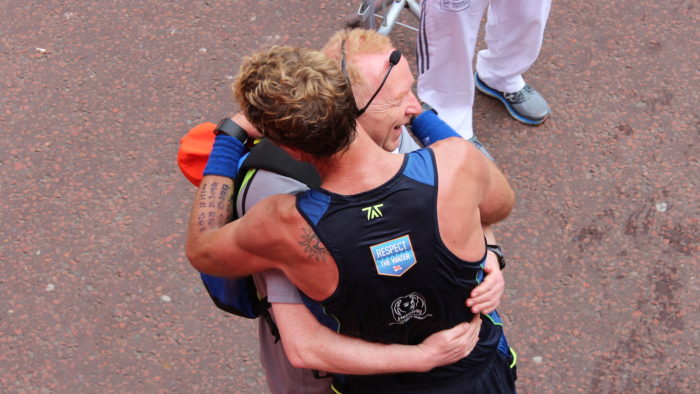 .@LondonMarathon don't know where 2hrs 43mins came from, crowds were phenomenal. I may stop running as @sebcoe asked my time then bowed! pic.twitter.com/iRrR0A7ZGL

— James Cracknell (@jamescracknell) April 23, 2017