Mark Livesey: "I'm not slowing down yet!"
There were some very impressive Age-Group performances over the iron-distance in 2016 from British athletes – with several proving that age is no barrier to some exceptional results.
Earlier this year we awarded our ERDINGER Athlete of the Month award to Tony Cullen, for his cracking effort at IRONMAN Austria, to finish inside the nine hour mark in the 40-44 category.
Such is the strength-in-depth of British iron-distance racing that he wasn't the only one who managed that this year – and we had a chat to Mark Livesey, who achieved his objective of a first career sub-9 finish in 2016, achieving that at IRONMAN Kalmar, Sweden.
---
Goals and race execution…
What were your goals at the start of the year?
My only focus for 2016 was to try and go sub-9 hours at Ironman, and to qualify for Kona 2016.
Following a 70.3 (Pays d'Aix), my early season focus was Ironman Lanzarote, which as usual was just brutal. I actually had a poor day and was disappointed with my overall performance but specifically my run. On reflection, it was probably one of my poorest performances to date at Ironman, but I managed to qualify for Kona… just.
That qualification cleared the way for me to fully focus on the illusive sub-9 hour Ironman finish, something I have been chasing since my first full distance race in 2010. Ironman Kalmar (Sweden) is not known as a super-fast course like some of the other races on the circuit (Vichy or Barcelona) but I wanted to achieve my goal on an honest course. I had heard great things about the race. so it was the one I chose.
At which point in your triathlon career did breaking the nine-hour mark become a target, and what was your best performance before Kalmar?
Naively, I thought I could go sub-9 hours at my first ever Ironman in Cozumel in 2010. To be fair, I wasn't that far off with a 9:14min. Like many of these races, things were going great until the 18-mile point on the run, when my head fell off! So, I had always had that as a target, and it became even more so when I got very close a number of times. I raced as a PRO at Ironman Austria back in 2012 and was really fit going into the race, so I thought it might be possible on that fast course. I remember thinking I actually shouldn't be on the start line with the other PROs, there were some big hitters! But that year the weather went against me. It was extremely hot, resulting in a non-wetsuit swim and the marathon in the high 30s (degrees). The conditions were overwhelming, but I finished with a 9:04, and was 14th Pro overall. So, I think that was actually still a better performance than Kalmar.
How did your splits / predictions on the day correspond to your actual performance on race day?
I went into Kalmar in the best shape I had ever been. I was healthy, no injuries and I'd put together a really strong block of training prior to the race. All I needed was a little luck and the sub-9 would be achievable.
It always helps when the weather is perfect, and race morning was still and cool. I had a rough idea what my watch needed to say at certain key points of the race. I exited the water at 54.30-ish which was a good start. Kalmar has a really short transition, so I was through T1 and on my bike and I was still sub 60 minutes.
I don't race to power (I cover it up with tape to review later), because I think it can compromise athlete's performance looking at power numbers for hours in a race and create negative emotions. I settled into a pace that I knew would enable me to actually put a good marathon together. I believed I needed to be posting a 4:45 to 4:50 bike split to give me a real chance of running a short 3hr marathon. It is always difficult for us competitive types to watch others ride past (around 20 rode past me in total), but I trusted my perceived effort and I knew some of them would blow on the run. I got off the bike with a 4:50 split and feeling really strong. When I reviewed the data I had actually ridden a negative power split which is something I always prescribe in sessions and race plans for myself and for my athletes.
I knew I needed to run a very short 3hr marathon to hit that sub-9. My strategy was to run 8 to 9 miles at around 6.45 pace, the next 9 miles as close to 7 mins as possible and then just hang on. This strategy worked – I posted a new Ironman marathon PB of 3:06, an average 7:11 per mile.
On reflection the race went like clockwork, culminating in a total race time of 8:56:36 and resulting in me coming first in my Age-Group and 7th overall, only six minutes behind the winner (although there were no PROs at this race). I was also the fastest old man of the day!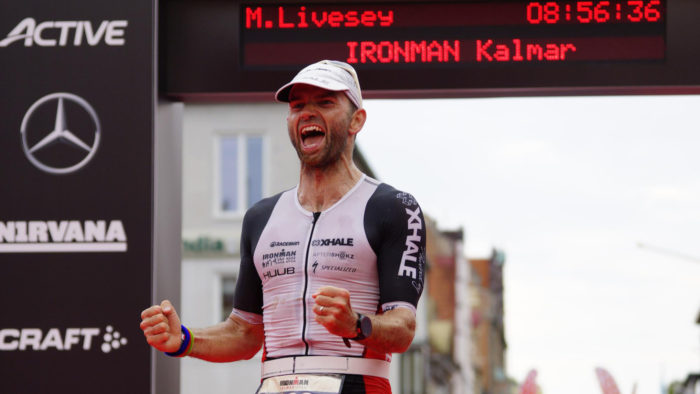 You've had a fair bit of success at both 70.3 and full distance – do you have a preference?
Easy: I train for full Ironman and the 70.3's are for fun, but I still hit these races fully committed with only one aim in mind – to win my AG. I follow Caroline who races on the Pro circuit so mostly it makes sense for me to race as well.
Being part of a (fast) triathlon couple…
Your wife (Caroline) races as a Pro triathlete around a full-time job – do you do a large part of your training together?
Caroline has actually just gone part-time for a year to enable her to train a little more and have another go at qualifying for Kona in 2017. It's getting harder every year, but we're already seeing an increase in performance so I believe she can give it a good shot next year.
We swim most mornings together, Caroline is getting faster and I have to work even harder in the pool. We will ride together in the North Yorkshire hills but we don't do much running together. We also do all of our key brick sessions together – they're really tough sessions, so although we are not actually training side-by-side, it helps to know someone else is going through the same pain you are.
We support each other in all our training and racing and that support is a key part of each of our success in the sport.
You are also her coach – are you both able to separate the coach/athlete from the husband/wife element of your partnership?
Caroline knows how to train hard and motivation is never a problem for her, I have to tell her to sit down and rest more to be honest. I will generally give her a steer with some specific sessions and phases of training and then she just gets on with it. It's tough sometimes finding a balance and occasionally we will lock horns, but we're lucky we share the same passion for training and racing.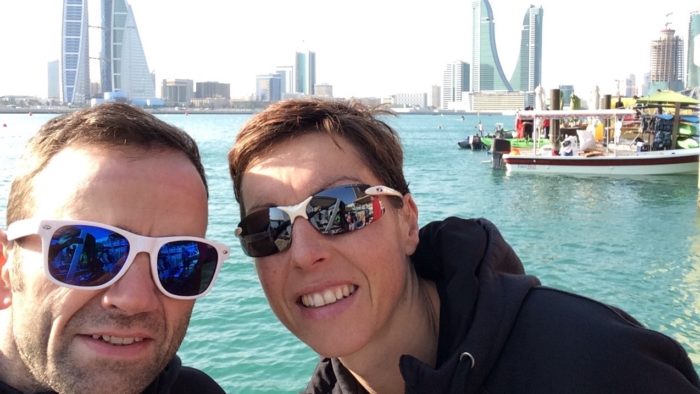 You've now travelled to lots of places and raced many events – which would be your favourite events that you would recommend?
It's been a mad year this year, Caroline and I have flown 53,000 miles. We have raced in some stunning places over the years, but for me Ironman Austria is always very special. It's such a beautiful place to race – the bike course is so stunning it can be a distraction at times.
Also on my list would be Ironman Kalmar (Sweden), where the town embraces the Ironman 100%; it has a very special atmosphere. I would also recommend Xiamen, China. Everything about that trip was exceptional. The race organisation was fantastic, the course was safe and fast and the location was beautiful. The Chinese pulled out all the stops in Xiamen and we enjoyed a totally unique opportunity to race in such a different environment. It was a privilege and an experience I won't forget.
Training…and coaching
Talk us through your typical (if there is such a thing) training regime?
I try and keep it simple. My aim is to average around 20 hours a week (excluding race weeks). I break this down into 5 to 6 hours swimming a week, 10 to 12 hours biking, 4 to 5 hours of running with some gym/strength work thrown in. I managed to maintain this for the majority of the year with the odd week missed due to illness and other commitments.
I don't do the classical periodised training plan or training cycles – I have found a formula that works for me and I just vary intensity and the lengths of key sessions within that. Not everyone can train like this, but with the many years I have been in the sport I have adapted to this sort of load. I adapt this model for the athletes I coach and I have seen great results from all different types of athlete.
For a long distance athlete that is training around other life elements (family, work, social etc), what do you regard as the key elements of a training programme that give the best return?
I see athletes searching for the "silver bullet" – a secret tool or session that will give them sudden performance gains. I always tell them there isn't one! My advice is record and log all your training, then use this valuable information/data to identify your weaknesses. Then target and develop that weakness so it is no longer a weakness.
TRAIN CONSISTENTLY, that's the best return you'll ever get. Don't binge train and suddenly expect to see huge performance gains. Sustainable improvements don't happen just because you've done a warm weather training camp and trained 30 hours that week. Too many athletes are looking for that small 5% marginal gain, when in reality they should be concentrating on the 95% with some good old fashioned hard work. You can't buy a good ironman finish time!
You've also developed / been developing a training software (Train Xhale) – what does that provide to users?
The free training/coaching platform gives the athletes many useful tools to identify and develop their specific training. It enables the user to easily view all relevent training information with no clutter and no meaningless data – you get the important feedback to help you train smart.
It has everything you'd expect from a training platform, intensity zones for each discipline, graphs to show volume and power, etc. The training diary is free and for coaches there is a small charge as the functions available make it hugely worth their while. I am working with coaches all over the world to develop the tools they want to see and use, and it's that integration with other coaches that is resulting in such a brilliant tool.
We currently have over 5,500 subscribers and over 350 coaches worldwide using the platform. We also have some of the biggest names (Pro athletes and Elite coaches), in the sport using it.
I'm amazed to see how far we have gone with Xhale in such a short time and we are full of ideas for its continued development in the future. We have a great new feature specifically for triathlon clubs which is also free and gives clubs a chance to interact on the platform. If anyone wants more information on how this could help their club, then they should contact me directly. I have the feeling this function is going to very quickly grow in popularity among the tri clubs and become an essential feature of group training.
Getting old(er)… what's next?
Have you had to make any adjustments to your training approach as you got older, in order to still keep improving into your 40s?
I still don't think I'm at the point of slowing down just yet. I think I have another couple of years of slight improvements, but I need to be sensible and pick the right races now. Each year I make slight changes to my training and this year it was about targeting my lower level training volume.
I will be concentrating more on building my functional strength up again along with developing my balance and proprioception work this winter. My brother may persuade me to do the Manchester Marathon in 2017. I have never run a clean marathon so it would be nice to try and run a sub 2:45, which I think is doable.
What¹s next for you – both as an athlete and as a coach – any specific goals or races?
I'm in the fortunate position of having already qualified for Kona 2017 so I want to go and tick a few bucket list races off my list.
I've always wanted to do the Alpe D'Huez Long Distance Triathlon and I'll be doing Ironman 70.3 Scotland in July 2017. I'm also seriously thinking about doing the Cape Epic in 2018 before I get a little too old.
However, I am concentrating more on coaching as I get older and I have some really exciting athletes on my books at the moment. Developing Xhale at the same time as developing these talented athletes is a challenge but there are also great synergies. As I think about how to best develop those people I develop tools within the software to highlight specific things. Its exciting and I am looking forward to seeing how it grows in the coming years.