GB Age-Group Team Medals from Punta Umbria: SPRINT DISTANCE DUATHLON
A busy two days of duathlon racing across the weekend saw plenty of British athletes racing in Punta Umbria, Andalusia, Spain in the 2020 ETU Duathlon European Championships.
For Age-Group athletes, Saturday saw the Sprint Distance even, with the 10km / 40km / 5km Standard Distance taking place on Sunday.
The Sprint distance event was dominated by Great Britain and Spain both in terms of entrants (233 and 160 respectively, from a total entry of 443), and in medals, with the Brits claiming 35 and the hosts 28, from the total issued of 75.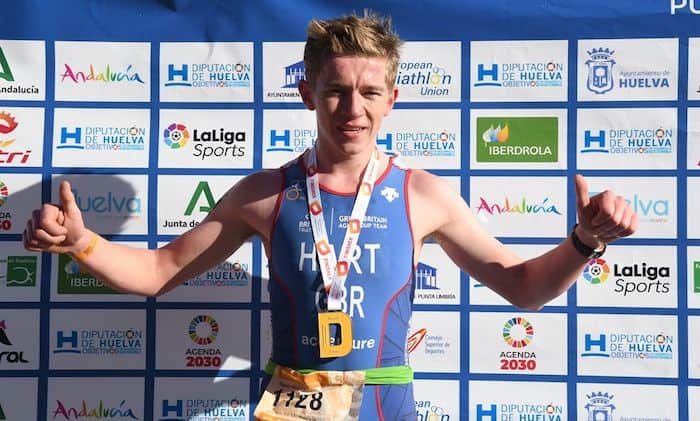 The fastest British athletes in the AG race overall were Henry Hart (Gold in 20-24) who was third fastest overall, while for the women, Natalie Duncombe (Silver in 30-34) and Katie Latham (Silver in 35-39) both recorded the same time, to be joint third overall.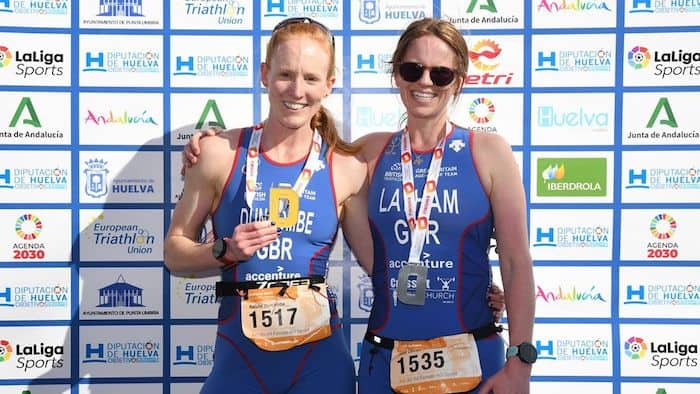 Punta Umbria, Spain, ETU Sprint Duathlon European Championships – Saturday 7th March 2020
AGE-GROUP: 5km / 20km / 2.5km
BRITISH AGE-GROUP MEDALS (35)
GOLD (10)
Lucy Bednall – 16-19 Female AG Sprint
Henry Hart – 20-24 Male AG Sprint
Megan Powell – 25-29 Female AG Sprint
Marie Brush – 40-44 Female AG Sprint
Claire Hall – 45-49 Female AG Sprint
Nikki Weatherley – 50-54 Female AG Sprint
Trish Barton – 55-59 Female AG Sprint
Ann Cook – 60-64 Female AG Sprint
Susan Watson – 65-69 Female AG Sprint
Mary White – 70-74 Female AG Sprint
https://www.instagram.com/p/B9fJWIlhadS/
SILVER (13)
Zara Knowles – 16-19 Female AG Sprint
Samuel Hughes – 16-19 Male AG Sprint
Caitlin Peers – 20-24 Female AG Sprint
Natalie Duncombe – 30-34 Female AG Sprint
Katie Latham – 35-39 Female AG Sprint
Bruce Raeside – 35-39 Male AG Sprint
Robert White – 45-49 Male AG Sprint
Cathy Dawson – 50-54 Female AG Sprint
Chris Nicoll – 50-54 Male AG Sprint
Anne Walton – 55-59 Female AG Sprint
Jenny Wakeman – 60-64 Female AG Sprint
Lynn Munro – 65-69 Female AG Sprint
Alan Churcher – 75-79 Male AG Sprint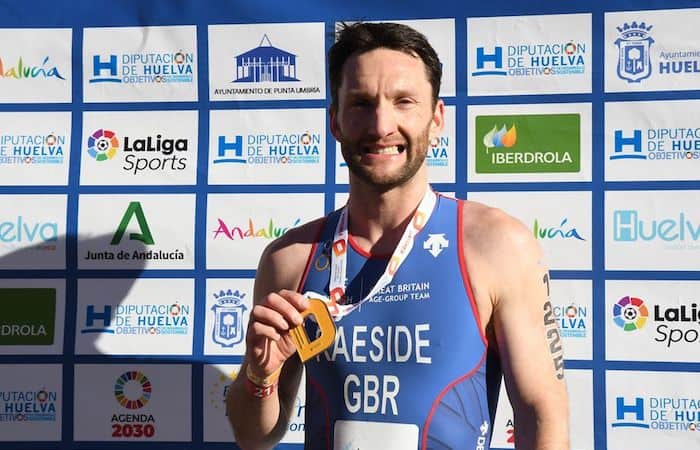 BRONZE (12)
Kate Driscoll – 16-19 Female AG Sprint
Joshua Vail – 16-19 Male AG Sprint
Rachael Vatter – 20-24 Female AG Sprint
David Pearson – 20-24 Male AG Sprint
Ella Neale – 25-29 Female AG Sprint
Nina Atherton – 30-34 Female AG Sprint
Laura Pescott – 35-39 Female AG Sprint
Claire Pluckrose – 50-54 Female AG Sprint
Joanne Bednall – 55-59 Female AG Sprint
Heather Lambert – 60-64 Female AG Sprint
Margaret Huyton – 70-74 Female AG Sprint
David Gilbert – 75-79 Male AG Sprint