GB Age-Group Team Medals from Punta Umbria: STANDARD DISTANCE DUATHLON
(Header Image Photo Credit: Stephen Smith – Smith Photography)
The second day of competition this past weekend in Punta Umbria, Spain, saw the Standard Distance Age-Group race at the ETU Duathlon European Championships.
As with the Sprint distance event on Saturday, the British were the largest contingent racing (152, with 142 from Spain and a total entry of 337). The British squad collected 32 of the 66 Standard distance medals issued, Spain 18 and the remaining 16 shared amongst a further seven nations.
The fastest female overall was a British athlete, as Lucy Davies (Gold 25-29) totally dominated the Standard distance, finishing almost five and half minutes quicker than second place. She set the fastest first run, bike and second run splits in the process.
Davies 🇬🇧 is the first women at the finish line (25-29) #ETUPuntaUmbria

La británica Davies (25-29 años) es la primera mujer en meta en distancia Standard en el Campeonato de Europa de Duatlón de Punta Umbría 2020 @BritTri pic.twitter.com/bXwSsrtuTw

— Spain Triathlon Multisport (@MultisportSpain) March 8, 2020
The fastest British male athlete in the AG race overall was Bruce Raeside (Gold in 35-39). He was tied on time (1:46:08) for the fourth fastest time of the day.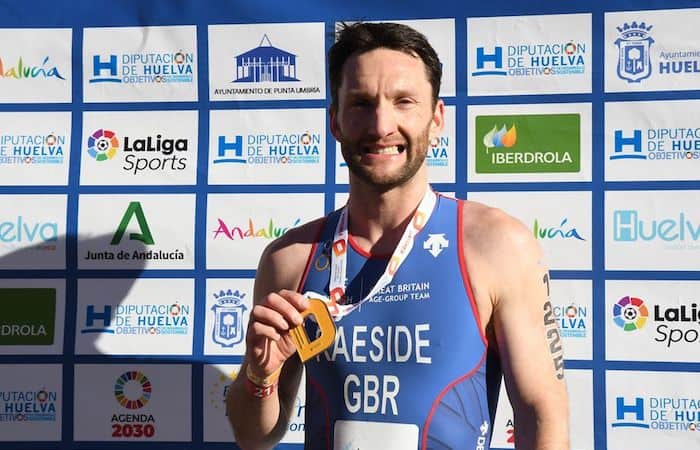 Double Winners
Three British athletes collected medals in the Sprint Distance (Saturday) and the Standard Distance (Sunday):
Claire Hall – double Gold (F45-49)
Bruce Raeside – Silver in the Sprint, Gold in the Standard (M35-39)
Chris Nicoll – double Silver (M50-54)
Punta Umbria, Spain, ETU Sprint Duathlon European Championships – Sunday 8th March 2020
AGE-GROUP: 10km / 40km / 5km
BRITISH AGE-GROUP MEDALS (32)
GOLD (11)
Luke Lynds – 18-19 Male AG
Madeleine Nutt – 20-24 Female AG
Jacob Shannon – 20-24 Male AG
Lucy Davies – 25-29 Female AG
Bruce Raeside – 35-39 Male AG
Claire Hall – 45-49 Female AG
Karen Murphy – 50-54 Female AG
Teresa Willcox – 60-64 Female AG
Sue Clarke – 65-69 Female AG
Elspeth Knott – 70-74 Female AG
Vernon Thomas – 75-79 Male AG
Shannon 🇬🇧 is the new European Standard Duathlon Champ (20-24) @BritTri pic.twitter.com/vepPiUq4e0

— Spain Triathlon Multisport (@MultisportSpain) March 8, 2020
SILVER (9)
Annabelle Evans – 20-24 Female AG
Jake Keast – 20-24 Male AG
Sarah Metcalfe – 30-34 Female AG
Karina Kaufmann – 40-44 Female AG
Jayne Baldwin – 50-54 Female AG
Chris Nicoll – 50-54 Male AG
Amanda Benstead – 55-59 Female AG
Yvonne Twelvetree – 70-74 Female AG
Ashley Robinson – 70-74 Male AG
BRONZE (12)
Rosie Harris – 20-24 Female AG
Adam Whittaker – 20-24 Male AG
Amelia Munsey – 25-29 Female AG
Dominic Sharkey – 25-29 Male AG
Jonathan Read – 30-34 Male AG
Elinor East – 35-39 Female AG
Elizabeth Burgess – 45-49 Female AG
Angela Joiner-Handy – 50-54 Female AG
Adrienne Turner – 55-59 Female AG
Edward Short – 55-59 Male AG
Christine Meek – 60-64 Female AG
Mick Anglim – 70-74 Male AG