Ruth Purbrook and Marton Cseik top Wimbleball 70.3 podium
Olympic Silver medallist finishes third at the final IRONMAN 70.3 Exmoor
It's been part of the fabric of the British triathlon summer for well over a decade, but the 12th and final edition of IRONMAN UK Exmoor in Wimbleball was held yesterday.
An Age-Group only race for the past three years, it was no surprise to this Editor to see that the women's overall victory was taken by Ruth Purbrook (Team Freespeed), winner of our ERDINGER Athlete of the Month award for August last year, following a great season in which she took the Bronze medal in her category at the IRONMAN 70.3 World Championships. She finished 11 minutes faster than Elaine Garvican (Tri Training Harder), who knocked 14 minutes off of her AG winning time from 2016, with third overall going to Heather Fell, the Beijing 2008 Olympic Silver medallist in Modern Pentathlon.
What a day! Loved the final Exmoor 70.3 and some super racing all round #champagne podium #winnerwinner pic.twitter.com/ZCJqZBw8js

— Ruth Astle (@Rastle50) June 25, 2017
The men's overall win was taken by Marton Cseik (Havering Tri), courtesy of a fine bike / run combination, with Max Hazell (Athlos Racing) in second, just 22 seconds faster than Oliver Burrows who completed the podium in third.
And so, the all-time winners listing from Wimbleball is complete (and updated in full below).
IRONMAN 70.3 Exmoor, Wimbleball – Sunday 25th June 2017
1.9km / 90km / 21.1km – AG Only race
WOMEN (Overall)
1st – Ruth Purbrook (25-29) – 5:11:22
2nd – Elaine Garvican (35-39) – 5:22:54
3rd – Heather Fell (30-34) – 5:27:18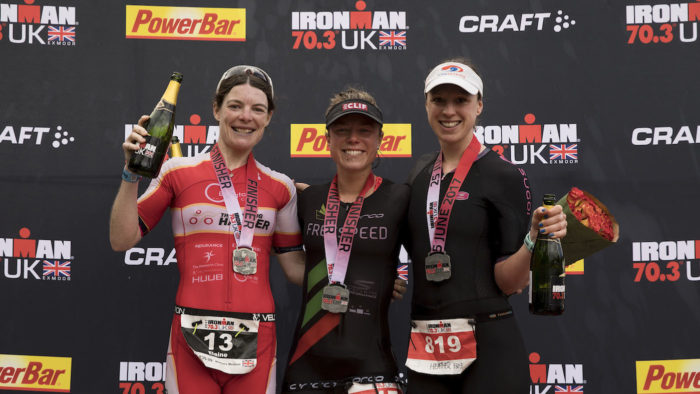 MEN (Overall)
1st – Marton Cseik (25-29) – 4:49:13
2nd – Max Hazell (18-24) – 4:57:40
3rd – Oliver Burrows (25-29) – 4:58:02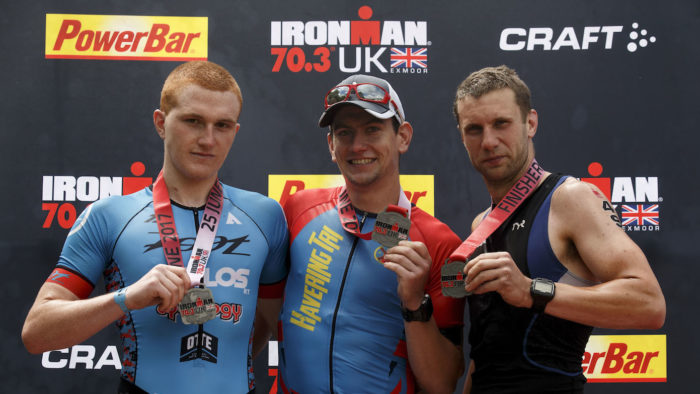 Ironman 70.3 UK Winners
| | | | |
| --- | --- | --- | --- |
| Year | Location | Men | Women |
| 2017 | Wimbleball Lake | Marton Cseik (AG Race) | Ruth Purbrook (AG Race) |
| 2016 | Wimbleball Lake | Andy Greenleaf (AG Race) | Stephanie Knott (AG Race) |
| 2015 | Wimbleball Lake | Brennan Townshend (AG Race) | Natalie Seymour (AG Race) |
| 2014 | Wimbleball Lake | Will Clarke | Eimear Mullan |
| 2013 | Wimbleball Lake | Ritchie Nicholls | Eimear Mullan |
| 2012 | Wimbleball Lake | Philip Graves | Eimear Mullan |
| 2011 | Wimbleball Lake | Mikel Elgezabal | Emma-Kate Lidbury |
| 2010 | Wimbleball Lake | Fraser Cartmell | Bella Bayliss |
| 2009 | Wimbleball Lake | Philip Graves | Catriona Morrison |
| 2008 | Wimbleball Lake | Fraser Cartmell | Bella Comerford |
| 2007 | Wimbleball Lake | Fraser Cartmell | Julie Dibens |
| 2006 | Wimbleball Lake | Chris McCormack | Catriona Morrison |
| 2005 | Longleat House | Paul Matthews | Nina Eggert |