ERDINGER Athlete of the Month – August 2016. And the winner is…
Last month we announced Jon Zigmond as our ERDINGER Athlete of the Month, presenting him with our award for July 2016.
It's now time to reveal the recipient of our recognition for the month of August 2016. Read on / scroll down to see who this months winner is.
Another busy month of racing saw events such as The London Triathlon, Norseman, The Club Relays, Tri Liverpool, 70.3 Dublin, the Olympic Games (!), Aberfeldy Middle Distance and many a popular Ironman. And that's just a tiny snapshot of a full month of racing.
As we've said from the outset, picking a winner for this award can be based upon a range of factors including (but not limited to!):
Outstanding performance at one race,
Consistent performances over a number of events,
Recognition of an athletes efforts over many months, years…or even decades in some cases!
Overcoming setbacks, challenges or obstacles.
We have a long list of people here that we would be massively pleased to present this award to… but we have to select just one, from the many very worthy potential recipients.
Please do continue to keep your nominations coming in through the year, it really is appreciated and they are all reviewed. Read on to find out this months winner…
August 2016: Ruth Purbrook
For August we are going to make this award to an athlete you has been in great form all year, recording some super performances over the Middle distances but – we think – perhaps going a little 'under the radar' at times. We suspect that won't be the case for to much longer. Winning an IRONMAN 70.3 European Gold and World Bronze medal should make sure that is the case! We suspect you'll be hearing a lot more from this athlete over the next few years.
It really has been a terrific season for Ruth Purbrook. Having last season won the Chateau de Chantilly Middle Distance race, organised by Castle Triathlon Series in France, Ruth has really focussed her attentions on that format this year.
Under the guidance of her coach Will Clarke, the British Ironman Pro and Beijing 2008 Olympian, Ruth really does seem to have found her format, has dedicated herself to improving and that is reflected in these great results:
April – Challenge Fuerteventura: First AG athlete overall.
May – IRONMAN 70.3 Mallorca: First AG athlete overall.
May – Slateman Triathlon: Second overall – in Sprint AND Full to win Slateman Savage.
July – The Gauntlet / Hever Castle: Overall winner.
August – IRONMAN 70.3 European Championships (Wiesbaden): Winner F25-29.
September: IRONMAN 70.3 World Championships (Mooloolaba): Third F25-29.
September: The Gauntlet / Hever Castle: Overall winner.
By anyone's standards that is a superbly consistent season of success – and one that we have been quietly following with interest. Congratulations on a great year Ruth – and enjoy this award.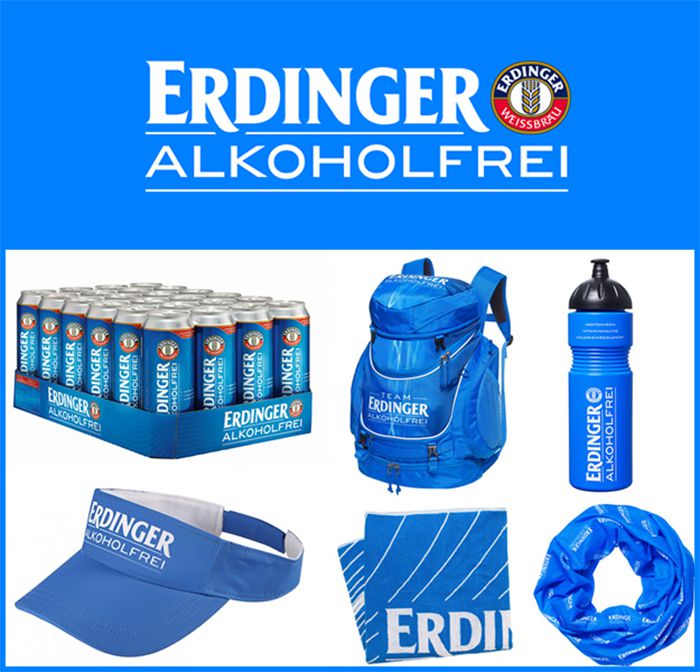 We are delighted to make Ruth Purbrook our ERDINGER Alkoholfrei AOTM for August 2016. Ruth will also receive these great prizes courtesy of ERDINGER Alkoholfrei:
1 x 24case ERDINGER Alkoholfrei Cans
2 x Water Bottles
1 x Rucksack
1 x Visor
1 x Multifunctional Scarf
1 x Small Towel
Help us find the Athlete of the Month for September 2016! – #AOTM
We want YOU to help us identify an Athlete of the Month candidate each month through 2016!
Perhaps you have got a friend, rival or club-mate who you feels deserves recognition for their efforts – as well as some tasty cans of ERDINGER Alkoholfrei plus some great prizes? The criteria is up to you – they may be the fastest, have recovered from injury, have sacrificed their own performances from others, shown consistency… anything you think is worthy of recognition!
How can I nominate someone?
Simple – two really easy options:
Simply email

[email protected]

with who you would like to see recognised and a brief note on why, or,
If you are on Twitter, use the hastag #AOTM and tweet us @tri247 and let us know when you have seen a noteworthy performance, or have someone you would like us to recognise!