Super League recently published their top earners tables for their Championship season (see below) – but how do those short-course earnings compare to firstly World Triathlon and then middle and long-distance?
Three SLT athletes topped the $100,000 mark for the campaign, not bad going for what in men's overall winner Leo Bergere's case was three events.
Numbers-wise he took home $112,200 for 130 minutes and 33 seconds of super-high intensity action – $859 per minute or $51,586 per hour.
And on the women's side it was runner-up Jeanne Lehair who just pipped Championship Series winner Kate Waugh on the prizemoney front – both completing the full set of four events and being rewarded with $105,000 and $100,200 respectively.
WTCS top earners a step ahead
But while Super League has those three athletes above the $100k mark, World Triathlon's WTCS trumps that with four – and that's before any Mixed Relay figures are factored in.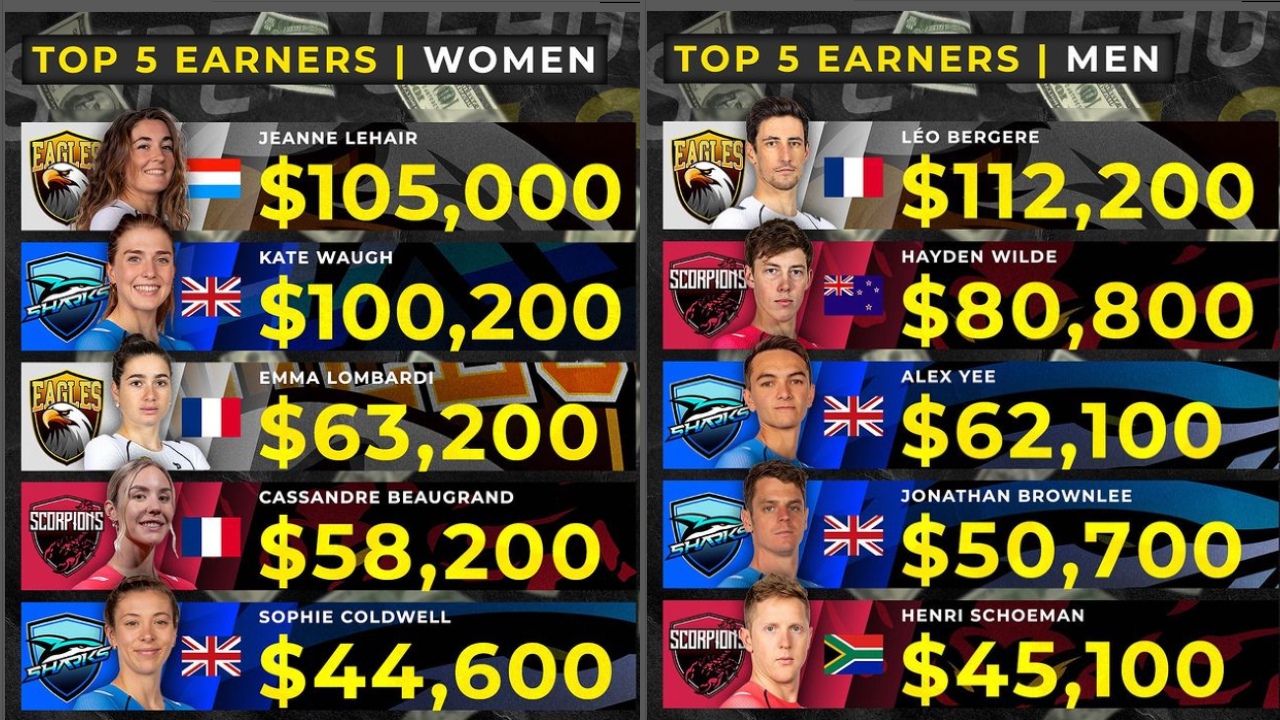 And their newly-crowned World Champion Beth Potter tops the female short-course earnings standings thanks to her prize money payout of $169,100 from World Triathlon in addition to SLT where she raced twice.
Cassandre Beaugrand's not far off though, with $115,100 from World Triathlon and $58,200 from two SLT appearances.
For the men, it's also the World Champion in the shape of Dorian Coninx who collected the most from the WTCS – $121,550 – though Hayden Wilde was close behind on $108,800 and he was also second in the SLT list with $80,800.
PTO lead the way for now
But there's no doubt at the moment that the biggest triathlon earners in 2023 in terms of pure prize money came courtesy of the PTO Tour.
There were just the three events – it's rumoured to be increasing to six or seven in 2024 – but the likes of Ashleigh Gentle and Anne Haug took home some hefty pay cheques.
Haug actually missed the US Open but her victory at a stacked European Open ($100k) and second place at the Asian Open in Singapore ($50k) plus her likely top spot in the PTO's end-of-season rankings ($100k) generated a cool quarter-of-a-million dollars.
But that was bettered by Gentle with a win and two runner-up spots – added to a seemingly nailed-on $90k for second in the standings – for a grand total of $290k.
That pair also raced in various other events, with Haug netting runner-up spots at both the IRONMAN World Championship and Challenge Roth, but the lion's share of their prize money still came via the PTO.
And on the men's side no one took better advantage of the PTO's largesse than Olympic champion Kristian Blummenfelt. He found time to take in all three events in amongst his short-course campaign, with a first, second and third also his three counting races for top spot in the rankings for a second year in a row and a total of $285k, just a fraction below Gentle.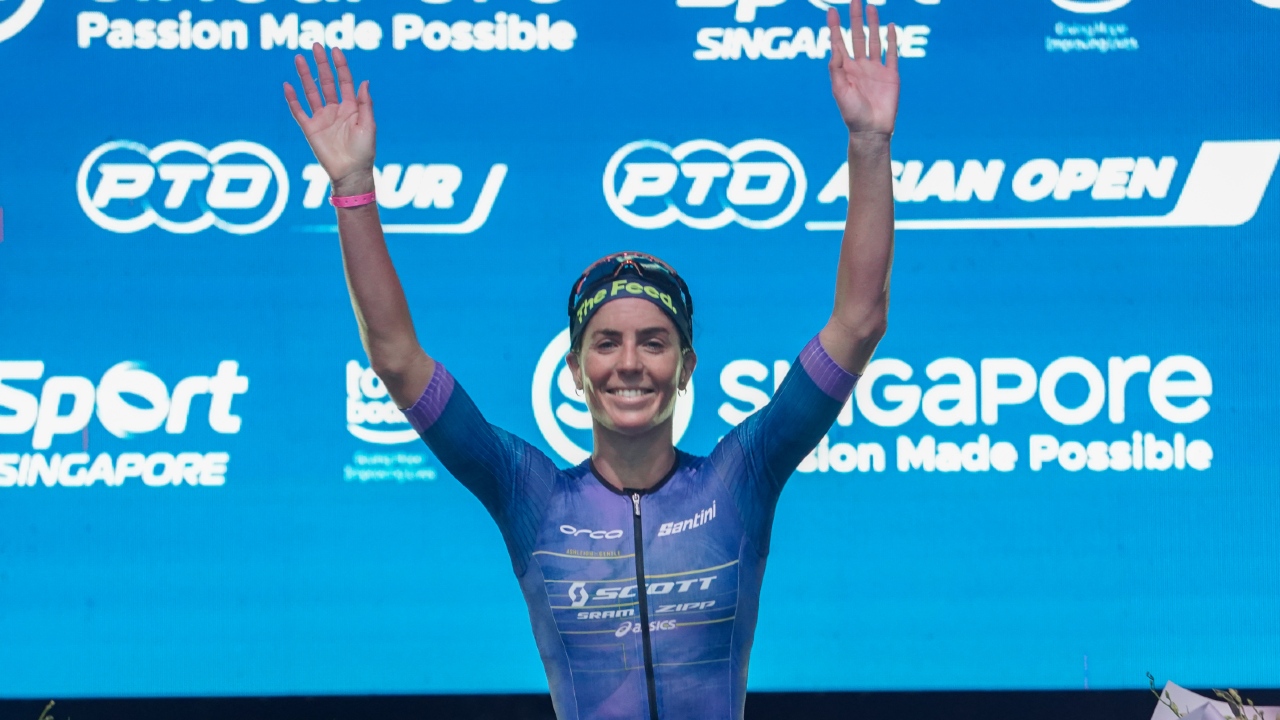 How does IRONMAN compare?
The first place prize at IRONMAN's World Championship – the sport's highest-profile race after the Olympics – isn't that much higher than a PTO event ($125k compared to $100k), though it was much more about the prestige and achievement for Lucy Charles-Barclay after she netted that elusive Kona win this year after four second places.
Injury meant LCB raced just the four times in 2023 but she garnered $246.75k in prize purses. In addition to Kona, she won $35k for third in the PTO European Open, $14k for fifth in the PTO Asian Open, $2,750 for second place at IRONMAN 70.3 Kraichgau and a likely $70k bonus for fourth in those end-of-year standings.
Professional prize purses at IRONMAN events – that lowly Kraichgau one for LCB's runner-up spot stands out like a sore thumb compared to PTO figures – have been under scrutiny for a number of years but the M-Dot brand really shook things up last month with their Pro Series announcement.
That will put an extra $1.7million on the line next season – and the $200k pot for the overall winners just happens to be exactly double the PTO's top-spot payout for their bonus pool so it will be fascinating to see where next season's top earners collect the bulk of their money.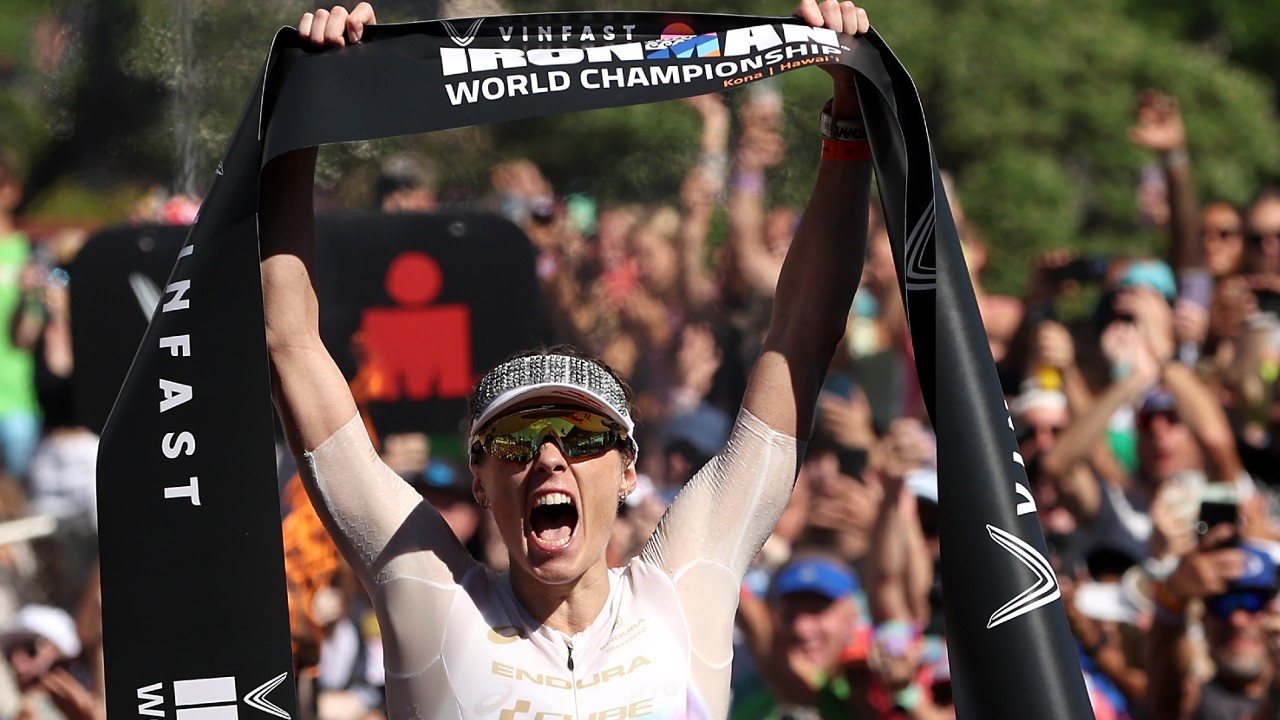 Of course it's also important to point out that these figures are purely around prize money and it's a more nuanced landscape with sponsorship, bonuses and many other factors also at play – with the tax authorities certainly waiting for their share, for example.
But the competition between IRONMAN and the PTO in 2024 is an intriguing one which we'll be looking at in much more detail over the coming weeks, starting with whether it's going to be possible to contend for both.