IRONMAN have dramatically announced a season-long bonus scheme which pretty much doubles what the PTO are currently offering as the battle to get the best triathletes racing each other in their events intensifies.
The PTO [Professional Triathletes Organisation] rewards those at the top of their world rankings, though their own three races are only a small part of that and in theory an athlete could head those standings without having taken part in any of them.
That's slightly unlikely given the points-scoring and tier criterias and both Ashleigh Gentle and Kristian Blummenfelt, who are in line for the 2023 end-of-season $100,000 bonuses, have each raced all three this year.
Things came to a head in late August when only a week separated the PTO Asian Open in Singapore and the IRONMAN 70.3 World Championships in Lahti, Finland, with both races somewhat diluted as a result.
And the PTO's doubling down on the 100km distance, a fraction under 70.3, had also led to a number of athletes who excel at the full 140.6-mile IRONMAN distance feeling marginalised.
Healthy competition says Andrew Messick
All that is now set for a huge shake-up with this announcement, with the IRONMAN scheme offering $200,000 to each of their series winners – and the balance heavily skewed in favour of those at the longer end of the distance spectrum.
Speaking to IRONMAN CEO and President Andrew Messick a little earlier, I asked if this now means the gloves are off between themselves and the PTO?
His response was: "We've always taken the position that we're going to have competitors in the space and that's how it's been if you look back on the history of long-distance triathlon.
"The PTO is here right now and it's okay. It's all right for there to be competition. It helps our professionals. Goodness knows, for almost all of the thousand or so professionals that are in our system, it's not an easy life for the overwhelming majority of them.
"And to the extent that there's opportunities for our professional athletes to earn money outside of our series, we've always encouraged them to take it.
"The PTO is doing something now that isn't altogether clear, but if you take what they've said, their model is we want the top 20 men and the top 20 women. We want to have them race a minimum of a certain number of times with us and have it be much more of a closed system, which is okay, I understand that.
"But we have 1,000 pros in our system and they're focused on 40. I think for the other 960 professional athletes it's good for the overall triathlon ecosystem for there to be options for those folks. And I think there should be options for the 40 as well.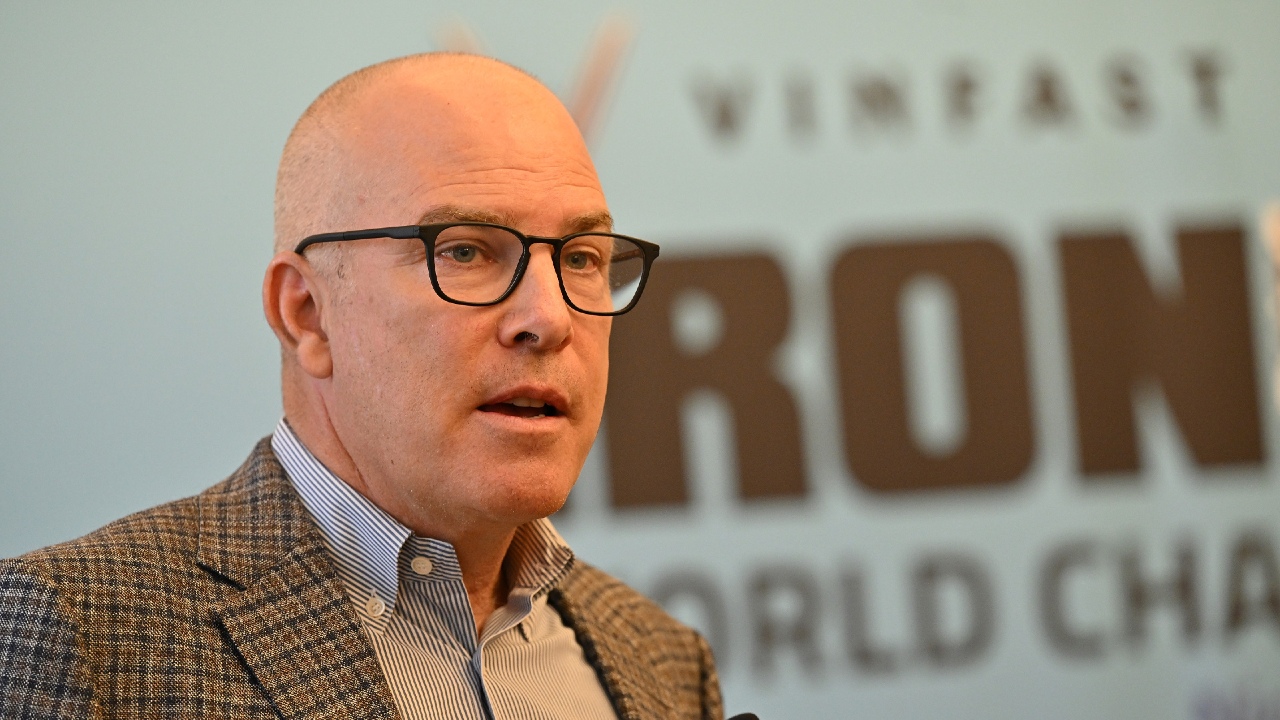 "And so in the system that we just announced, it's open to any professional athlete. There's no eligibility requirement, you don't have to have a certain ranking to get to compete in the series. There's no contract, there's no exclusivity, there's no limits on anybody's ability to do anything.
"And we've intentionally chosen a relatively low number of races that score in five, because we recognise that people are going to do races outside of our series.
We don't want to encourage people to over race. We don't want people, our professional athletes, to feel that they have to do something that's physically unhealthy or unsafe for them in order to get paid.
"And so I think there's a lot of accommodations in the system that we've designed that recognises that very few athletes will do 100% IRONMAN races over the course of a year. But if someone wants to, they're welcome to."
The IRONMAN Pro Series in detail
In terms of the nuts and bolts of the new IRONMAN series, here's how it's shaping up:
New Pro Series to consist of six IRONMAN and nine IRONMAN 70.3 triathlons around the world as well as Vinfast IRONMAN World Championship Women's and Men's races and Vinfast IRONMAN 70.3 World Championship.
Designed to showcase and reward the exceptional racing talent of the world's top professional triathletes and provide broader year-round interest and intrigue through deeper pro fields, storylines, and broadcast coverage.
Incremental $1.7 million dollars paid at year's end on top of individual event payout creating total pro prize and bonus purse of nearly $6 million in 2024 season.
It will be contested over 18 designated events in the 2024 pro circuit, including a combination of six full-distance IRONMAN and nine IRONMAN 70.3 races from around the globe as well as the VinFast IRONMAN World Championship women's and men's races and the VinFast IRONMAN 70.3 World Championships.
The 2024 series will kick off at the 2024 Athletic Brewing IRONMAN 70.3 Oceanside triathlon on April 6 and will run through the 2024 VinFast IRONMAN 70.3 World Championship in Taupō, New Zealand on December 14 and 15, 2024.
Prize money for individual pro races on the circuit will remain consistent with past years, with a few adjustments, including an increase of the IRONMAN 70.3 World Championship prize purse to $500K.
All professional athletes, of which there are approximately 1,000, are eligible and will start on a level playing field to begin the season. At each of the 18 designated IRONMAN Pro Series events, professional athletes will earn points based on their finish times to count towards a final series ranking.
Strong bias towards IRONMAN distance
A first placed finish earns maximum points – 5,000 points for IRONMAN and 2,500 points for IRONMAN 70.3, while winning the IRONMAN World Championship will earn 6,000 points and the IRONMAN 70.3 World Championship will earn 3,000 points. Points are then cascaded based on the time deficit to first place. Fast racing will pay off with one point per second deducted based on deficit to the winning time, with no points floor.
While professional athletes can choose any combination of designated races in the series, only the top five race performances of the year will count towards an athlete's final ranking, of which a maximum of three IRONMAN event results can be counted. The top 10 ranked athletes in each gender at the end of the IRONMAN Pro Series will share $1.3 million in the bonus pool, with the top placed male and female taking home $200,000 each. A further $400,000 in financial assistance will be paid out equally to athletes ranked 11th-50th in each gender.
The professional qualification policy for IRONMAN and IRONMAN 70.3 World Championship remains the same rolling into 2024, and validation rules for IRONMAN and IRONMAN 70.3 champions and podium finishers, will be reinstated for 2024 after being suspended during COVID years and the changing World Championship schedule.
"We wanted to find a way of recognising the exceptional talent of our top professional triathletes while also giving up-and-coming professionals an opportunity to thrive and make their mark", added Messick.
"The events have been carefully selected to ensure that they are accessible for our professional athletes, but also offer diverse courses so athletes can select races that are best suited to their strengths. We look forward to the inaugural race of the Pro Series at Athletic Brewing IRONMAN 70.3 Oceanside, that will undoubtedly set the tone for an incredible year of racing."
TRI247 says…
It's a real challenge to the PTO and it will be fascinating to see their response as they start to announce their own 2024 schedule, which is expected to at least double the three races they've offered this season.
And it's also raise more eyebrows around the fact that their partnership with World Triathlon will next year recognise the PTO Tour as the 'official World Championship Tour of long-distance triathlon', given that the focus has so far been 100% on middle distance.
We'll have more reaction from all parties over the coming days.
2024 IRONMAN Pro Series schedule
| | | |
| --- | --- | --- |
| Date | Race | Location |
| April 6 | Athletic Brewing IRONMAN 70.3 Oceanside | Oceanside, Calif., USA |
| April 27 | Memorial Hermann IRONMAN North American Championship Texas | The Woodlands, Texas, USA |
| May 4 | Intermountain Health IRONMAN 70.3 North American Championship St. George | St. George, Utah, USA |
| May 11 | Zafiro IRONMAN 70.3 Alcúdia, Mallorca | Alcúdia, Mallorca, Spain |
| May 19 | IRONMAN 70.3 Chattanooga | Chattanooga, Tenn., USA |
| June 2 | IRONMAN European Championship Hamburg (WPro) | Hamburg, Germany |
| June 8 | IRONMAN 70.3 Boulder | Boulder, Colo., USA |
| June 16 | Cairns Airport IRONMAN Cairns | Cairns, Queensland, Australia |
| June 30 | IRONMAN 70.3 Les Sables d'Olonne | Vendėe, France |
| July 16 | IRONMAN Vitoria-Gasteiz | Vitoria-Gasteiz, Spain |
| July 21 | Athletic Brewing IRONMAN Lake Placid | Lake Placid, N.Y., USA |
| Aug 18 | Mainova IRONMAN European Championship Frankfurt (MPro) | Frankfurt, Germany |
| Aug 25 | IRONMAN 70.3 European Championship Tallinn | Tallinn, Estonia |
| Sept 1 | IRONMAN 70.3 Zell am See-Kaprun | Zell am See, Austria |
| Sept 22 | VinFast IRONMAN World Championship – Women's Race | Nice, France |
| Oct 24 | VinFast IRONMAN World Championship – Men's Race | Kona, Hawai`i, USA |
| Dec 1 | IRONMAN 70.3 Western Australia | Busselton, Western Australia |
| Dec 14 & 15 | VinFast IRONMAN 70.3 World Championship | Taupō, New Zealand |
What's on offer?
| | | |
| --- | --- | --- |
| Position | Men | Women |
| 1st | $200,000 | $200,000 |
| 2nd | $130,000 | $130,000 |
| 3rd | $85,000 | $85,000 |
| 4th | $70,000 | $70,000 |
| 5th | $50,000 | $50,000 |
| 6th | $40,000 | $40,000 |
| 7th | $30,000 | $30,000 |
| 8th | $20,000 | $20,000 |
| 9th | $15,000 | $15,000 |
| 10th | $10,000 | $10,000 |
Based on year-end standings