Are you ready to take your cycling to the next level? Gran Fondo and Cyclesportives offer an incredible opportunity to challenge yourself, explore breathtaking landscapes, and immerse yourself in world-class destinations.
There's a reason these organised mass-participation events are exploding in popularity worldwide, attracting adventurous cyclists of all levels.
Below, we take you on a global tour of some of the most iconic Gran Fondo and Cyclesportives. From legendary routes to hidden gems, get ready to discover the events that will fuel your cycling passion and create memories that last a lifetime. With serious bragging rights along the way.
---
Paris Roubaix – Go pro for the day
Distance: 170km
Affectionately known as "Queen of the Classics" and "Hell of The North", The Paris Roubaix Challenge offers a unique opportunity to ride the same brutally challenging 170km route as the professional riders. The ride features the infamous cobbles of Carrefour de l'Arbre, and the Trouée d'Arenberg and takes place on the same day as the professional Paris-Roubaix race on the first Sunday of April every year.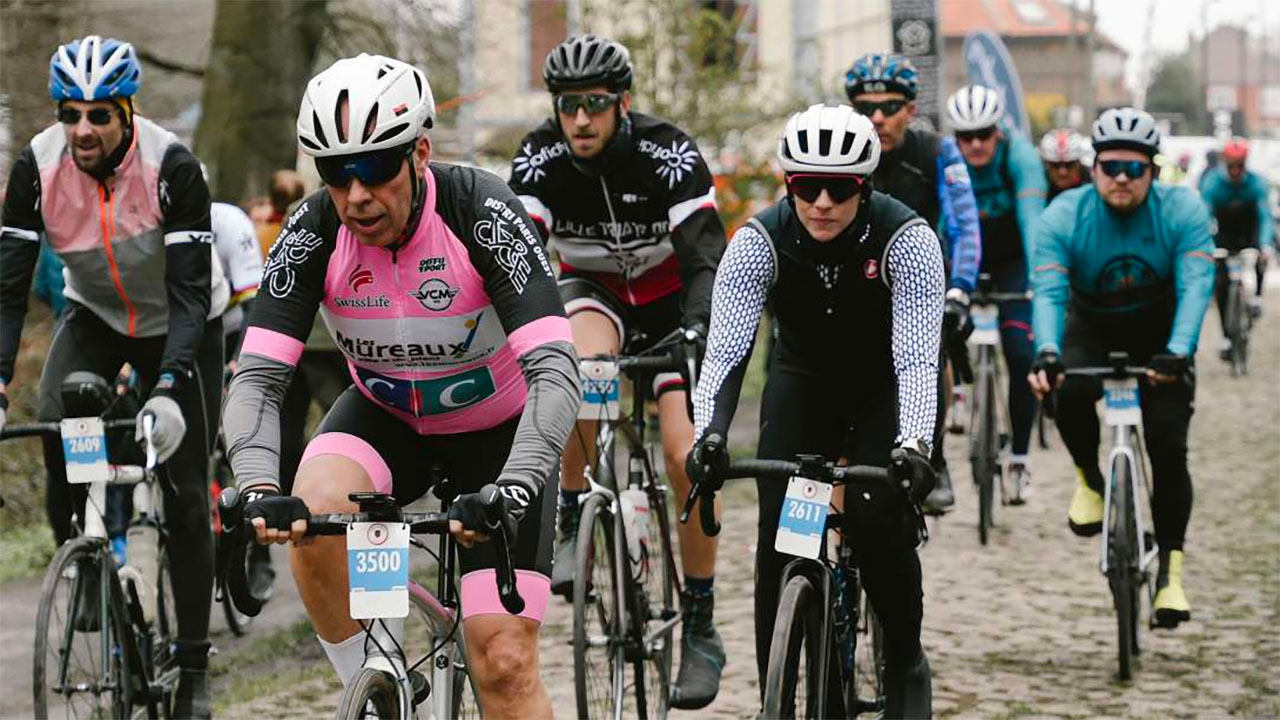 ---
Vätternrundan – Try a Swedish classic
Distances: 100km (female only & e-bike starts) / 315km / mountain bike stage

Billed as the world's largest recreational bike ride, Vätternrundan might also be the world's most inclusive Gran Fondo experience. Riders began racing the 315km meandering circuit of stunning Lake Vättern in 1966 and today thousands gather annually in Motala for a week-long Nordic bike party. But make no mistake, this is no chilled out Sunday lakeside ride.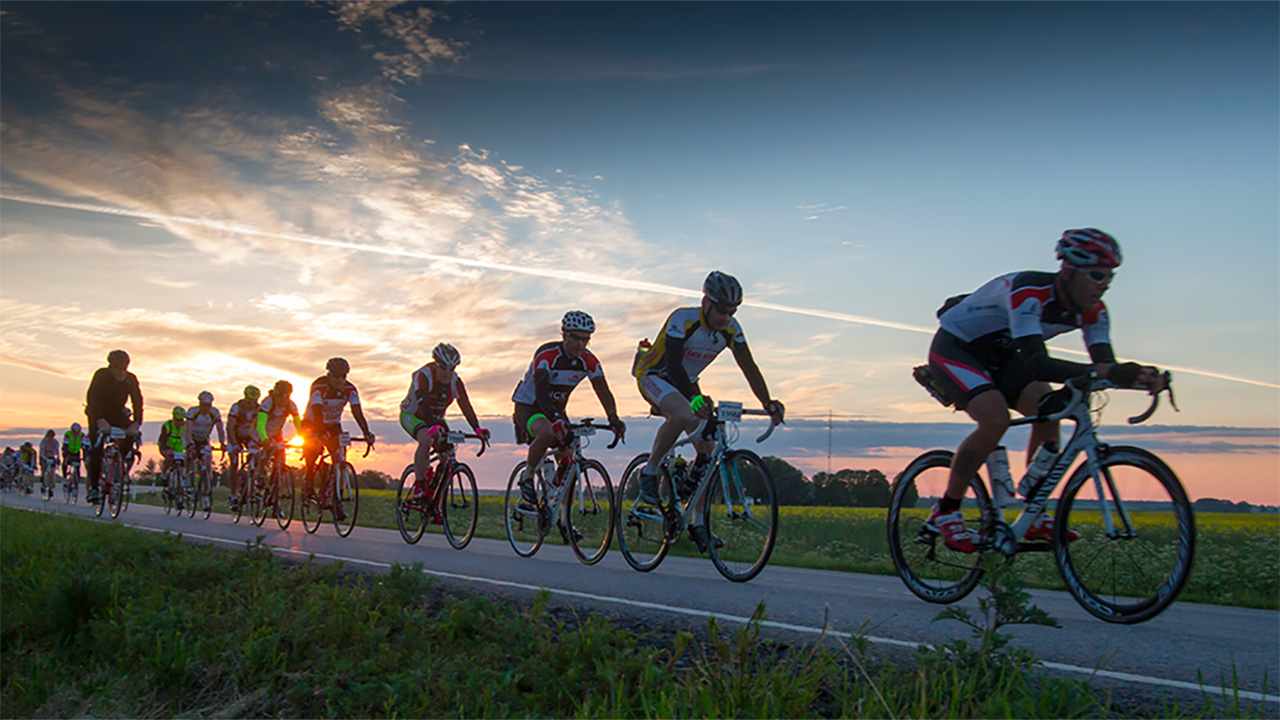 ---
Ride London – A right royal day out
Distances: 30 / 60 / 100 miles
A legacy of the London 2012 Olympic Games, this spectacular ride covers 100 miles of traffic-free roads through the heart of London and neighbouring Essex. Setting off from Victoria Embankment, the ton tours the Olympic Park and via seven London boroughs, featuring some of the 2014 Tour de France stage and culminating in an epic photo finish over London's Tower Bridge.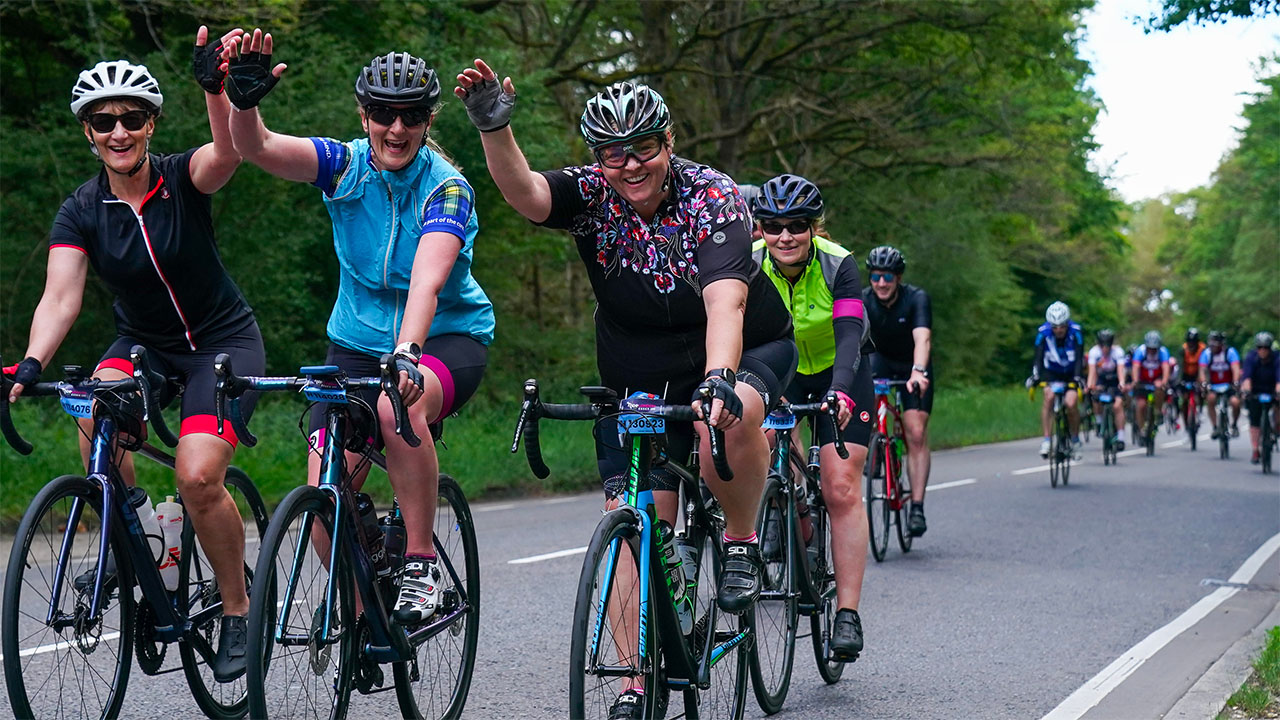 ---
Mallorca 312 – Go mountain mad in the Med
Distances: 167 / 225 / 312km
There's a reason why Mallorca 312 is one of the most popular Sportives in Europe. The allure of a European cycling mecca, with epic climbs, crystal-clear waters and closed roads mean you need to be quick- all 8,000 spaces regularly sell-out at lighting speed.
It's also got a reputation for being one of the hardest amateur cycling events, with the full route promising over 5,000m of climbing in the Serra Tramuntana mountains. Not for the faint hearted.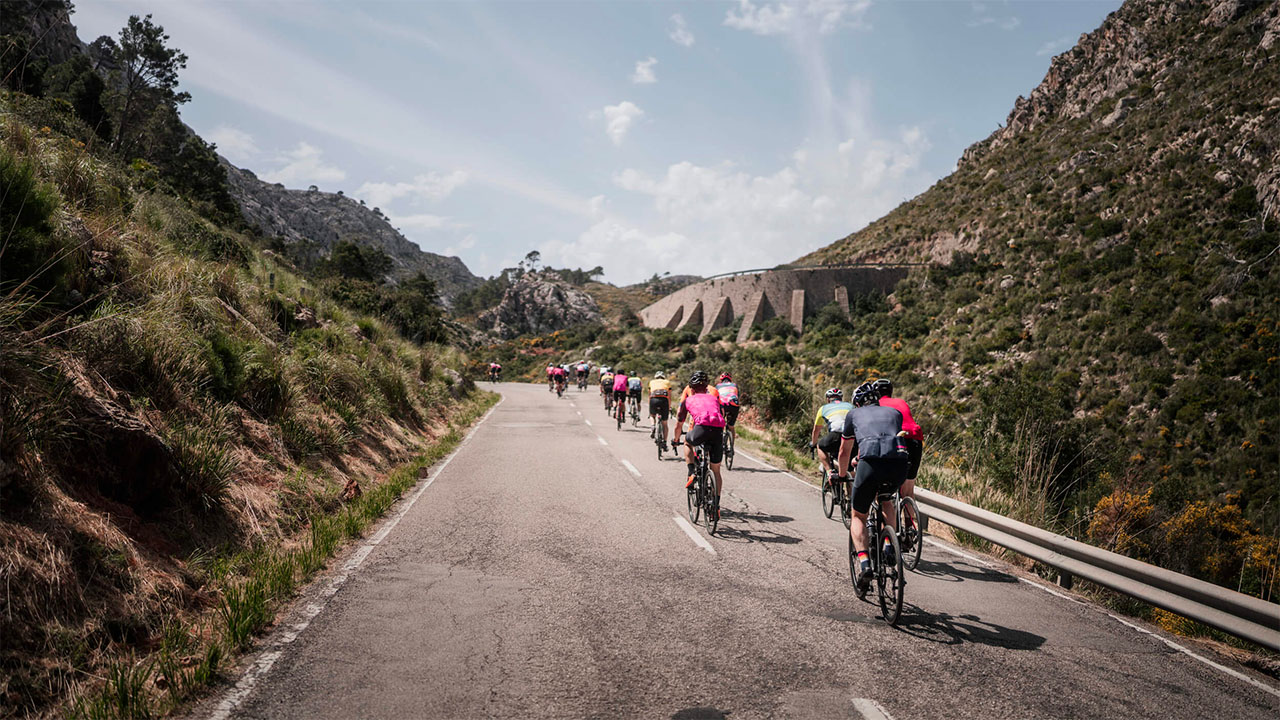 ---
The Marmotte – La Grande Dame of Sportives
Distance: 174km
Legendary in the calendar, this beautiful monster of a Sportive is famous for its rich history and route, taking in four of the Tour de France's notoriously tough climbs.
Whilst technically a sportive, The Marmotte is an annual fixture for many northern European amateur cyclists, many of whom treat it more like a race. The scale, scenery and Alpine atmosphere bring amateurs back year after year, following in the footsteps of their hero pro's.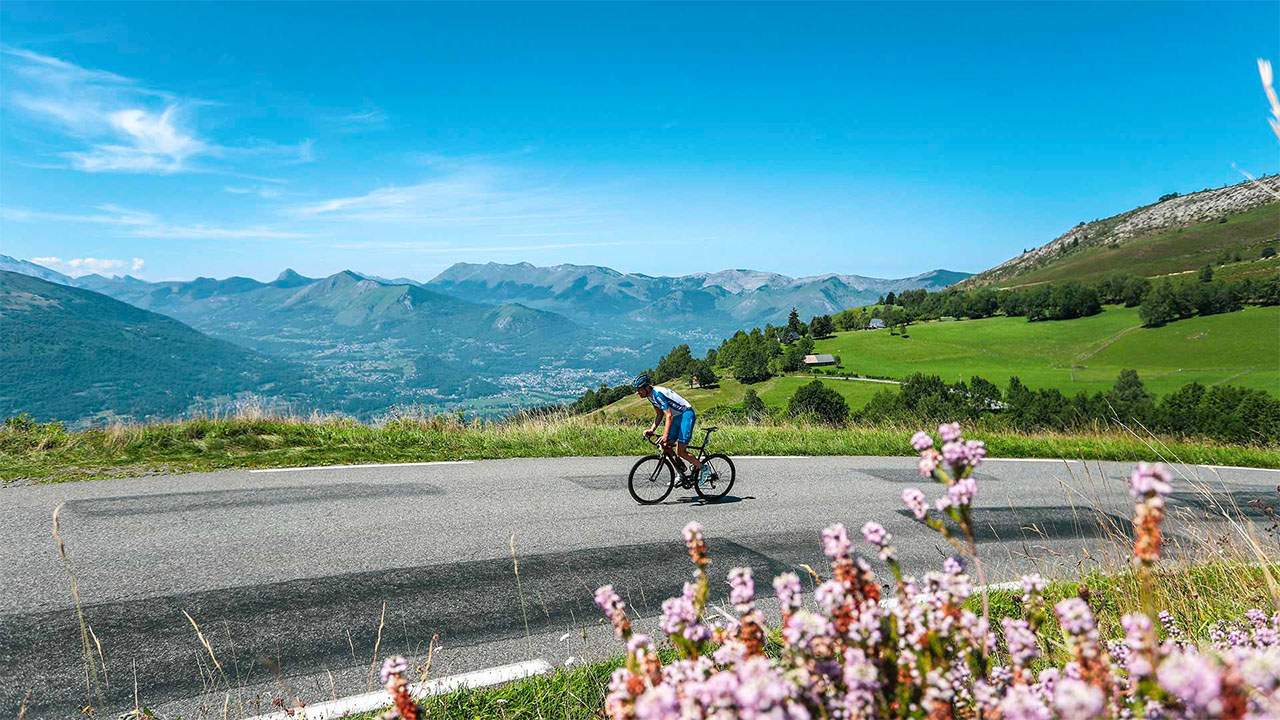 ---
Cape Argus – Coastal capers by the Indian Ocean
Distance: 110km
The biggest timed bike race in the world, with 35,000 cyclists lining up to ride one of the most environmentally and community-focused Sportives on the planet. The first Argus was in 1977 and for one day every year two wheels rule the roads in what English Explorer Sir Francis Drake named "the fairest cape in the whole circumference of the earth".
Starting and finishing in Cape Town with five major climbs and an increasingly diverse crowd, millions of South African Rand are ploughed back into the communities the 109km route crosses through the ongoing work of event charities.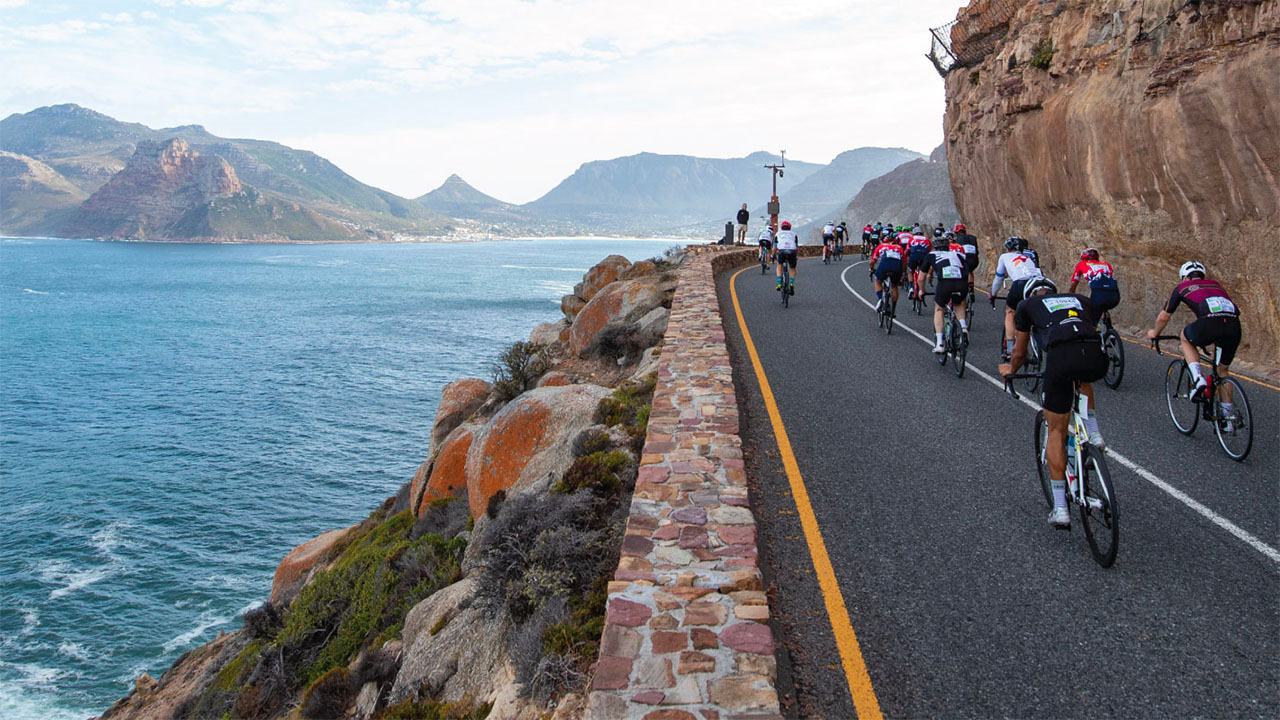 ---
Etape Du Tour – A tour de force
Distance: 152km
Allez Allez! The Étape du Tour offers riders a chance to ride a key mountain stage of the Tour De France just days before the pros. Think closed roads, on-road mechanical support and feed zones; it's almost as if you're riding the Tour de France itself.
The route takes on a different Stage each year and international versions of L'Étape, marketed under the name Étape by Tour de France series, are held annually in various countries around the world to give local riders a Tour de France-like experience. If you've ever wanted to know what it feels like to finish a real stage of the Tour with all of the accompanying camaraderie and a party atmosphere, this is the ride for you. Chapeau!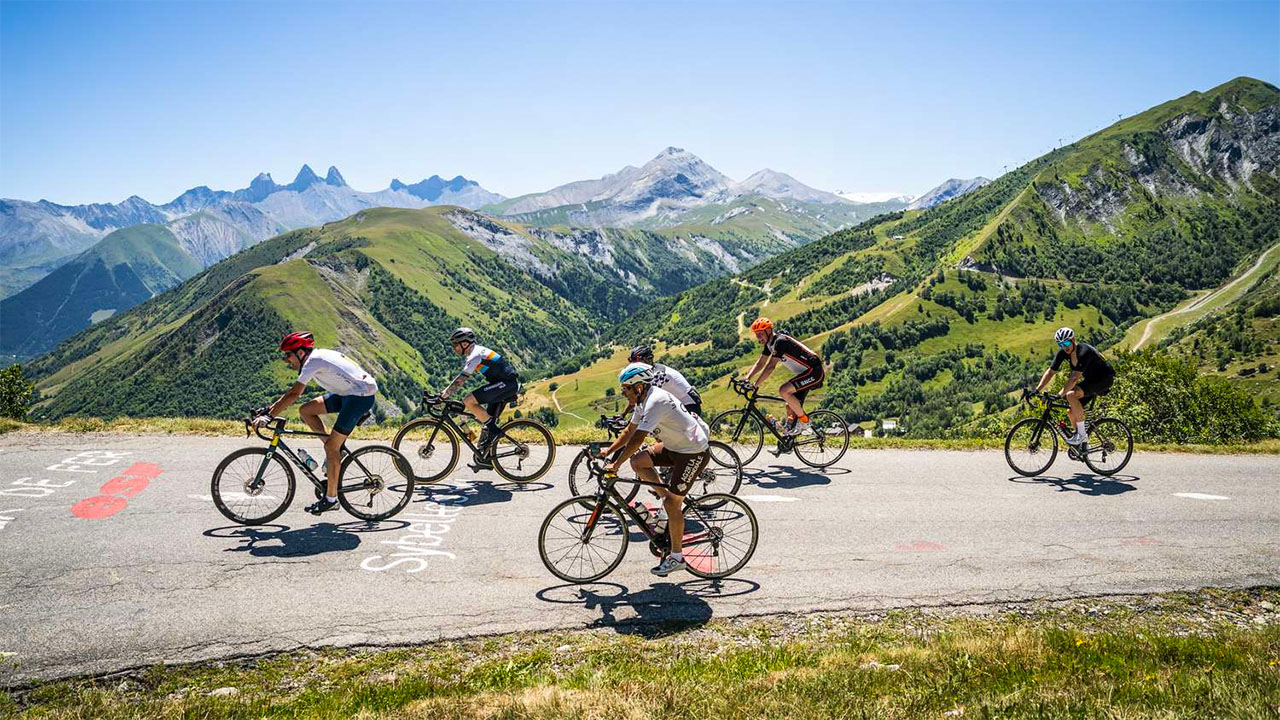 ---
Maratona delle Dolomitti – The mountain marathon
Distances: 55 / 106 / 138km
Described by National Geographic as "one of the biggest, most passionate, and most chaotic bike races on Earth", this Gran Fondo is up there as one of the ultimate tests of a rider's physical and mental strength, the longest covering a relatively simple-sounding 138km.
The route takes in various sections of the Giro D'Italia, with the longer of the three rides snaking through seven iconic mountain passes. It's a heady combination of unrelenting steep gradients, stunning jagged snow-capped peaks and (mostly) closed roads on smooth tarmac. All lined with thousands of spectators, TV cameras and a basecamp with fan zone, music, big screens. Plus lots of pasta.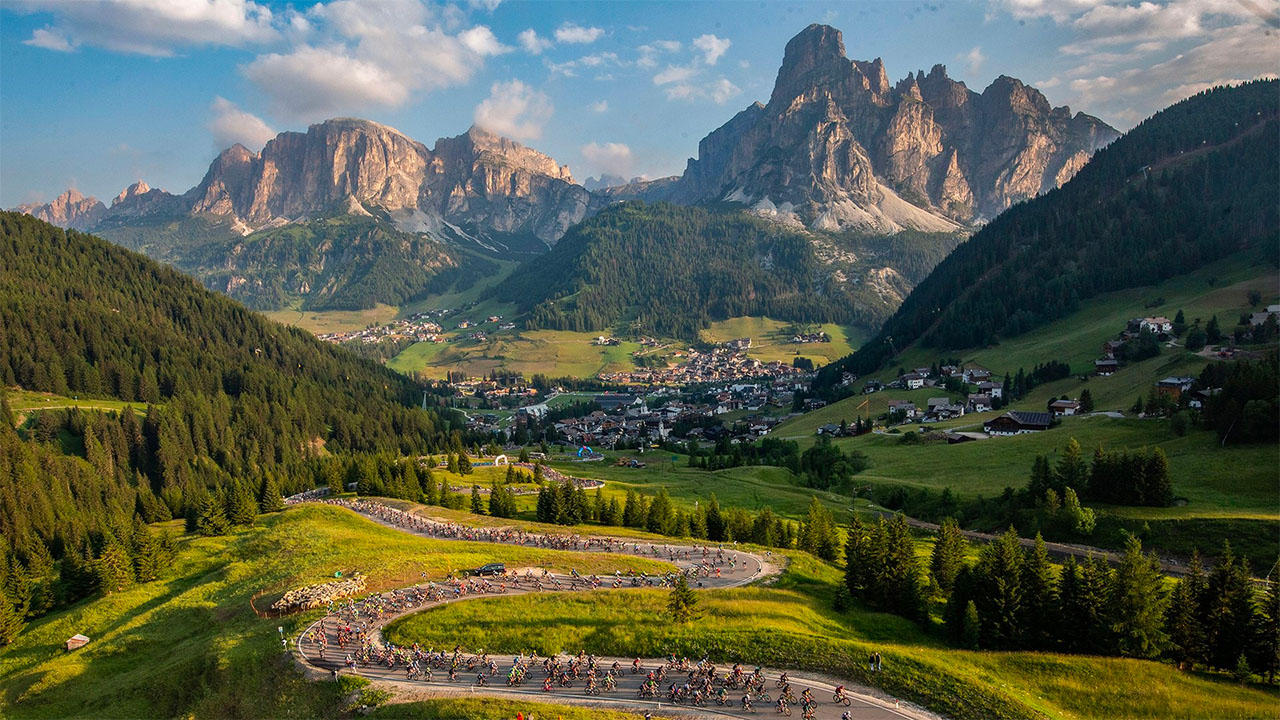 ---
Nove Colli – The Godfather of Gran Fondo
Distances: 60 / 130 / 200km plus off-road edition for mountain bikes
The original Gran Fondo and Italy's most prestigious- and popular. Think international cycling race, festival and big party rolled into one. This event takes its name from the nine hills on the route, first ridden by a group of friends in 1971 and now streamed live on Italian TV. Like its Italian sibling, The Maratona, over 12,000 places fill within minutes of going on sale
Starting from the beautiful seaside town of Cesenatico, this completely closed road route heads into the hills on the Marche / Emilia Romagna border. With the longer route totalling 3840m of climbing, the Nove Colli is a guaranteed tough workout. You can make up for it with the excellent sports nutrition of Italy's finest delicacies at the finish.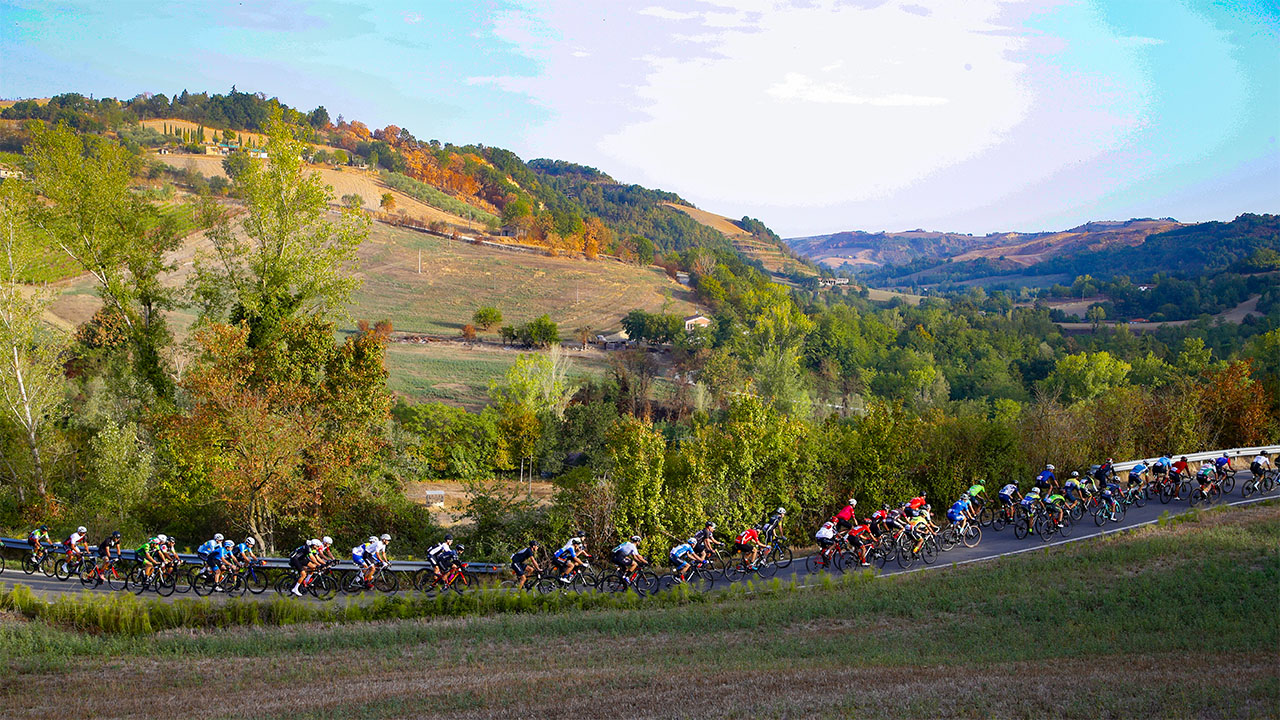 ---
Tour of Flanders aka We Ride Flanders – The bone-shaker
Distances: 75 / 144 / 177 / 242km
Now dubbed " We Ride Flanders" this is a chance to ride the notorious cobbles and hills of the Tour of Flanders race the day before the pros. Taking on the bone-shaking cobblestones, tough climbs and winding roads through the Flemish countryside will give you a new respect for the pros with this tough course, fun and fast in places and brutally steep in others.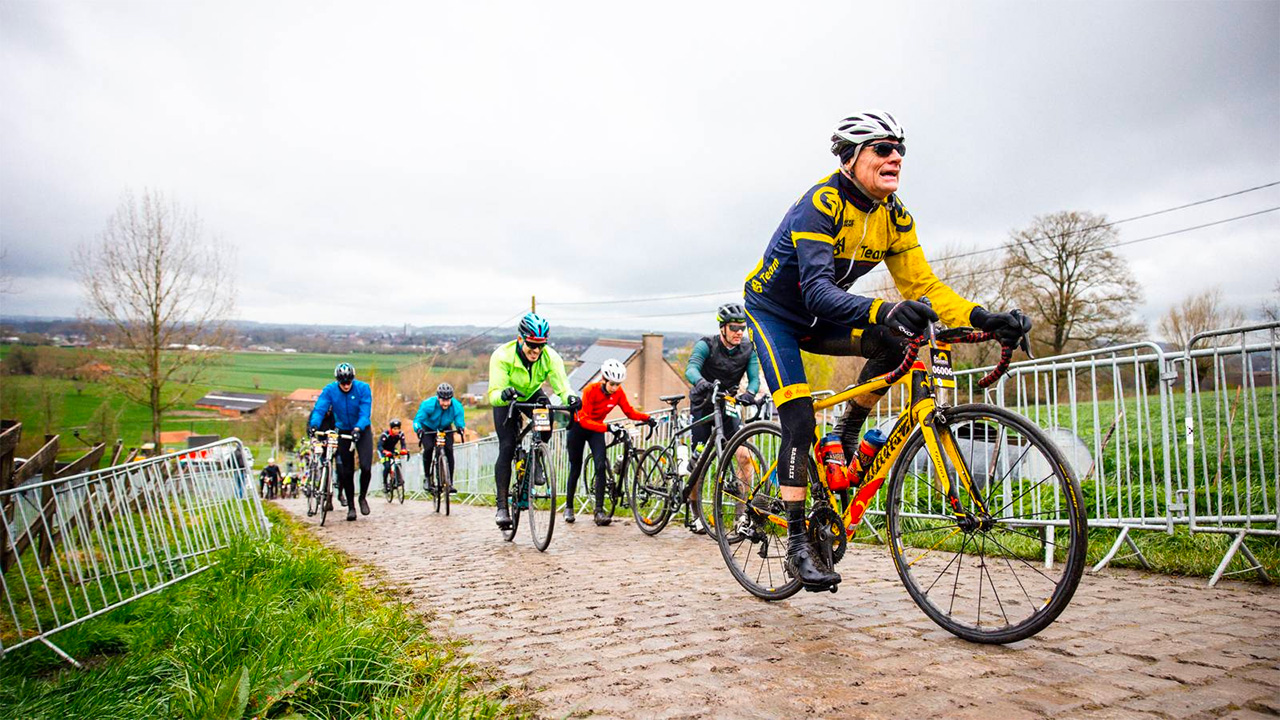 ---
The Belgian Waffle (BWR) – The unroad races
Distances: Approx. 210km (Waffle) 105 km (Wafer) 55km (half wafer)
This category-defying event serves up a tough multi-surface race weekend with a mix of fast pavement, loose gravel and rocky trails. Plus plenty of waffles. The now series of iconic events across the US and Canada was borne out of organiser's desire to bring the spirit of the big one-day European classics to the States – with a twist.
The magic recipe's still there; mass starts, road race dynamics, with a deep field of professional riders and an expansive list of hungry amateurs drawn to the unparalleled opportunity to race alongside their heroes. The vibe is more like a festival, with live music, Belgian waffles, ales, frites and more waffles served up to riders all weekend.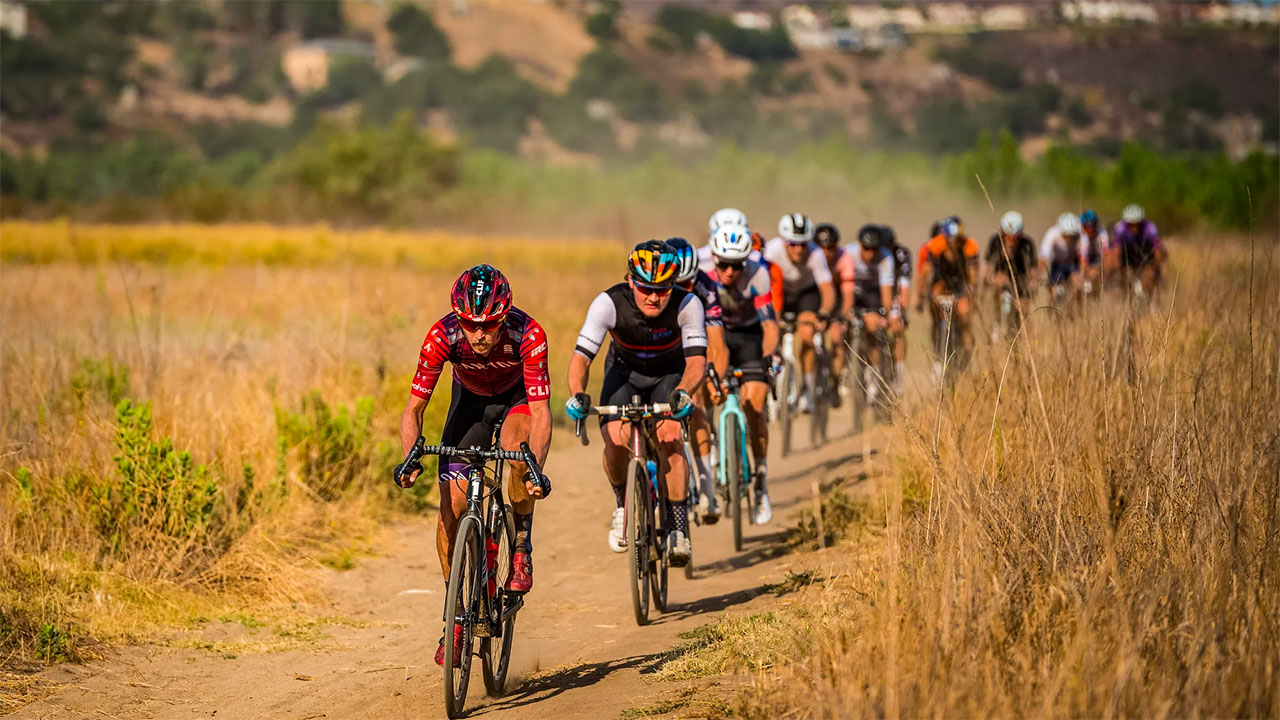 ---
Gran Fondo Hincapie – The Chart-topper
Distances: Various from 10 mile "piccolino" to 80 mile "gran"
Hincapie brothers Rich and George are the business and biking brains the upmarket celebrity-backed Gran Fondo Hincapie series, which began in 2012 in Greenville, and has expanded to a series with rides in Chattanooga, Boise, and Fort Worth.
Credibility comes from a family steeped in cycling history, blending upmarket events alongside their apparel brand, race team, restaurant and hotel as they bring a version of their European riding experiences to the USA. Expect slick organisation, rides road-tested by George himself and a luxe vibe for all abilities.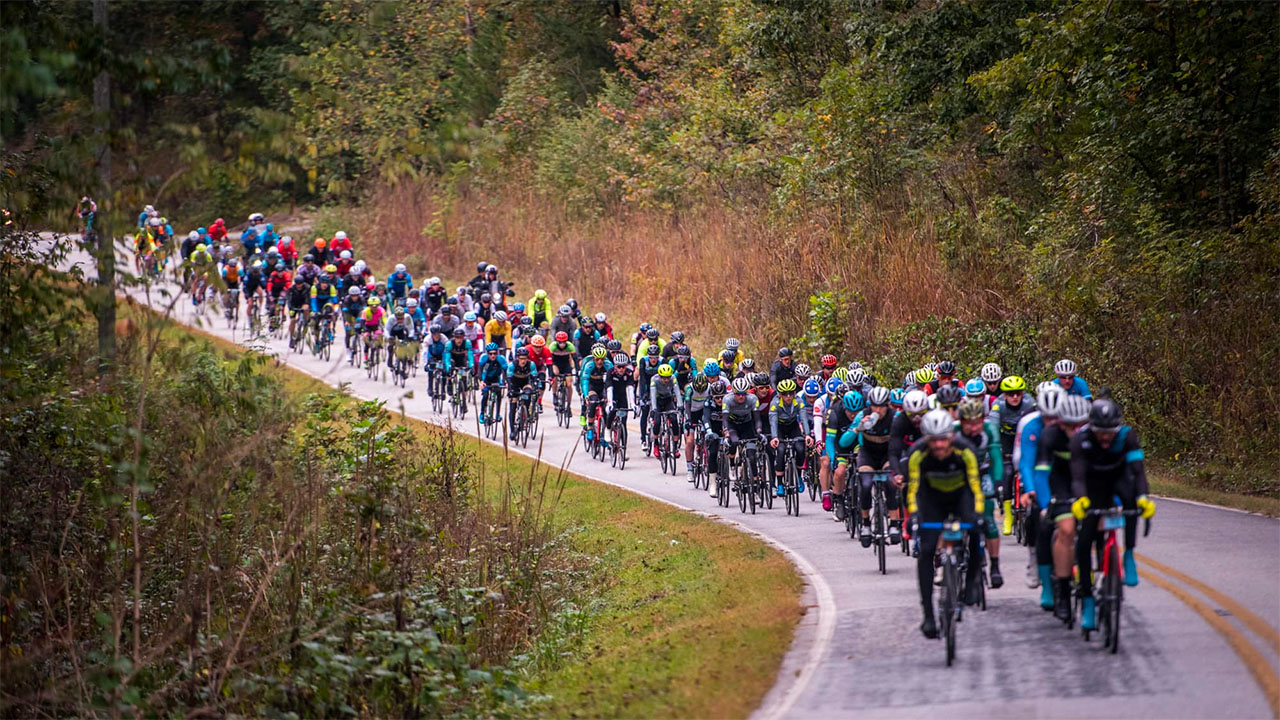 ---
In the world of cycling, Gran Fondo and Cyclesportive offer thrilling opportunities to test your limits, explore jaw-dropping scenery and connect with fellow enthusiasts. The events we've highlighted here are just a glimpse into the vast array of unforgettable rides on offer. Dive deeper into the world of Gran Fondo and Cyclosportive for more reasons why you should give it a try.
If you are just beginning your Gran Fondo and Cyclosportive journey, we've prepared essential tips to contribute to a successful first ride. From selecting the right event to training smartly and equipping yourself with necessary gear – check it out to make the most of your first Gran Fondo or Cyclesportive.
So, whether you're seeking epic mountainous challenges, scenic coastal routes, or the chance to push your riding to the next level, Gran Fondos and Cyclosportives offer unparalleled experiences for all cyclists. Start planning now, and get ready for an exhilarating adventure.