Cassandre Beaugrand is currently enjoying a well-deserved break after signing off her season with another impressive victory on the Super League Championship finale in Neom.
The French star has racked up the wins again as she continues her build to next year's Paris Olympics where she will be one of the big favourites as part of a formidable French team which she feels is starting to rival the strength in depth of the British women.
So close to the overall win
Beaugrand raced just the two SLT events – Malibu and Neom – and won them both, while she also collected impressive WTCS victories in Hamburg and Sunderland.
But it was two near misses – in the Paris Test Event and then the Grand Final in Pontevedra, which were both won by Britain's Beth Potter as she became world champion – which left Beaugrand with mixed feelings about the campaign as a whole.
Speaking to TRI247 she said: "My coach asked me at the start of the season what my big goal was and I said to qualify for the Olympics [her runner-up spot in the Test Event did that, though she has to validate it in 2024].
"But also in my mind, I was hoping to try to get closer to the World Series podium because I was fifth last year in the overall.
"So when I was doing well and leading the series going into Pontevedra, I was really motivated and thinking that I could do it.
"Being so close to the win meant it was a mix of a bit of disappointment and also happiness because I finished a close second and I was struggling in both Paris and in Pontevedra with cramps. So I was a bit frustrated because I couldn't go harder in the run at the end."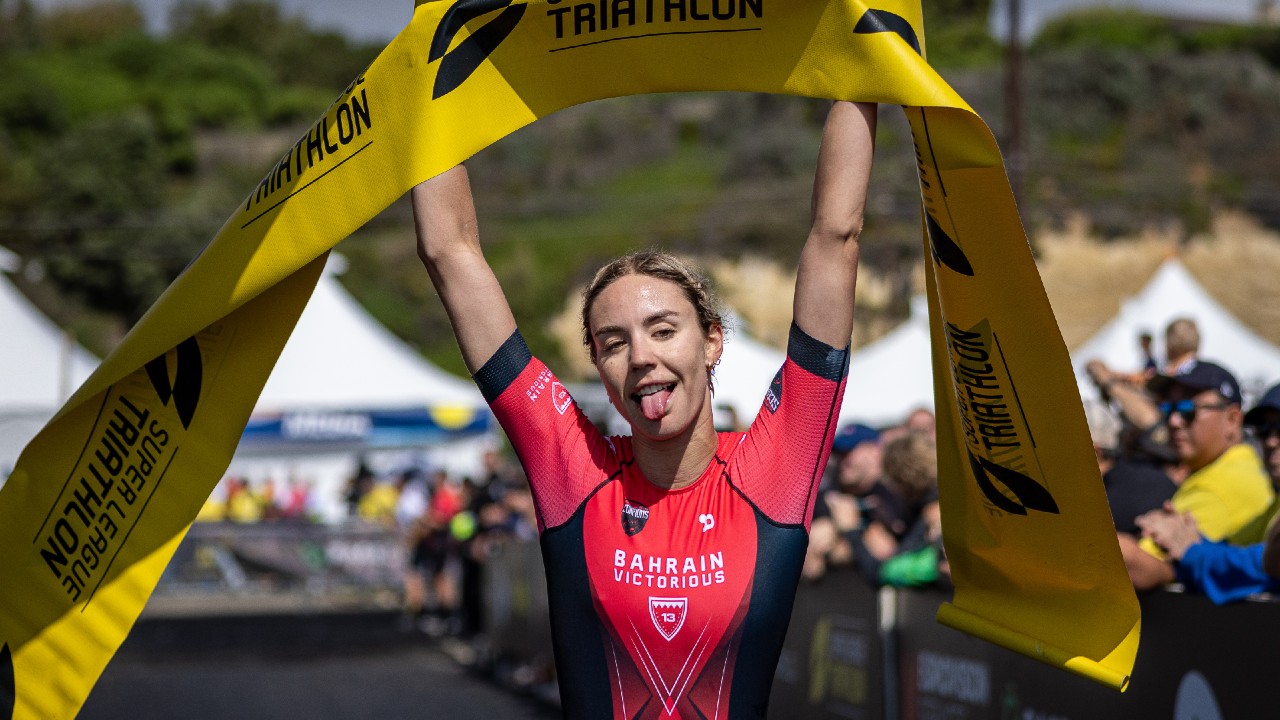 Up until the cramp struck on the run in Pontevedra, Beaugrand had been perfectly placed after one of the best swim and bike combinations of her career over the Olympic distance.
And she added: "It was so frustrating because I have improved so much this season in my Olympic-distance racing and wanted to go so much faster. I was so ready and it was just annoying, but it's something I will have to fix for the future."
Future looks bright
What has become crystal clear this season is the strength in depth of the French Olympic contenders – both women and men.
Beaugrand took that second spot in the overall standings behind Potter while 22-year-old Emma Lombardi has risen to third in those year-end WTCS rankings and Leonie Periault is 18th.
"We are lucky we have three spots, though you never know what's going to happen," Beaugrand pointed out.
"But we have a very good dynamic now and being on podiums with Emma is so good because we can show that while the French girls might not be quite as good as the British, we are getting there. So it's quite exciting.
"It's always good when you have someone like Emma, who is younger, coming in and putting the pressure on us. I think it makes us realise that we have to also improve."