Having been at the front of the race throughout the day, Frenchwoman Cassandre Beaugrand took her second consecutive win on the WTCS circuit with an incredible final lap on the run to take the tape.
In second place, compatriot Emma Lombardi prevailed to secure another French one-two, just as there had been in the men's race.
Just behind, Germany's Annika Koch spoiled the French party to take third ahead of Leonie Periault and prevent a clean sweep of the podium.
After taking four out of six available spots on the podium this weekend, the French Triathlon Federation will fancy their chances for the top steps at the Paris Olympic Test event in three weeks time.
Swim – Van Der Merwe leads the way
Succeeding in getting a little more separation between the groups than the men had managed, the leaders out of the water in the women's event found themselves with a little breathing room in transition.
Out first, South African Vicky Van Der Merwe lead the way, followed closely by supreme swimmer Vittoria Lopes of Brazil and pre-race favourite Beaugrand of France.
Behind the leading trio, a small group including Lombardi managed to latch on and keep contact out of transition, with the rest of the field a further 10-15 seconds behind.
American Gwen Jorgensen, racing her third WTCS in her comeback to the sport, was out of the water at +0:25, alongside Lotte Miller of Norway and Australian Charlotte McShane, as the chasers moved through transition quickly and got to work.
Bike – It all comes together
After a small group, including Olivia Mathias of Great Britain and the French duo of Lombardi and Beaugrand, failed to make much headway over the opening few laps, it looked inevitable that the bike would all come together.
After stubbornly staying away for the best part of the bike leg, the chasers were eventually caught, as 29 of the field came together into transition to set up a real battle on the run for the podium.
Run – Beaugrand blasts to victory
Through the first lap, Lombardi and Beaugrand quickly established an early lead, as the master and the apprentice on the French women's team battled it out for the win, with the rest of the field left to fight it out for third.
Making the decisive move, British-based Beaugrand managed to gap Lombardi halfway through the second lap, with the recently crowned World Super Sprint Champion chasing her second consecutive win in Sunderland.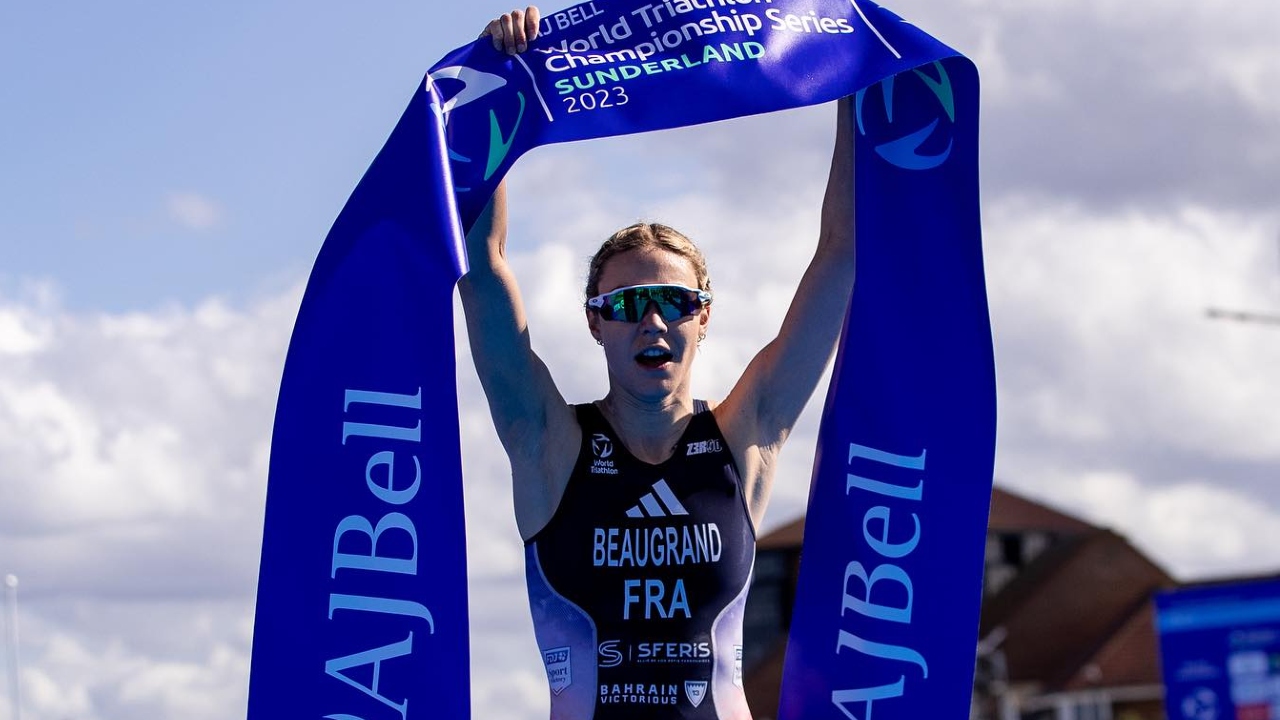 Securing the second French one-two of the day, after compatriots Pierre Le Corre and Leo Bergere dominated the men's race, Beaugrand took the tape comfortably, with Lombardi safe in second. Rounding out the podium, and preventing a French sweep, was German Annika Koch.
WTCS Sunderland Results
Saturday July 29, 2023
Elite Women – Sprint Distance
1. Cassandre Beaugrand (FRA) – 59:53
2. Emma Lombardi (FRA) – 1:00:11
3. Annika Koch (GER) – 1:00:17
4. Leonie Periault (FRA) – 1:00:22
5. Marlene Gomez-Goggel (GER) – 1:00:25
WTCS Standings after Sunderland (which is race six out of seven)
1. Beth Potter (GBR) – 2986.57pts
2. Cassandre Beaugrand (FRA) – 2924.34pts
3. Taylor Spivey (USA) – 2836.90pts
4. Emma Lombardi (FRA) – 2589.27pts
5. Summer Rappaport (USA) – 2357.47pts