Cassandre Beaugrand produced a near-perfect display to claim her third WTCS title as she became the first Super Sprint World Champion in Hamburg.
The French star is one of the big favourites for Olympic glory in Paris next year, and this victory put an end to Britain's monopoly of the women's WTCS races this season.
Beth Potter – who had won two of those four so far – was a distant second with Beaugrand's 10-second margin of victory huge in the context of this format. German trio Laura Lindemann, Annika Koch and Marlene Gomez-Göggel filled the next three positions, cheered on by huge home crowds.
Final Stage 1 – Comfortable for star names
Germany's Lisa Tertsch collected a costly penalty which ultimately cost her the chance of progressing from the first heat.
She failed to get her bike helmet fastened in time in T1 and after taking the 10 seconds near the end of the run dropped outside the top 20 who qualified for the next stage.
It was down to 30 women after Friday's qualifiers and, just as she had done 24 hours earlier, Beaugrand looked in imperious form as she led out the swim.
She looked comfortable throughout and two of her big rivals weren't far behind exiting the water, with Potter in fourth and Taylor Spivey (USA) in eighth.
But it was proving a struggle for 2016 Olympic champion Gwen Jorgensen (USA), who spoke out about the swim course the day before. She was in 29th and 26 seconds back and would soon get distanced even more on the bike as she found herself isolated.
There was a front group of seven on the bike which included Katie Zaferes (USA) but not Spivey, though she looked relatively stress-free as it was all about finishing inside that top 20.
And it had grown into an 18-woman pack at the end of the bike, with much of the focus now on Tertsch and whether she could make it through despite that upcoming penalty.
Sadly for her the answer was no as she sprinted from the penalty tent but could only cross the line in 23rd as her compatriot Lindemann broke the tape first.
ELIMINATIONS: Ainsley Thorpe, Solveig Lovseth, Lisa Tertsch, Emma Jackson, Lizeth Rueda Santos, Nora Gmür, Natalie Van Coevorden, Julia Hauser, Selina Klamt and Gwen Jorgensen.
Final Stage 2 – Heartbreak for Zaferes
The second heat echoed the men's in that the real drama came down to the run.
Zsanett Bragmayer (HUN), Summer Rappaport (USA) and Beaugrand were first out of the water and it was all together on the bike, with the exception of Alberte Kjar Pedersen (DEN) as the other 19 bided their time ahead of the short, sharp run.
But Katie Zaferes' hopes of making it into the final 10 were dashed by misfortune in T2 as the American lost control of her bike on the blue carpet of the transition zone, and by the time she'd recovered there was too much work to do.
Up front the first nine – Beaugrand, Lindemann, Nicole Van Der Kaay (NZL), Cathia Schär (SUI), Koch, Potter, Gomez-Göggel, Rappaport and Spivey – knew they were all but through and it was left to Jolien Vermeylen (BEL) to grab the final place.
ELIMINATIONS: Jeanne Lehair, Rachel Klamer, Verena Steinhauser, Kirsten Kasper, Anabel Knoll, Zsanett Bragmayer, Lena Meißner, Katie Zaferes, Alberte Kjar Pedersen and Sophie Linn (DNF).
Final Stage 3 – Beaugrand a class apart
Beaugrand was once again to the fore in the swim, with Lindemann and Rappaport for company this time.
But the gaps were small and it was no surprise to see a big group on the bike, with Schär the one person to miss out before a big effort on the third lap actually saw her come into T2 in first place.
That meant all 10 were right in the mix but it was the two favourites – Beaugrand and Potter – who soon moved to the head of affairs.
Beaugrand had been in imperious form throughout the Hamburg racing and she eased clear in impressive fashion, opening up a six-second gap by the time the bell came.
That always looked like going only one way – upwards – and she was able to coast home in splendid isolation.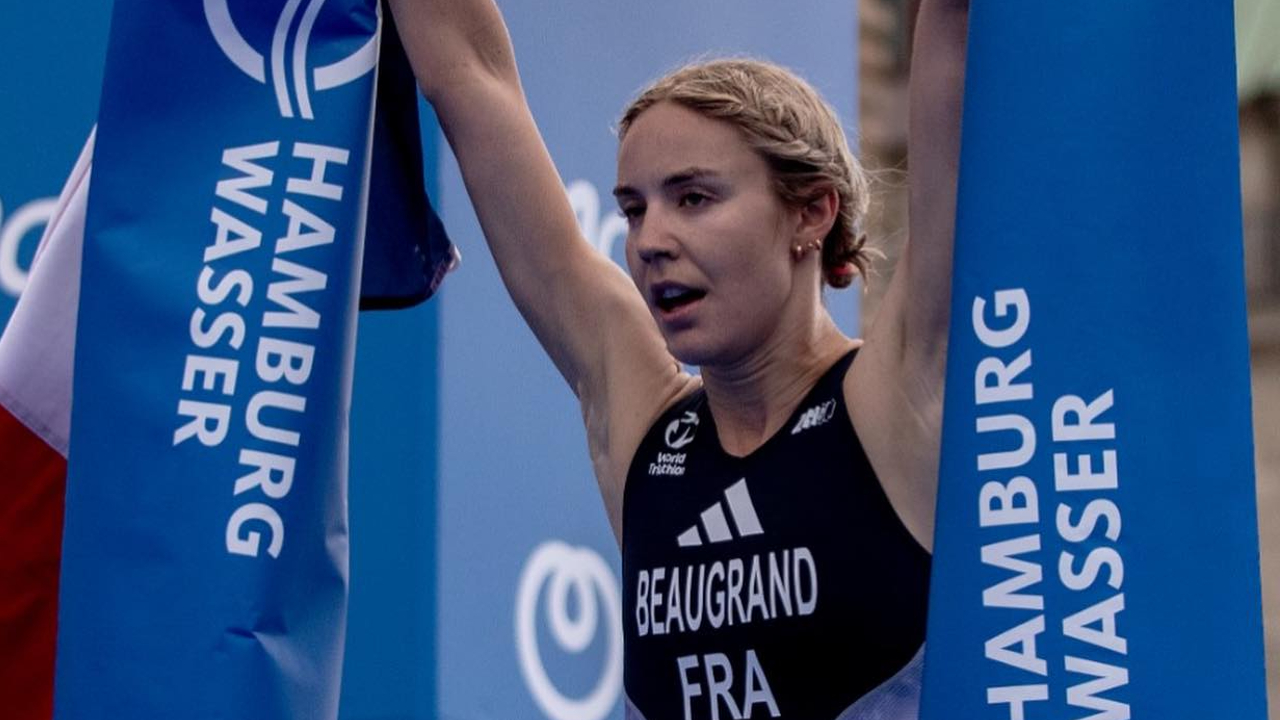 WTCS Hamburg 2023 results
Saturday 15 July 2023 – 300m / 7.5km / 1.6km
Elite Women
1. Cassandre Beaugrand (FRA) – 21:35
2. Beth Potter (GBR) – 21:45
3. Laura Lindemann (GER) – 21:47
4. Annika Koch (GER) – 21:52
5. Marlene Gomez-Göggel (GER) – 21:55
6. Nicole Van Der Kaay (NZL) – 21:57
7. Taylor Spivey (USA) – 21:59
8. Cathia Schär (SUI) – 22:00
9. Jolien Vermeylen (BEL) – 22:07
10. Summer Rappaport – (USA) – 22:30
WTCS Standings after Hamburg (which is race 5)
1. Beth Potter (GBR) – 2986.57pts
2. Taylor Spivey (USA) – 2836.90pts
3. Summer Rappaport (USA) – 2357.47pts
4. Georgia Taylor-Brown (GBR) – 2347.99pts
5. Jeanne Lehair (LUX) – 2237.37pts