One of the features of triathlon is the range of options in terms of distances which are available to competitors.
Whatever your strengths, motivations or degree of training time available, there will almost certainly be a format and distance to fit with your personal goals.
Indeed, while we will outline below some of the more common formats and distances within the sport, ultimately there are no restrictions at all in terms of distances or in some cases, which order those disciplines are held.
Many long-standing events, both local and international, do not fit directly into any of these boxes, utilising their natural surroundings rather than trying to 'fit' into a pre-determined format. Variety truly is the spice of life!
Equality is also one of the principles of the sport – men and women will compete over the same format and distances – and for professional athletes, in almost every instance, this will be for equal prize money too.
Olympic distance
Swim: 1.5km
Bike: 40km
Run: 10km
Also known as the Standard distance, the Olympic distance is – as the name suggests – the race format used for the individual events at the Olympic Games Triathlon.
Olympic-distance events are typically also the most common format of events in the top tier of Elite racing – the World Triathlon Championship Series (WTCS) – the winners of which earn the title of World Triathlon Champion.
At the Elite level, this is where the likes of Alistair Brownlee, Flora Duffy, Javier Gomez and Emma Snowsill have made their names, winning multiple world titles and major international championship medals.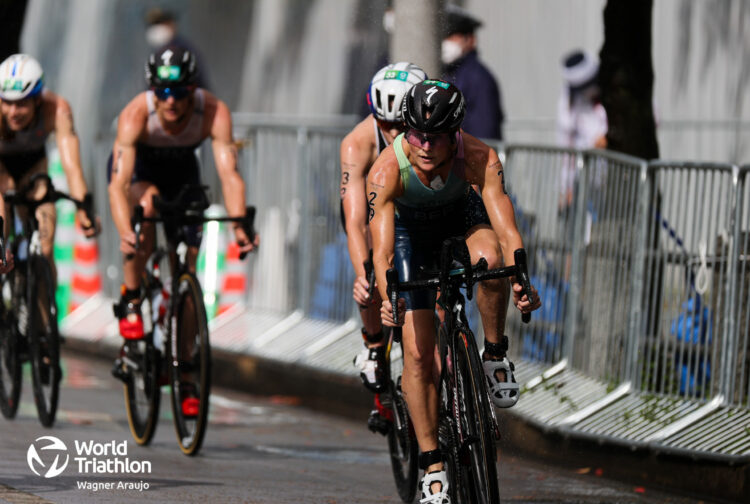 As courses are so different between events in terms of profile, times are relatively unimportant and there is no particular 'world record' as such, but the very best athletes in the sport may typically complete an Olympic distance race in around 1:45 (Men) and 1:55 (Women). That's very fast!
New athletes coming into the sport without a particular background in any of the three disciplines may well initially be closer to three hours.
Sprint distance
Swim: 750m
Bike: 20km
Run: 5km
Sprint distance was en vogue recently as the 2022 Commonwealth Games hit our TV screens from Birmingham.
The individual races – featuring the likes of Alex Yee and Georgia Taylor-Brown – both took place over the Sprint distance.
For many, the Sprint distance is the first entry point into triathlon and at a domestic level is perhaps the most popular format of triathlon racing. As above, there is a degree of flexibility as to what might be referenced as a 'Sprint' distance, but conventionally at least, it is half of the Olympic/Standard distance format.
One common alteration to the Sprint distance – especially in pool-based events – is that the swim might be reduced to 400m. This can allow organisers to increase the number of athletes in their events, while also providing an even more attractive option for beginners to the sport, who perhaps fear the swim discipline the most.
While the best athletes in the sport will complete a Sprint distance race in well under an hour (!), even first-time triathletes, with a reasonable level of preparation, will often be able to complete the distance in well under two hours. That makes it a great way to start your triathlon journey.
Super Sprint Distance
Swim: 400m
Bike: 10km
Run: 2.5m
While triathlon may in some arenas be referred to as "gruelling", the reality is that making the sport accessible to the masses is very important. Not everybody wants to or has the opportunity to commit vast numbers of hours to training every week – plus of course, it's always wise to try things out first to see if you actually enjoy it!
If that's the case, then a Super Sprint format is the perfect start point – or if you just like to get things done as fast as possible! As always, while there is flexibility, a Super Sprint distance is typically half of a Sprint:
With the popularity of events such as parkrun, a triathlon in which the run portion is just half of that distance, makes the Super Sprint distance an ideal start point for novice athletes to dip their toe, quite literally, into the triathlon waters.
Ironman distance
Swim: 2.4 miles / 3.8km
Bike: 112 miles / 180km
Run: 26.2 miles / 42.2km
Ironman is perhaps the most famous event in the sport of triathlon, and completing an Iron-distance race is often a lifetime goal for many athletes. By contrast, some newcomers to the sport have started with an Ironman. That, for most, is not something that we would typically recommend!
The origins of Ironman date back to the late 70's, when three existing events on the island of Oahu in Hawaii – the Waikiki Rough Water Swim, the Around Oahu Bike Race and the Honolulu Marathon were combined, back-to-back, to determine who were the greatest endurance athletes, swimmers, cyclists or runners. Who knew that what started with just a few athletes would develop into a worldwide series?!
IRONMAN (which is actually a trademark) is the largest organiser of long-distance triathlon events, providing a global series from which athletes – Pro and Age-Group – can qualify to race in the IRONMAN World Championship, normally held in Kona on the Big Island of Hawaii.
There are other long-distance events, though these are typically referred to as iron-distance or full-distance, given that trademark/brand rights of the IRONMAN series. Outside of the IRONMAN series, Challenge Roth in Germany is still regarded as one of the most iconic events in the sport.
For most iron-distance triathlon races, there is a strict cutoff in place in order to finish, which is usually 17 hours. That said, the very best in the sport can cover the distances in less than half that time! In addition to overall times, most events will also have cutoff points for the swim, the bike and perhaps during the run stage too. Miss those, and you will not be allowed to continue.
Right now the fastest ever Ironman time is owned by Norwegian Kristian Blummenfelt, who clocked an astounding 7:21:12 at Cozumel in November 2021.
The fastest women's time for full distance is still the 8:18:13 by Britain's Chrissie Wellington at Challenge Roth in 2011.
Half Ironman / Middle Distance
Swim: 1.2 miles (1.9km)
Bike: 56 miles (90km)
Run: 13.1 miles (21.1km)
While Ironman and iron-distance events gain the headlines, the most popular longer distance races within triathlon are actually over half of the distance. While still a significant challenge, for many the training requirements for that format are more compatible with a balanced working and family life. In addition, the recovery time from completing the shorter distance is less, which allows athletes to race more frequently.
Middle-distance races are also ideal preparation for athletes looking to race over the full distance. Many athletes will target an event over the half distance approx 4-6 weeks prior to their long-distance target, to test out equipment, nutrition and pacing prior to 'the big one'. That is a sensible move.
As with long-distance races, IRONMAN is the major global player in terms of race organisation. Back in 2005 they introduced a new brand for the distance called IRONMAN 70.3, with the '70.3' referring to the number of miles covered. That led to the introduction of the IRONMAN 70.3 World Championship, which athletes can qualify for, held on an annual basis.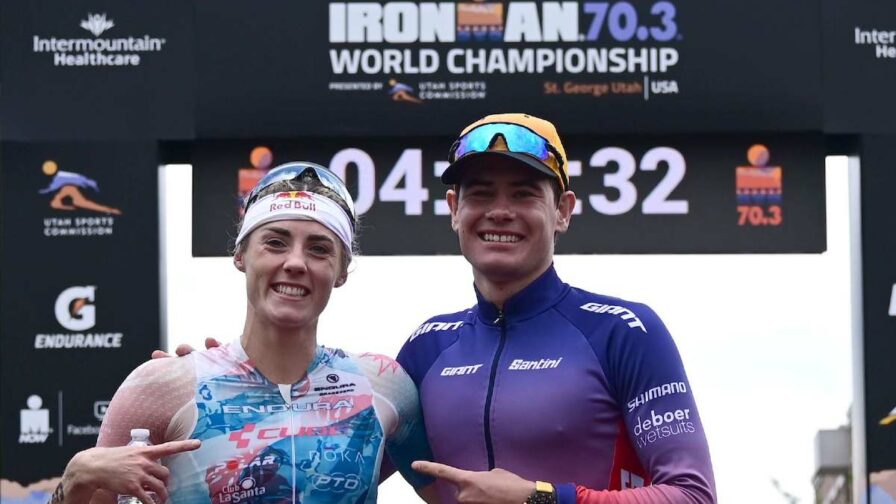 So successful has been the introduction of that name, that '70.3' is now used widely to describe middle-distance races generally.
The Challenge Family also offers a significant global calendar of events, and in 2017 introduced its own 'final', called The Championship, which is held annually at the x-bionic sphere in Samorin, Slovakia.
Mixed Relay
Swim: 300m
Bike: 7.2km
Run: 2km
The Mixed Relay format of triathlon has gained increasing interest in recent years, especially from the casual viewer, culminating with the debut of the event at the Tokyo 2020 Olympic Games, where Great Britain earned the gold medal in a thrilling race.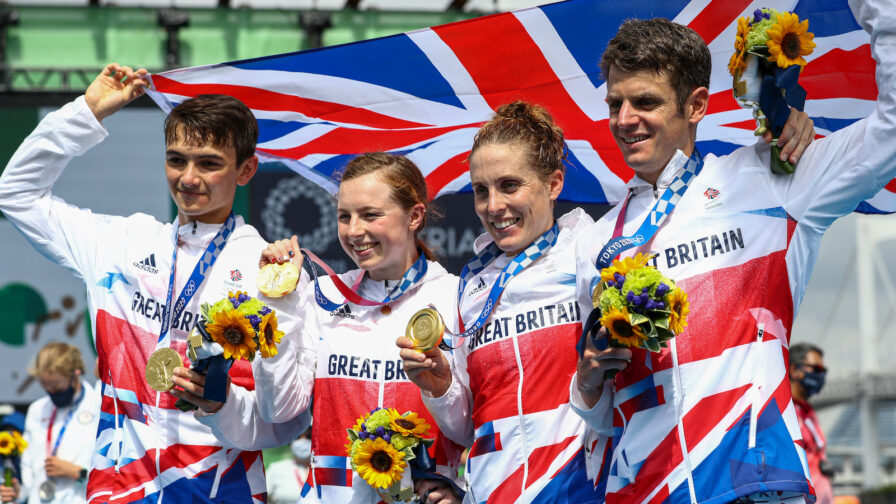 The Mixed Team Relay format is held in Female-Male-Female-Male order [though that will change from 2022 to 2024], with each athlete completing a short swim-bike-run effort, before tagging their team-mate. Exact distances may vary slightly between events.
Always exciting and fast, we can expect that increased opportunities to race in Mixed Relay-style events will be available to athletes of all levels in the coming years.
Super League Triathlon
At the start of this feature, we mentioned how there are no real restrictions on formats and distances in triathlon – and the Super League Triathlon series is evidence of that!
Primarily a 'made for TV' format, Super League Triathlon races are held over short distances – typically 300m swim, 4km bike, 1.6km run – but in a range of formats.
These include the Triple Mix, Eliminator, Enduro and Equalizer (all explained HERE), where the standard 'swim-bike-run' is thrown out of the window.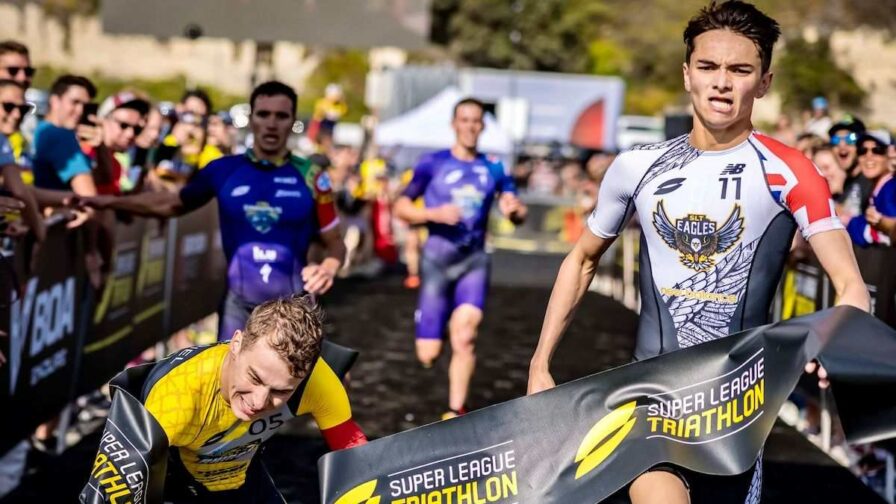 In the Triple Mix for example, athletes will race three separate races with limited recovery time – but the order or the disciplines in each race will be changed. In the Enduro, while swim-bike-run is the order… athletes have to do that three times, with no break.
Ultra Triathlon
If an Ironman is not enough, don't worry, there's always something longer or more challenging available!
While most athletes are content with trying to get their racing done in one day, for a select few there are opportunities to go even longer.
These could be in multiples of 'iron' – double, triple and beyond – or in multi-day 'stage' races such as the Ultraman Triathlon, which holds an annual World Championship in Hawaii.
If it is challenging terrain you are looking for, then Extreme (or 'Xtreme') triathlon racing could be for you. While often held over distances of, or close to, the iron-distance, these events are characterised by particularly challenging terrain and/or temperatures and an increased degree of self-sufficiency.
Inspired by the Norseman Xtreme Triathlon, there is now a dedicated XTRI World Tour, featuring events that will challenge athletes in different ways, and in a more rugged style than a 'standard' iron-distance event.
Triathlon Distances – FAQs
How long is a full distance triathlon?
A full, or iron-distance triathlon, comprises of a 2.4 mile (3.8km) swim, a 112 mile (180km) cycle and a 26.2 mile (42.2km) run.

The most famous of all long-distance races of course is the iconic IRONMAN World Championship, normally held annually on the second Saturday of October, based at Kailua-Kona on the Big Island of Hawaii. The lava fields have seen many legends made – and plenty of hopes broken – in what is always a highlight of triathlon's annual calendar.

What to race in Hawaii? Well, you'll have to earn it! Entry to the IRONMAN World Championship is by qualification, for both Pro and Age-Group athletes, at one of the many IRONMAN series races held annually. Limited qualifying slots per category are available at each race, and the awarding of those slots – called the rolldown – the day after the race, is often the scene of high emotion, as securing a coveted Kona slot is a lifetime goal for many athletes.
How can I enter my first triathlon?
The simple answer is to find one that suits your needs – in terms of location, distance and format – and hit the enter button! These days, almost all events can be entered online.

There are a number of race listing resources globally. In the UK, the British Triathlon website is a good starting point, which will feature all of the events registered with the national governing body.

British Triathlon also support GO TRI, a resource for people who are very new to the sport seeking guidance, and often some competitively priced introductory events.

Experience tells us that actually make the 'entry' commitment is a significant part of the first triathlon process. When you have a date, a goal is set and then everything else that follows will feel much easier!
How much does it cost to enter a triathlon?
The honest answer is… 'it depends'! Just as there are a huge range of triathlon distances and formats, there is a breadth of event types to choose from. From a low-key, 'no frills' introductory race perhaps organised by a local club, through to a major international long-distance race involving road closures, huge logistical challenges and organised by a commercial event provider, the entry price spectrum is a wide one.

Generally speaking, shorter-distance events will be cheaper to organise than long-course races, but there will still be significant variations within one distance type too.

At the lower end, a super sprint-distance, club-organised 'GO TRI' style event, specifically designed to introduce new athletes to the sport (and likely in the 'no frills' style), may costs as little as £10 to enter.

By contrast, a major international IRONMAN event (closed roads, goodie bags, pre-event banquet, awards ceremony, extended medical cover and athlete support, live tracker timing, branding, bespoke finisher medals, Kona qualifying slots…) may cost more than £500, such is the investment required to host an event on such a scale.

While a sizeable sum, it's worth considering that for the vast majority of people, such an event will likely be the highlight of their year, perhaps the culmination of 6-9 months of training and preparation. Being confident that the event you are preparing for will be well organised and provide a great experience is an important consideration. A high 'cost' and excellent 'value' can exist together!
What's the best piece of advice to a triathlon beginner?
A good question, and there are lots of potentially valuable and worthy answers. For us however, having been in the sport for 30+ years, we would strongly suggest that 'join your local triathlon club' is consistently one of the best moves you can make.

While initially, joining a club might seem intimidating – 'I'm too slow / I'm not good enough / they will all be fast' etc – in most cases, you will be very pleasantly surprised.

When you are new, yes, triathlon can feel quite daunting – three different disciplines, some (or all!) of which you have limited experience in, all sorts of different equipment, lots of (sometimes conflicting) advice of how to train etc. It's quite normal to think 'where do I start?'

That learning journey is one that we've all had to go through at some point, particularly if triathlon hasn't been part of your life from childhood. Triathletes are a generous crowd too, more than willing to pass on their experiences, learnings, mistakes and more, to welcome in a newcomer. Don't worry about asking a 'stupid question' – the chances are we've been in exactly the same position!

A local club will typically have members of all ages and abilities, with a wide range of goals too – whether that's from finishing their first Super Sprint to winning a championship. Simply being around like-minded people, you will find that you can learn a huge amount very quickly.

Most clubs will also organise coached swimming sessions, and perhaps cycle and run sessions too – plus the equally important social events! Some clubs will organise and host their own events, while members will no doubt have all of the details of which are the best local events to enter.

In summary, we can't think of a faster and more enjoyable way to gain so much knowledge, in a supportive environment, so quickly as by joining a club.

Give it a try – it might be the best thing you ever do!