Tri-Anglia and Tri2O take early leads after Race One
Last night (Monday) was the first round (of six) of the Super League Triathlon Arena Games Club Championships.
A chance for you – and your club – to win a variety of prizes by competing (virtually) on Zwift, across the next three weeks, leading up to the Super League Arena Games London on 27th March.
CLICK HERE TO FIND OUT WHAT IT'S ALL ABOUT & HOW TO JOIN

The first evening saw the men cycling and women running – and what a huge turnout there was for that men's race! VERY close racing too, with Oliver Milk (Tri-Anglia), for a long time a top performer on the domestic age-group scene, just getting the better of Keith Tannetta (Cardiff Triathletes) and Matthew Ellis (Tri-Anglia), the trio separated by less than two seconds at the finish.
The women were racing on the treadmills over the 11.65km Ocean Blvd course, where Leanne James (TRI2O) lead home Rachel Hillman (Tri Tempo) and Debbie Clarke (Serpentine Running Club).
The Experience
Looking at the top-10 results in the Men's (cycle) race, we can see that as well as close racing, there are several names that have performed consistently well in recent years in the UK and international (ITU / M-Dot / Challenge) events. Great to see!
I spoke to one of them, Doug Hall, who is perhaps best known for race in XTERRA and Cross Triathlon events (representing his Race Off Road Club) about the experience:
"I'm normally distracted from the pain by rocks, jumps and single track… so the race hurt a lot!
"I started hard knowing it would be a fight to get to the front of 400+ riders and hoped to have settled by the time it got to Box Hill. Caught slightly out of position at the bottom meant I missed the winning split. Seeing the human power station Matt Ellis up the road, I knew it wasn't coming back, so I tried to save some beans for the sprint, which I immediately fluffed and finished last in the group!
"Well done to the rest of the ROR guys and we'll be back next week for the Crit race!"
Men – BIKE – London 8 (20.8km Road Race) – Race 1
Top 10 below / FULL RESULTS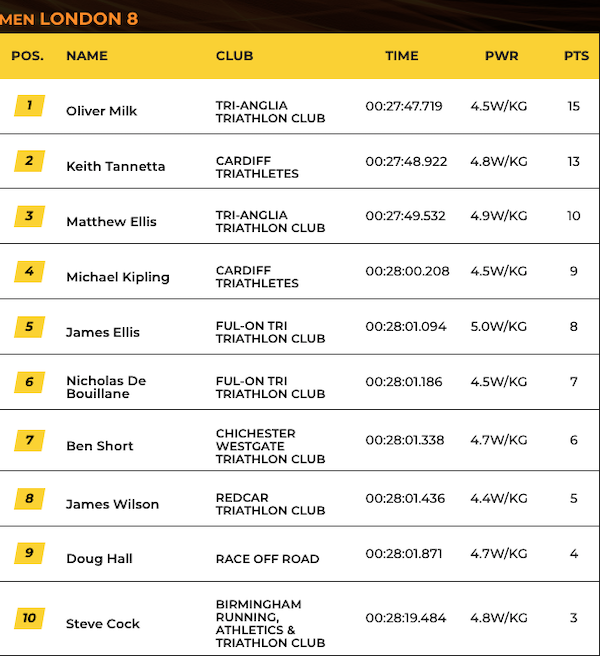 Women – RUN – Ocean Blvd (11.65km) – Race 1
Top 10 below / FULL RESULTS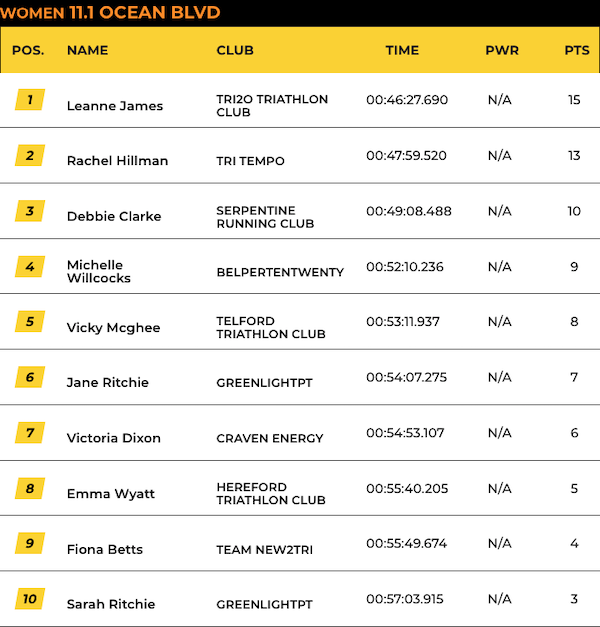 Club Standings after Race 1
Click HERE for the full standings. No surprise to see Tri-Anglia surge to a big lead, with two of the first three finishers in the men's cycle, while Leanne James was joined by Nora Holford to put TRI2O into an early, but narrow, lead. Five more races to go however, plenty of time to to see those point change.

The Races
If you want to take part, you can still sign up – and get your club members to join you – for the remaining five rounds of racing. You can find out all about it HERE.