Trish Deykin Awarded British Triathlon Accolade
British Triathlon has named Tavistock triathlete, Trish Deykin, as recipient of the Peter Holmes Award for Inspirational Performance in International Competition
The award, which has previously been presented to Paralympic Champion, Andy Lewis and 2011 World Champion, Non Stanford, is presented annually to a triathlete having shown determination and sporting prowess whilst competing at the highest level.
The 43-year-old, who suffers from Multiple Sclerosis, defied the belief of both herself and others in 2018 by clocking the quickest time by a female age-group triathlete at the Glasgow 2018 ETU Triathlon European Championships. In turn, Trish took the Women's 40-44 title, adding to the silver medal she picked up at the previous year's ITU Triathlon World Championships in Rotterdam.
The former Crime Scene Investigator began her triathlon career in 2002, two years before she was diagnosed with the neurological condition, of which symptoms include issues with balance, muscle spasms, fatigue and pain. Although advised to step away from competition, Trish kept active through swim, bike and run and eventually returned to the start line.
Despite the successes coming thick and fast, including a World Championship title in her age group in 2013, Trish's symptoms began to increase, impacting her ability to train and compete. She was forced to give up her career within the Police Force, but with the introduction of new treatment, slowly made her way back into the world of swim, bike and run.
She has since gone on to win numerous international titles, culminating in standing on top of the podium in Glasgow last summer. Trish's inspirational story was recognised late in 2018 when she was awarded the Helen Rollason Award for Inspiration at the Sunday Times Sportswoman of the Year ceremony.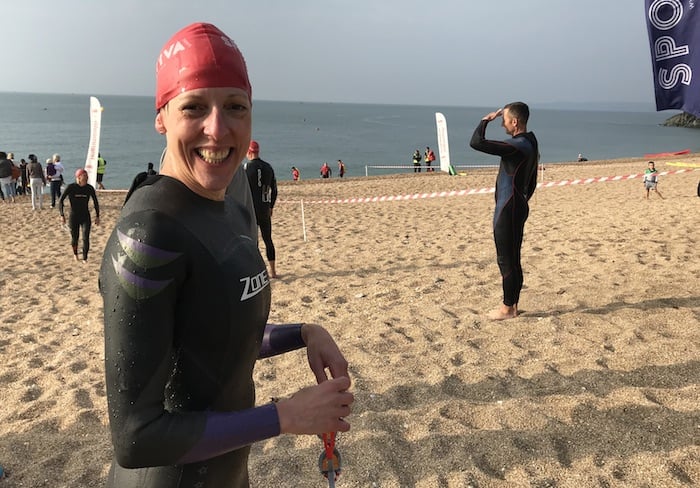 Trish Deykin, winner of the 2018-2019 Peter Holmes Award for Inspirational Performance in International Competition, said:
"I just can't believe it. It's crazy and I'm speechless, which is very rare, to find out I'm the recipient of such a fantastic award. It's lovely to be recognised by British Triathlon for all my hard work and to be the first ever age-group athlete to be awarded the accolade is just immense.
"I keep having to pinch myself to make sure I'm not dreaming – winning in Glasgow was fantastic, followed by my amazing Sunday Times Sportswoman of the Year recognition. But, to win this too? What a crazy year!"
Ian Howard, President of British Triathlon, said:
"It's an honour to present Trish with the Peter Homes Award for Inspirational Performance in International Competition. Her performance in Glasgow was a phenomenal achievement in itself, made all the more inspiring that she accomplished it whilst battling the symptoms of MS.
"We're so proud to have individuals like Trish within our sport and we hope her story continues to inspire others to believe that there are no limits where there is determination to succeed."
Trish is a Patron of Sportability, a charity which organises activities for those with disabilities. She is a Speaker for MS Society and was awarded Sporting Colours from the University of Plymouth.
The Peter Holmes Award was founded by the family of its namesake following Peter's tragic death in 2009, aged 24. The former Head of Communications at ITU, having previously worked at British Triathlon, was an excellent runner and triathlete and gave time and enthusiasm to all who knew him.