Positive feedback for Newby Hall based Yorkshireman Triathlon edition
A new full and half distance triathlon in the UK – Yorkshireman Triathlon – made its debut at Newby Hall estate this past weekend. From the feedback we have heard and read, Freedbird Events (www.freebirdevents.co.uk) did a fine organisation job on this debut edition, which we featured late last year.
The men's full distance race was won by Chris Cope, who will be heading to Kona in October to race at the IRONMAN World Championship. Chris got in touch with me to say how much he enjoyed the race, so I thought I'd ask him if he'd tell me (and you…), more about it.
Check out his report here of 2019 Yorkshireman Triathlon – and if you like what you read, mark 21st June 2020 in your diaries for next years race. Chris plans to be there again.
---
The Yorkshireman 2019
New events are always going to be a risk for an organiser and there will have been a huge effort put in by Freebird Events to make this happen. It was 'two years in the making' as they said. Yorkshire has a growing reputation for putting on superb sporting events and they certainly have the right countryside to do it. 
The event is based in Newby Hall, a beautiful estate four miles south of Ripon. There was ample parking and a large campsite (including toilets, hot showers and even a mobile phone charging station), which were a five minute walk from the event village which made it easier for athletes and supporters alike. Registration on Saturday was fast and straight forward followed by a 20 minute film (popcorn was provided!), as the race briefing. There were fewer specifics given out compared to events such as IRONMAN and Outlaw, and this fits with the more relaxed nature of the event which is a positive for many athletes.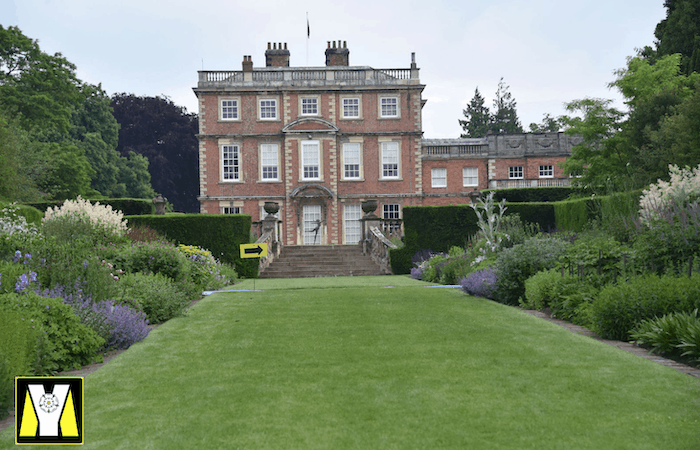 The 'full' started at 6am and was a very relaxed affair as all the athletes walked down through the beautiful gardens to the River Ure which was a pleasant 19ºc and had a minimal flow despite the heavy rain the week before. The deep water 'mass start' was not the usual scrum compared to bigger events with only 80 starters. You swim upstream and turn at the second buoy, returning to the Hall. There is the usual support from kayaks and boats to keeping a watchful eye before turning at the buoy.
The 416 starters in the 'half' event started at 8:30am, with several seeded waves setting off to prevent the river getting too crowded and this seemed to work well. Competitors were helped out of the water and had a 400m run to transition back through the beautiful gardens and grounds of Newby Hall up to well organised transition and changing areas.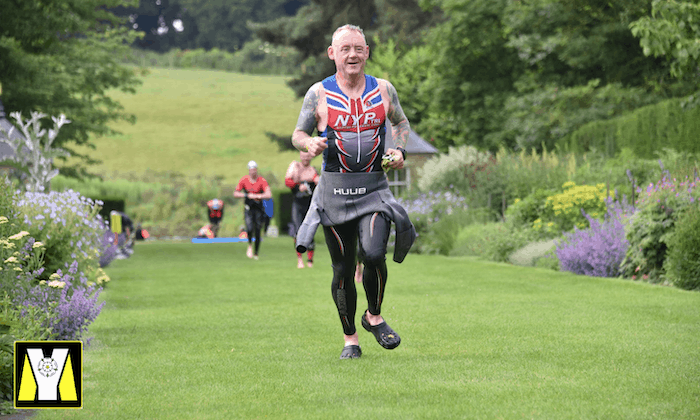 The bike takes you up to Ripon on well-surfaced roads on a flowing route. Triathletes then head up into the Yorkshire Dales for a rolling loop (one for the half and three for the full). The loop had one feed station, meaning one feed stop for the half and three for the full, which some struggled slightly with. It had all the necessary gels, bars, bananas and drinks as well as first aid facilities.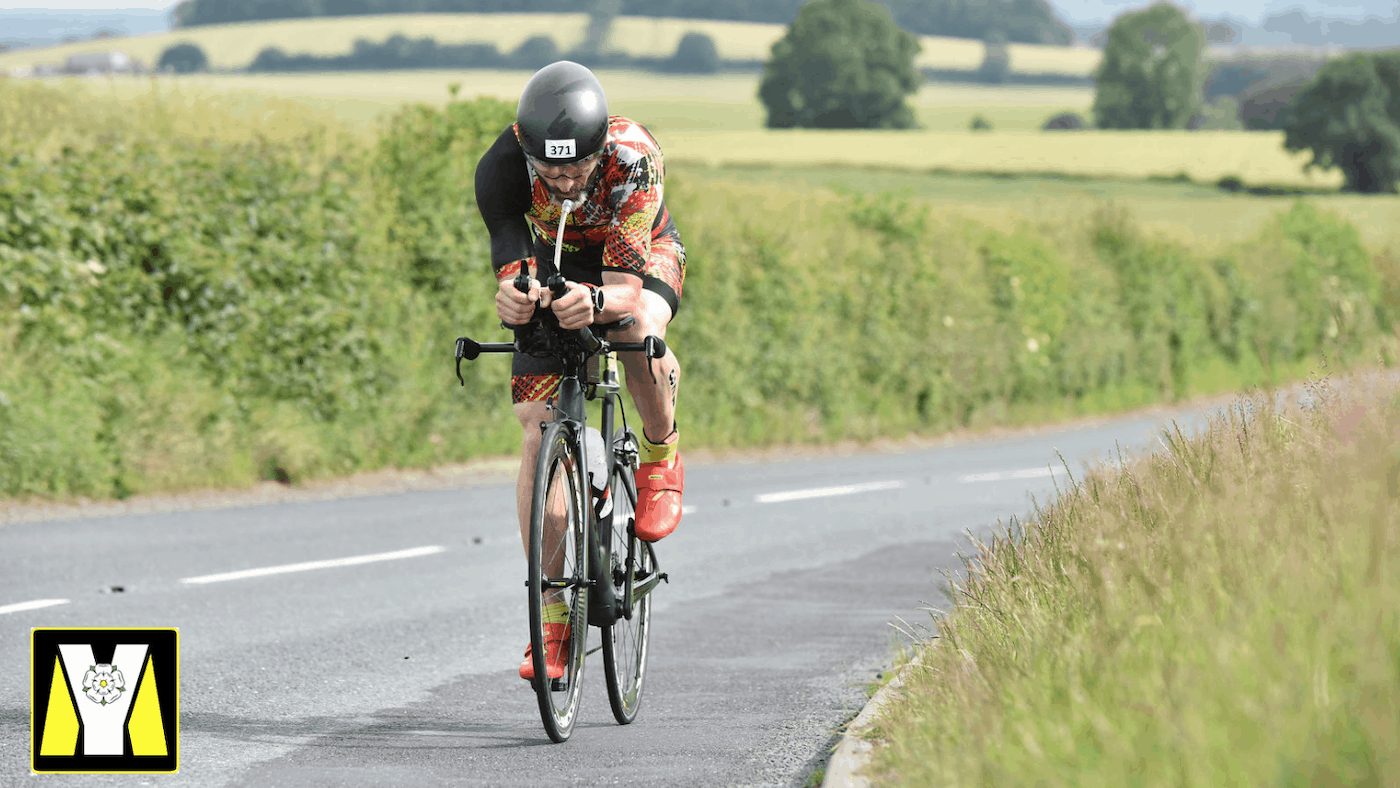 Competitors then return to Newby Hall on some long straight roads where you can tuck into an aero position and get your head down to get back before starting the run. The run route loops through and around the Newby Hall estate on a fairly flat course with the 'full' doing four laps and the half consisting of two. There was great support from marshalls, locals and athlete families. There were more feed stations than you could need, all well stocked with the usual gels, bars, bananas, sweet/savoury snacks and coke/electrolyte/energy drinks. There were definitely a mix of smiles and grimaces in the last lap, but everyone was grinning as they turned into the finish chute with the red carpet and the MC shouted encouragement to each competitor accompanied by claps, cheers and great music (although disappointingly, I didn't hear the phrase "Chris Cope, you are a Yorkshireman!").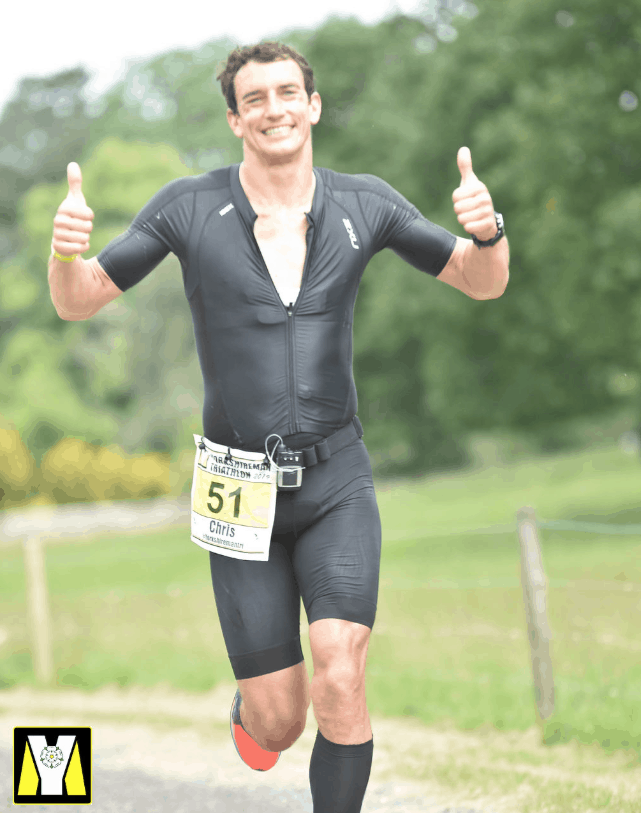 A good medal, a massage and some very welcome pasta and drink followed. The whole feeling of the Yorkshireman translated into a very relaxed event overall and there were far more smiles, chat, banter and discussions between the athletes than any triathlon I have been to before. I certainly have quite a few more triathlons that I want to do, but I'm really glad to have competed here and I will certainly be back next year.
The full race was won by Chris Cope in a time of 9:28. This included a collision with a car on the third bike lap and he subsequently struggled with cramp in the left leg in the second half of the run but kept working to the finish. David Reeves, who had a storming swim in the slightly 'long' first discipline, finished third after just being overhauled on the run by David Dorward, finishing in 10:14 and 10:17 respectively. The women's event was won by Jane Graney in a time of 12:57 with Karen Spruyt and Helen Moor taking second and third.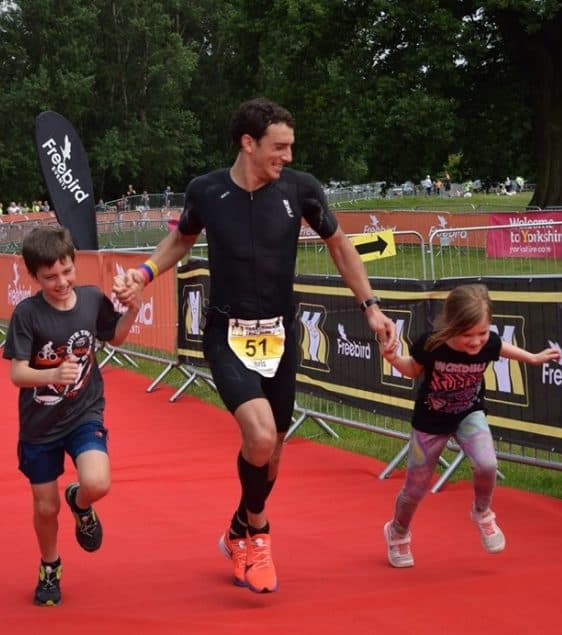 The men's half distance race was competitive at the front with Djalil Baiou winning in a time of 4:15 with a flying two hour bike split. Coincidentally, both overall male winners are GPs from Nottingham. He was followed in by Matthew Smith in 4:24 and Jason Walkley 30 seconds back.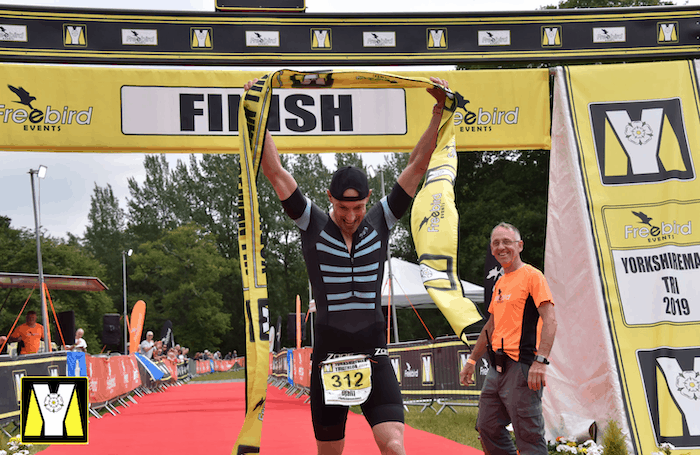 Hannah Peel from Sheffield won the ladies event in 4:47. Second place was Shawnie Lovatt in 4:54 and Kate Corcoran had a great run to move herself up into third place overall with a time of 4:58.