The distances might not look long on paper, but the Bourg d'Oisans to Alpe d'Huez challenge of the Alpe d'Huez Duathlon is hardly a 'sprint'. With a far from flat opening 6.5km first run, the 21 bends of the iconic climb on the 15km bike and finishing with 2.5km at approaching 2,000m of altitude, it's an event that will leave its mark.
The Duathlon kicked off the TIME Alpe d'Huez Triathlon week yesterday (Tuesday), the Long Distance Triathlon follows on Thursday with the Short Distance Triathlon event on Friday, all three races including the legendary ascent of Alpe d'Huez prior to the final run. This years event will be highlighted by the appearance on Thursday of the undisputed Queen of long distance triathlon, Daniela Ryf, taking on the Long Distance event for the first time.
The overall wins went to France and Spain, with a familiar name to these pages, Hywel Davies, finishing 11th overall and winning the M45-49 category (he was the fastest 40+ athlete in the race too).
It's only 90 mins but there are not many harder races than a 40 degree run, a 10 mile TT where breaking the hour is decent, and trying to be competitive in an elite field. 1st over 40 is good enough for a piece of balsa wood pic.twitter.com/tHAUmWpeFC

— HywelTowel (@hyweltowel) July 24, 2019
Alpe d'Huez Duathlon – Tuesday 23rd July 2019
6.5km / 15km / 2.5km
MEN
1st – Emile Blondel Hermant (FRA) – 1:26:34
2nd – Emmanuel Meyssat (FRA) – 1:27:05
3rd – Baptiste Domanico (FRA) – 1:28:02
11th – Hywel Davies (GBR) – 1:34:43 (M45-49 Winner)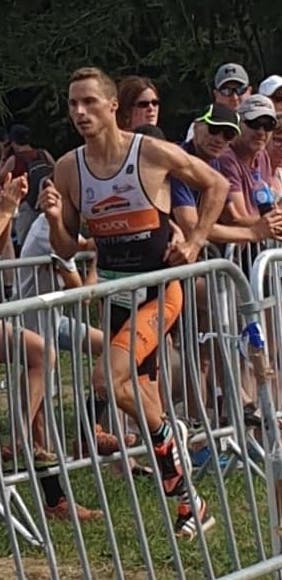 WOMEN
1st – Anna Noguera (ESP) – 1:44:56
2nd – Laure Anne Ferrent (FRA) – 1:49:01
3rd – Virginie Lemay (FRA) – 1:49:34