Josh Amberger, Lisa Huetthaler take the titles in Sweden
Another podium for Kimberley Morrison
The second edition of IRONMAN 70.3 Jonkoping on Sunday saw another podium result for Great Britain's Kimberley Morrison, matching her third place finish at the same event 12 months ago. Lots more British action too with Sarah Lewis in 4th, Natalie Seymour in 6th and Age-Grouper Ruth Purbrook (a previous ERDINGER Athlete of the Month winner), the fastest female Age-Grouper of the race too.
The Race…
There was little to separate the main contenders after the opening 1.9km swim. Camilla Pedersen (DEN) was first to dry land, but the fast-riding morrison was just 30 second back alongside fellow Brit, Sarah Lewis, who has made a remarkable comeback after a horrendous early season bike crash. Austria's Lisa Huetthaler was less than 30 seconds down on the British pairing, before the third of the British Pro's, Natalie Seymour, who would start the ride two and half minutes behind Pedersen.
As always, Morrison looks to head to the front of the race on two wheels and use her biking strength. She did just that, but was not able to put significant time into Pedersen and Huetthaler. At the 65km mark, they were separated by just seven seconds,and the trio would reach T2 in close proximity too. This one would be won on the run.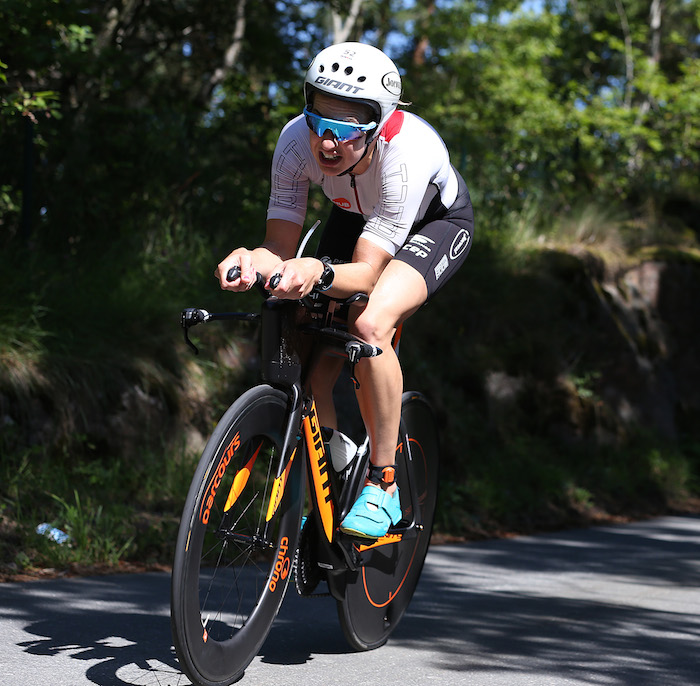 Home athlete Asa Lunstrom was three minutes down at T2, with Seymour and Lewis not able to keep pace with the front of the race on the bike and now eight and a half minutes in deficit with the half marathon to run.
…disappointing bike for me, made up ground on the run but not enough, 4th place! IM703Jonkoping

— Sarah Lewis (@Sarahlewis111) July 9, 2017
The run saw Huetthaler quickly hit the front and pull away to a significant lead, while Morrison was putting in a strong effort on her weakest discipline to be holding pace and battling with Pedersen, the current ETU Middle Distance European Champion and former ITU Long Distance Triathlon World Champion. With 15km gone, Morrison actually holding Pedersen off and clear in second by around 60 seconds. The Dane battled back… and would finally make the pass into second within the final kilometre. They were separated by just 21 seconds at the finish.
Always happy to celebrate with Champagne 🥂❤️🇸🇪 pic.twitter.com/6bIwmfW3XK

— Kimberley MORRISON (@TriathlonKim) July 9, 2017
Lewis almost matched the run split of Huetthaler, running 1:23:51, to make up over six minutes on Morrison and Pedersen during the half marathon to finish fourth. Seymour (1:26:04) also ran well to move much closer at the finish, taking sixth.
The Men…
Josh Amberger (AUS) is well regarded for his blistering swim-bike combination and Jonkoping would be no different. Fastest swim (22:51), fastest bike (2:08:30) and a very solid third fastest run (1:15:23) was a very strong all-round performance which saw him come home over three minutes clear of Adrian Haller (SUI).
IRONMAN 70.3 Jonkoping, Sweden – Sunday 9th July 2017
1.9km / 90km / 21.1km
WOMEN
1st – Lisa Huetthaler (AUT) – 4:17:14
2nd – Camilla Pedersen (DEN) – 4:24:03
3rd – Kimberley Morrison (GBR) – 4:24:24
4th – Sarah Lewis (GBR) – 4:26:59
5th – Asa Lundstrom (SWE) – 4:27:45
6th – Natalie Seymour (GBR) – 4:28:35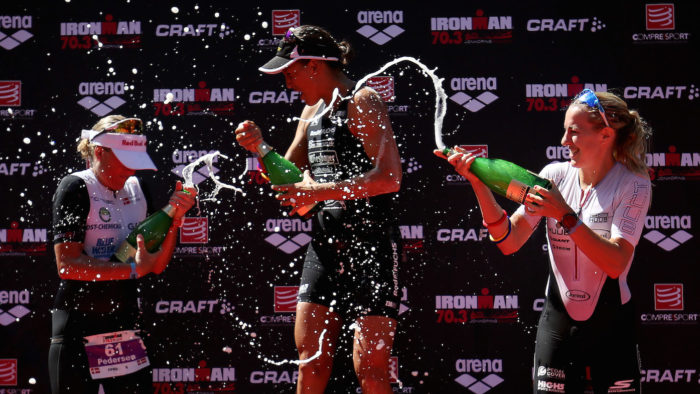 MEN
1st – Josh Amberger (AUS) – 3:51:29
2nd – Adrian Haller (SUI) – 3:54:38
3rd – Markus Herbst (GER) – 3:59:44