Second consecutive victory for New Zealand's Andrea Hewitt in World Triathlon Series
Ashleigh Gentle secures Commonwealth Games start with second place on home soil
For two disciplines today, you'd have to say that Andrea Hewitt (NZL) wasn't hugely impressive. However, this is Triathlon, not a points scoring Heptathlon – it's where you finish at the end of the run that counts. And Hewitt ran brilliantly.
Almost 30 seconds down after the opening 750m swim, she exited the water in the company of Great Britain's Jodie Stimpson. – the group, of course, headed by Carolina Routier (ESP).
While there were no breaks in the line during the swim – and Jodie was quickly into the lead group on the bike – Hewitt's early biking wasn't as successful, and while a large lead group of around 25 were at the head of the field, Hewitt was, along with Australia's Ashleigh Gentle, trying to get back to the that group. The results would suggest that effort wasn't ultimately costly for either of them.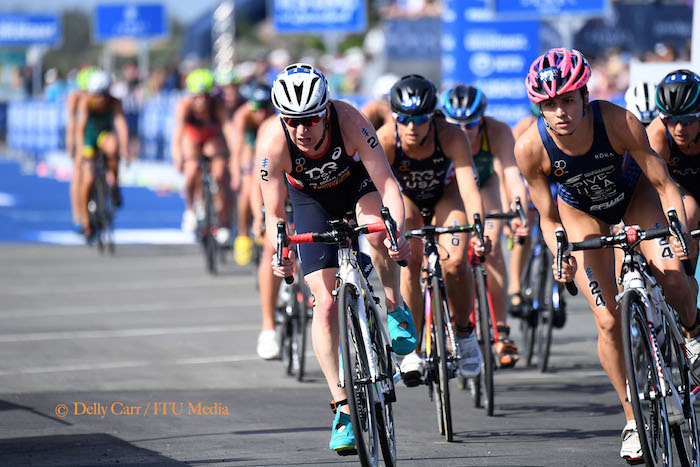 The field came together on two wheels midway through the cycle, and from there absolutely nothing of interest happened until T2.
Now, that's a crowded T2, with @andreahewittnz taking the lead from minute 1 #WTSGoldCoast pic.twitter.com/NdTjWBZsrk

— TriathlonLIVE (@triathlonlive) April 8, 2017
Jodie Stimpson was uncharacteristically sluggish through transition – usually a strength of hers – while Hewitt was quite the opposite, sprinting out of T2. It was no fly or die either. She hit the front, pulled away and never looked like anything other than a winner, being able to relax down the home straight. This was much more comfortable than the four second margin on paper suggests. Having turned 35 last week, she's now leading the 2017 World Triathlon Series with maximum points. Class act.
This will be @andreahewittnz's 18th @worldtriathlon series podium – only @gwenjorgensen (23) has more.

— TRI247 (@tri247) April 8, 2017
"I knew my running was good and that's why I went out at that pace. Last week was my birthday… age is just a number!" said Andrea after the race.
That's two wins from two races to start the 2017 World Triathlon Series for @andreahewittnz 👏🏻 pic.twitter.com/WoeFfSXc0b

— TriathlonLIVE (@triathlonlive) April 8, 2017
Ashleigh Gentle had both a podium today and Commonwealth Games selection on her mind, and second place ticked both of those boxes, as she pulled away from the Japanese veteran, Juri Ide, in the final stages.
Ninth at the halfway stage of the run and within seconds of fourth place, Jodie Stimpson fell back to 16th over the final lap of the run. Not her day day today.
One word SHIT

— Jodie Stimpson (@jodiestimpson) April 8, 2017
ITU World Triathlon Gold Coast – Saturday 8th April 2017
ELITE WOMEN – 750m / 20km / 5km
1st – Andrea Hewitt (NZL) – 58:03
2nd – Ashleigh Gentle (AUS) – 58:07
3rd – Juri Ide (JPN) – 58:12
4th – Katie Zaferes (USA) – 58:20
5th – Renee Tomlin (USA) – 58:21
6th – Charlotte McShane (AUS) – 58:22
7th – Kirsten Kasper (USA) – 58:24
8th – Ai Ueda (JPN) – 58:31
9th – Gillian Sanders (RSA) – 58:37
10th – Vendula Frintova (CZE) – 58:38
16th – Jodie Stimpson (GBR) – 58:46
World Triathlon Series Standings after Gold Coast
1st – Andrea Hewitt (NZL) – 1600
2nd – Katie Zaferes (USA) – 1134
3rd – Ai Ueda (JPN) – 1050
4th – Jodie Stimpson (GBR) – 988
5th – Gillian Backhouse (AUS) – 811
5th – Charlotte McShane (AUS) – 811
7th – Rachel Klamer (NED) – 756