Pro Podium debut for Fenella Langridge in France
Wet and cold conditions made Sunday's IRONMAN 70.3 Pays d'Aix, France, a survival battle for many athletes. It also saw a new British female name on an IRONMAN 70.3 Pro podium too – at her first attempt.
That new name – Fenella Langridge – lead to opening 1.9km swim (24:25), with just Camille Donat (FRA) for company. The more experienced Brit, Lucy Gossage, was 3:45 down in her weakest discipline, in eighth position starting the bike.
Despite the terrible weather conditions, Langridge held the lead through the first third of the bike leg, at which point Lisa Huetthaler (AUT) and Manon Genêt (FRA) were now just seconds behind, with Gossage up to fourth, 2:05 back.
Huetthaler and Genêt remained together for the remainder of the ride, to reach T2 almost three and a half minutes ahead of Langridge and 4:51 clear of Gossage.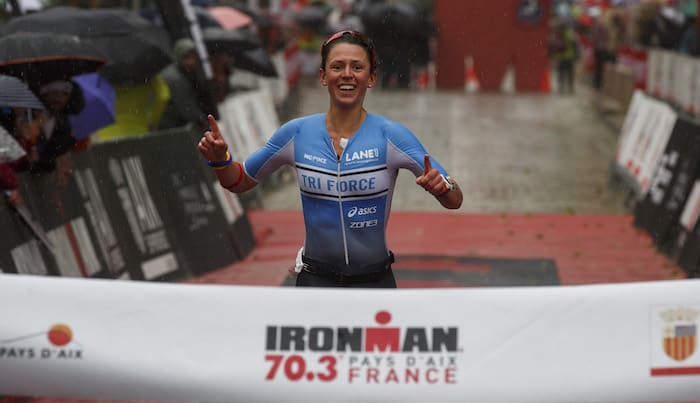 Genêt pulled steadily away from Huetthaler from the start of the half marathon, and would record the best run split of the day (1:21:12) to take the win, from the 1:24:00 of the Austrian. Langridge ran well too, her 1:22:00 maintained her third position, with Gossage finishing fourth
Super challenging course with mega hills on the bike/run

And horrific wet/cold conditions made my first PRO @IRONMANtri race one to remember!

Oh… and did I mention I came 3rd 😁 #overthemoon

Well done to everyone out there today, you are all hard core!! #AixEnProvence pic.twitter.com/Rc0oVOw6l1

— Fenella Langridge (@Fenella_Alicia) May 13, 2018
I have never, ever, ever been that cold. Honestly didn't know how I'd finish the bike. I would say I enjoyed it but I'd be lying!! Congrats to the podium. https://t.co/fG8MpaoNIt

— lucy gossage (@lucygoss) May 13, 2018
The story of the men's race was the biking power of Germany's Andi Böcherer. His 2:09:44 split made light work of the rain and cold and was more than five minutes quicker than anyone else. He arrived at T2 with a lead of more than six minutes over Kevin Maurel (FRA) and Marcus Herbst (GER), with Mark Buckingham (GBR) and Etienne Diemunsch (FRA) a further minute back.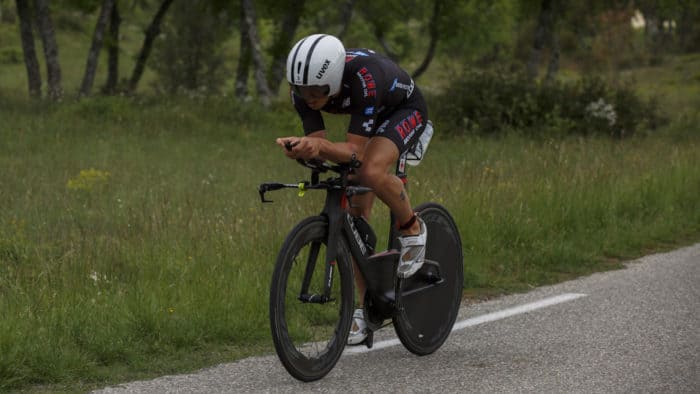 Böcherer was not threatened on the run, and would win by more than five minutes. Denis Chevrot (FRA) powered to the best run (1:11:34) to move through to second, 16 seconds clear of fellow French athlete Maurel, with Mark Buckingham in fourth.
IRONMAN 70.3 Pays d'Aix, France – Sunday 13th May 2018
1.9km / 90km / 21.1km
PRO MEN
1st – AndI Böcherer (GER) – 3:53:09
2nd – Denis Chevrot (FRA) – 3:58:27
3rd – Kevin Maurel (FRA) – 3:58:43
4th – Mark Buckingham (GBR) – 3:59:23
5th – Marcus Herbst (GER) – 3:59:45
9th – Ashley Hurdman (GBR) – 4:07:11
PRO WOMEN
1st – Manon Genêt (FRA) – 4:24:22
2nd – Lisa Huetthaler (AUT) – 4:27:08
3rd – Fenella Langridge (GBR) – 4:28:24
4th – Lucy Gossage (GBR) – 4:31:44
5th – Sonia Bracegirdle (NZL) – 4:40:59