Lucy Charles-Barclay says she's still "figuring out" how she can travel from the UK to race and train in Europe after finding herself stuck at home thanks to Brexit.
The world #2 started her season in good style with a third place at the PTO European Open in Ibiza, behind Anne Haug and Ashleigh Gentle – with the trio currently the top three in the latest rankings.
A trip to Font Romeu in the Pyrenees had a beneficial impact on that performance, with the Brit explaining: "That training camp paid off as soon as I dropped down from altitude. I felt brilliant, so I knew that it had worked."
But that and warm-weather training in Lanzarote earlier in the year bizarrely mean the runaway winner of the IRONMAN 70.3 World Championship in 2021 is now stranded on home turf as far as Europe is concerned as she's used up her 90 days allowed in the Schengen region. The rules state that British citizens' total stay must be no more than that in every 180 days.
The surely unintended consequence of Brexit is now making life difficult for one of the world's very best triathletes who has worked her way back to form after a serious hip injury last year.
Swansea could be next
Explaining more in her latest YouTube video, embedded below, Charles-Barclay says: I'm a bit stuck at the moment, actually. I've done 90 days in Europe and because of Brexit, I am now stuck here.
"I can go to the US, but I cannot go and train or race in Europe without a visa. So anyone out there has any advice on this or has done anything similar to be able to go and travel and race, please do let me know, because otherwise I won't be racing in Europe until late July / August time.
"With that being the case, I'll probably have to do a 70.3 somewhere, so that will probably be UK based."
Looking at the calendar in that time frame there appears to be just one possibility – IRONMAN 70.3 Swansea on 16th July (IRONMAN 70.3 Staffordshire in June only has a male PRO field).
LCB added: "After that, the next race will be a PTO race." The next event on the PTO Tour is the US Open in Milwaukee in the first week of August.
Until then she said: "I'm just going to be training at home and hopefully figuring out how I can travel to Europe soon."
Run 'needs more work'
And looking back at her performance in Ibiza, where she led after the swim and bike before being collared by the the top two on the PTO's run rankings, she's clear on one focus of the coming weeks, saying: "On the whole, it was a really good race. I think for the first race of the season, there's nothing that I did wrong.
"There's definitely things I think I can go and work on now, but overall, I'm pretty satisfied with how the race went. On the swim, I felt good. On the bike, not the best I've ever felt. And then on the run, it definitely isn't kind of how I felt in races before. I didn't feel like I had that pop or spring in my stride as I was running.
"I didn't feel like my turnover was quick enough. It just felt quite slow. And then when I had the likes of Anne Haug and Ashleigh Gentle behind me, it's almost inevitable that they were going to catch me. I could see the way that they set off the pace that they were running compared to me.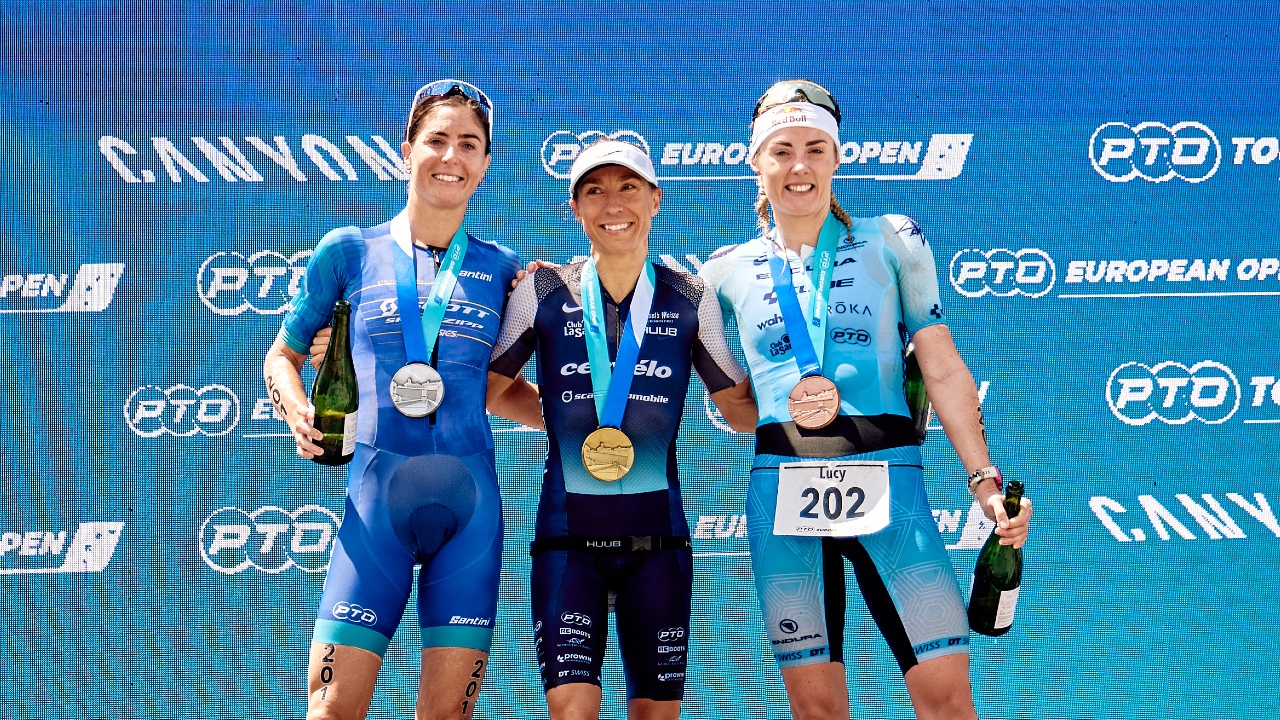 "I know that that's the area where I need to get back to or even go further than the level I was at before. I think the best I've ever ran off the bike was definitely the 70.3 Worlds in 2021. I was actually running a slower pace than that in Ibiza, and the course in St George was far hillier and far more difficult.
So I feel like I've still got the potential to get back to that level and hopefully then go past that.
"The swim's there. The bike's there – the run is where I need to go and work on again now."
She also echoed what many others have said: "I'm really fortunate and happy that the PTO are putting on these races so we can continue to race the best athletes.
"And it's only going to raise the game and the level that is constantly rising in the women's field. So it's super exciting."