Cameron Brown, an astonishing 12-time winner of IRONMAN New Zealand, has announced that this year's renewal will be his last as a professional.
The 50-year-old is one of New Zealand's greatest-ever long-distance triathletes and a four-time IRONMAN World Championship podium finisher.
But after an illustrious career spanning over 35 years, Brown has announced that the 2023 Nutri-Grain IRONMAN NZ taking place on Saturday 4 March in Taupō will be the last time he races the event as a pro.
A 'dream' race
Brown's first appearance in the race was 26 years ago when it was held in Auckland – and despite only finishing 22nd, the race is a memory he holds dear to this day.
He explains: "My first IRONMAN in 1997 was one of my favourites as I'd watched the race since 1988 and seeing the stars of our sport race, it was a dream of mine to one day race at IRONMAN New Zealand and also try and win it, but I really didn't know that would happen 12 times.
"We would head out to the Hunua's or Kawakawa Bay and watch and then come back to the waterfront and finish line to see the professionals and then watch the age groupers right up to the end. We would always have Japanese triathletes stay with us so I would look after them every year and show them the course and then cheer them on over race day."
Brown set for 25th appearance
The 2023 IRONMAN NZ will be the 25th time Brown has lined up for this race. He claimed his first win in 2001 following back-to-back second place finishes and would go on to win the event an incredible 12 times – his most recent title coming as a 43-year-old in 2016.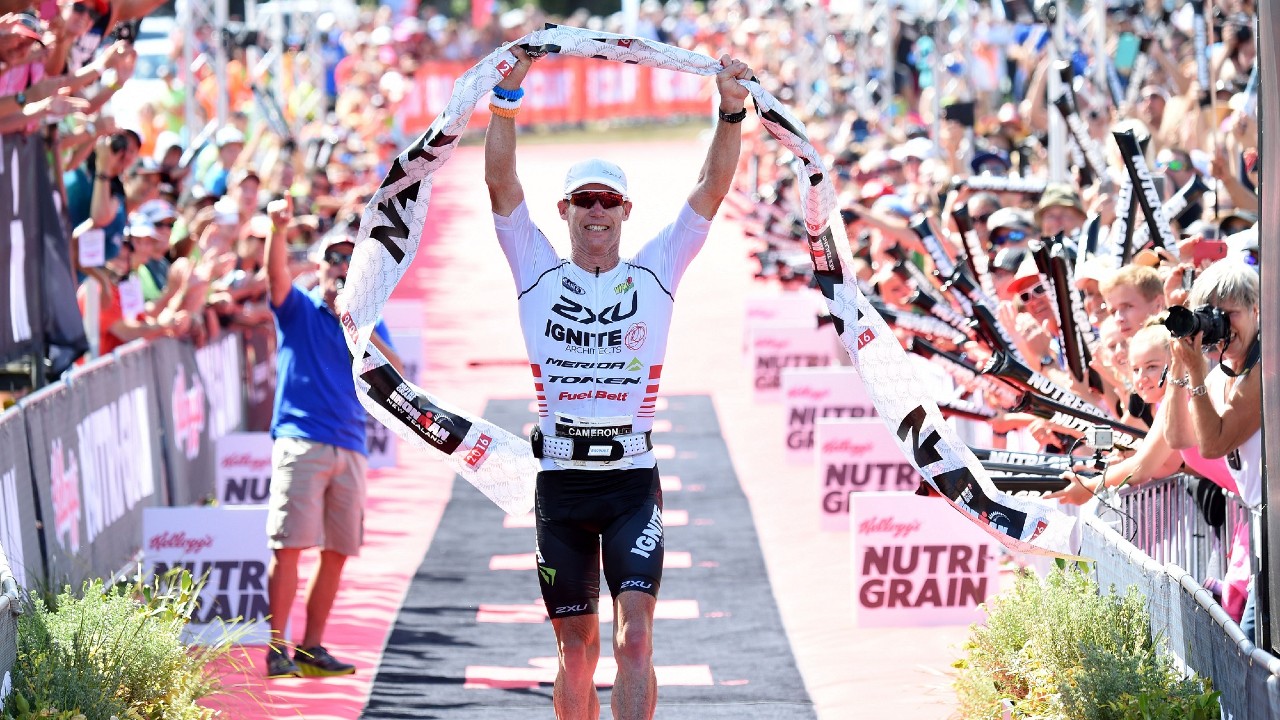 In addition to his 12 wins, he has 20 podium finishes at IRONMAN New Zealand which he secured consecutively between 1999 and 2018.
"It's a race that has been part of my life for so many years so it's very special to me and my family. My family and friends have always been there to support me, usually when I race overseas it's just me so having them watching me makes it that more special.
"I think it's racing at home that brings out the best in me, training through a New Zealand summer would get me in peak shape that I was able to race at my best during those times. I only wish I could have done the same training for the IRONMAN World Championship in Hawaii over the Kiwi summer as it was always the fittest I got," said Brown.
From local legend to global sensation, Brown achieved a podium finish at the IRONMAN World Championship four times across a five-year period between 2001 and 2005. Though he never quite made it to the top step of the dais, Brown claimed two silver and two bronze medals in Kailua-Kona, Hawaii.
Set for emotional day
Brown's last couple of years have been hampered by injuries that have seen him race only a handful of times, but he added: "I'm looking forward to racing again and trying to get as fit as possible. It takes a little longer compared to when I was in my late 20s and early 30s.
"I'm excited and nervous as I know how much an IRONMAN hurts but I've had an incredible run over the last 25 years."
Though it would be a fairytale ending, the Aucklander says winning isn't a realistic ambition anymore, especially with the likes of reigning champion Braden Currie and 2014 IRONMAN World Champion Sebastian Kienle on the start list.
"Winning is not realistic anymore, although I can say I would love to, but being 50 years of age brings so many challenges to the day. Trying to stay injury free has been tough over the last five years. I just want to put in a solid performance and have the race go as smoothly as possible if I can. If I can do that, I know I can still produce a solid time over the day," said Brown.
"I'm pretty sure there will be plenty of emotions the whole day, I'll try and channel as much of it as I can into going hard but I'm sure the finish line will bring a few tears out. I'll be racing for my dad (Dave) who passed away in September last year and was one of my greatest supports seeing me race all over the world."