A new film takes viewers on a fascinating journey to the fabled Norseman triathlon and we get the inside track from the athlete who is centre stage throughout, Caroline Livesey…
With a reputation as the toughest triathlon in the world, many triathletes want to have a go at Norseman at some point.
But there are also many who are put off racing by the extreme nature of this race, and specifically its reputation for being cold. This year for example, the waters in Eidfjord were between 12-14 degrees throughout the swim, and on the bike the wind chill gave an estimated -4 degrees Celsius.
With a bike course that includes 2,800m of elevation and a run course with 1,800m of climbing, it deserves this reputation.
Even tough to make start line
And it's also incredibly hard to get a place on the start line. Over 6,000 people register for the lottery every year – with only 250 awarded a place. Some people wait years to get a spot, throwing their hat in the ring every year.
So when Caroline Livesey won an automatic place for Norseman at Canadaman XTRI in 2019 she had some thinking to do – and she admits that if she had not won the slot she probably would not have considered Norseman at all.
She told us: "I always thought that Norseman would not be possible for me. I had a previous history of cold injuries during races and at the time I hated cold water swimming. I just thought Norseman would be too cold, too hard and not much fun for me."
But standing on the stage at Canadaman being awarded the place, Caroline says she realised that she could not shy away from the challenge.
She explained: "I love to test myself physically. So once I considered if there were any real reasons not to do the race, I realised that I was just shying away from what would be a monumental challenge for me. I changed my mindset and decided that I would do everything I could to overcome my fear of cold water and adapt my body physically to deal with cold temperatures. I wanted to be standing on the back of the ferry at the start of the race and be excited to jump into the freezing water."
Challenging times
2022 turned out to be a big year for both Caroline and husband Mark Livesey in XTRI World Tour races, all of which is dramatically documented in the video.
In April they travelled to Nepal for the Himalaya XTRI's inaugural race. Unfortunately, things did not go to plan, and after Caroline spent five days in hospital in Kathmandu the couple returned home to Mallorca prior to the race.
"We were so disappointed that the Nepal trip had not worked out the way we imagined. But we had some fantastic experiences there and we will return in the future," says Caroline.
With races being pushed back from the previous two years, Caroline and Mark still had Celtman, the Scottish XTRI, to complete in June before Caroline could focus fully on Norseman.
She said: "Celtman is my home XTRI, and one that I knew I would have to tackle at some point. It also has a fierce reputation, and is perhaps even tougher that Norseman in some respects. 2022 proved to be one of the worst years for weather that they have ever had. It was a brutal day, but one that in many respects gave me great confidence for Norseman. I knew if I could get through Celtman I could get through almost anything."
After an old injury flared up at Celtman, Caroline was thrown into uncertainty prior to Norseman. With seven weeks between the two there was not much room for error, and Caroline admits that she was not sure if she would make it to the start line.
"Having waited three years to race Norseman I was devastated when the injury flared up. With three weeks to go I had convinced myself that I was not going to be able to race at all. The uncertainty was really hard to deal with mentally."
Chance to enter coming up
What happened next, and how Norseman panned out for Caroline is the subject of the film (produced and edited by Mark) which follows her through the challenges in Nepal, coming second at Celtman, training in the Scottish Hebrides, and finally the Norseman itself.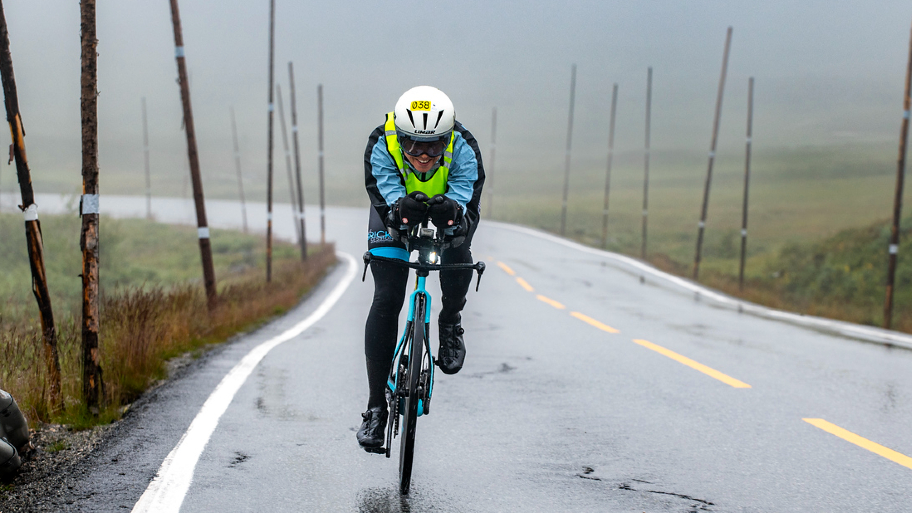 Talking about the film, Caroline says: "The Norseman is such an iconic race, and has almost cult status amongst the triathlon community. The film has been watched by many already, and we have had some great feedback.
"Everyone who gets to that start line has a story to tell of the challenges in the build up and I was no different. But I think the film also contains some great information and advice for those who want to have a go at the race, or who are considering putting their name into the lottery. I would definitely encourage everyone who is interested to try and get a slot. It's a tough race but it was also absolutely incredible. If I can do it anyone can!"
If you are thinking about racing, the Norseman XTRI lottery is open for entry only between 1-5 Nov 2022. Slots will be drawn after it closes. If you don't enter in this time frame there is no second chance – perhaps the film will give you a push!
Caroline and Mark are raising money for two children in Nepal. These children are not able to go to school as their families are too poor and education is not free in Nepal. Even a few pounds can provide education to help give these children opportunities.