Kristian Hogenhaug provided more Scandinavian success in elite triathlon on Sunday by fighting out a terrific race with Jesper Svensson to decide the men's World Triathlon Long Distance Championships at Challenge Almere 2021.
Dane Hogenhaug finally got the better of an epic duel with Swede Svensson in the Netherlands, while earlier in the day in France, it was Norwegian Casper Stornes dominating at IRONMAN Nice 70.3.
Records tumbled in both men's and women's races in the perfect conditions, with the first four men home all breaking the previous race record of 7:50:15 set by Matt Trautman in 2019.
The new women's world champion meanwhile is Dutch star Sarissa De Vries, who also set a new race record as she notched a famous home victory despite battling stomach issues on the run. She eclipsed the previous mark of 8:51:13 set by fellow Dutch woman Yvonne van Vlerken back in 2017 (a race in which she had finished second).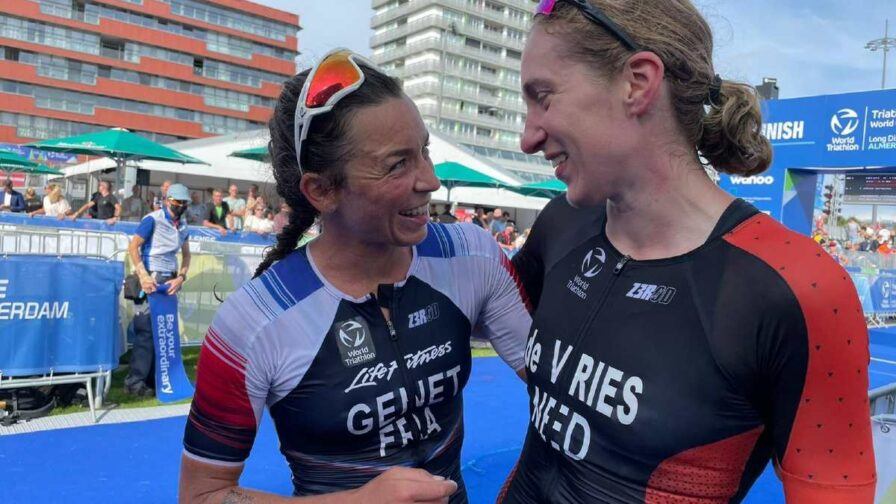 The victory was an emotional one for De Vries, whose grandmother passed away just last Wednesday.
Elite Men – one epic duel
It was not until lap 5 of 6 on the closing run in Almere that Hogenhaug finally dropped Svensson decisively after the pair had been side by side for most of their marathon journey.
Svensson had been first out of the water in 47:08, while Hogenhaug was only 10th in 49:44. The Dane though sliced through the field with a super bike split, and was just a couple of seconds down on Svensson heading into T2.
The run was a gruelling battle of wills for most of the trip, until Hogenhaug made his decisive break on the penultimate lap. As well as setting a new race record time, he also broke the Danish record for full distance.
On a record-setting day Svensson's time gave him a Swedish full-distance record, while third-placed man Reinaldo Colucci set a new Brazilian best.
Meanwhile, there was an early end to the day for U.S. ace Andrew Starykowicz, who was forced to withdraw after sustaining a concussion during the swim.
Elite Women – Sarissa guts it out
As well as being an emotional success for De Vries it was a painful one as she battled the stomach issues which caused her to stop at one point during the run.
She showed great determination to not only resume but regain her composure and momentum to come home more than two minutes ahead of the fast-finish Manon Genet of France.
Sarissa was fastest out of the water in 53:32, which gave her an advantage of more than two-and-a-half minutes over eventual fourth – Elisabetta Curridori of Italy.
Danish star Michelle Vesterby put herself right in contention for the win when she blitzed the bike split to go into T2 less than a minute down on De Vries. She could not maintain that momentum though and despite those stomach problems De Vries pulled clear to build a decisive advantage.
Genet's excellent run earned her second position, while Vesterby claimed third. The winning time for De Vries was a Dutch full-distance best as well as a new record for this race.
Challenge Almere-Amsterdam 2021 Results
World Triathlon Long Distance Championships – Sunday 12th September 2021
3.8km / 180km / 42.2km
ELITE MEN
Kristian Hogenhaug (DEN) 7:37:46
Jesper Svensson (SWE) 7:39:25
Reinaldo Colucci (BRA) 7:45:15
Evert Scheltinga (NED) 7:49:33
Thomas Steger (AUT) 7:54:56
13. Pete Dyson (GBR) 8:10:08
22. Robert Fryer (GBR) 8:35:44
DNF – David McNamee (GBR)
DNF – Kieran Lindars (GBR)
ELITE WOMEN
Sarissa De Vries (NED) 8:32:04
Manon Genet (FRA) 8:34:22
Michelle Vesterby (DEN) 8:38:53
Elisabetta Curridori (ITA) 8:41: 09
Leanne Fanoy (UAE) 8:45:15