Britain's Kieran Lindars and Germany's Katharina Wolff took the honours as they became European Triathlon Long Distance Champions at Challenge Almere-Amsterdam.
The event is steeped in history and Lindars notched the biggest win of his career as he powered through the field on the run courtesy of a 2:42 marathon.
And it was a first-ever PRO win for Wolff who was in the mix throughout, including when it mattered as she saw off her rivals on the run.
But it was a day to forget for the two big home favourites going into the race, with overnight sickness preventing Els Visser from even starting while an early rear flat on the bike derailed the prospects of Evert Scheltinga in the men's race.
Elite Men – Lindars 'can't believe it'
Lindars was to the fore throughout, with the swim seeing him exit the water in a chase group of five behind Lukasz Wojt (GER), with the former Polish Olympic swimmer's time of 44:34 just three seconds behind the record.
Also among the chasers was Scheltinga but he was left stranded at the side of the road early on the first of two loops as he was forced to repair a flat tyre. That cost him around five minutes and plenty of momentum too.
The rest of the bike leg was all about Andrew Starykowicz (USA). The uber-cyclist surged clear of his rivals and had 1:32 to spare from Milan Brons (NED) at T2 and more than seven minutes on the rest.
However on the run Lindars has chopped the deficit down by three minutes with a rapid 24:24 split on the first of six 7km loops – and a half marathon of 1:16 saw him cruise into the lead and never to be headed.
Not surprisingly he slowed in the closing stages but didn't look like being caught and crossed the line in 7:55:44, with recent Embrunman winner Niek Heldoorn (NED) just under five minutes back in second as he became Dutch champion, while Starykowicz claimed a gutsy third after rolling his ankle early on the run.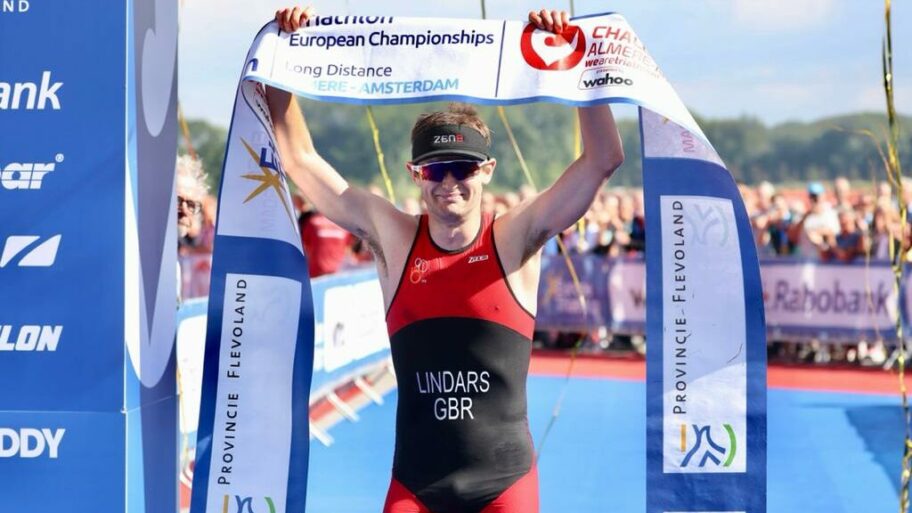 Understandably emotional at the finish, Lindars said: "I was not expecting that! It's been such a difficult six weeks just to get here because of a knee injury and I can't believe what I've achieved.
"I came here last year for the World Champs and had a horrific crash on the bike and it's taken the whole of the winter to get good again.
"I'll take a huge amount of confidence from this but those two last laps were horrendous.
"The win is all down to my training squad and I'm also so grateful to the crowd and the age-group athletes out there on the course too – they're the real heroes, fitting in their training while also doing full-time jobs."
Elite Women – First PRO win for Wolff
Visser had been expected to be the one to beat but the dramatic news before the start was that she wasn't well enough to line up.
Speaking later on the live Challenge broadcast to presenter Belinda Granger, she explained: "I was so looking forward to this race – my family and friends are all here and this was my chance to take the victory.
"But I just couldn't get out of bed earlier – it wasn't even a possibility to start.
"It's mind-blowing to me – yesterday I felt good and did three little training sessions and then at midnight I started to feel nauseous and that continued all night. In a split second I went from feeling good to awful. And it's just gone midday now and I'm starting to feel a little better."
In Visser's absence, the top place on the podium went to Katharina Wolff after a career-defining first PRO success.
Partner of male PRO Florian Angert, Wolff led out of the water by a couple of seconds over Karina Gosvig (DEN) and stayed there until midway on the bike when she was passed by Lina-Kristin Schink (GER) and the German pair would have it between themselves for the rest of the day.
Schink had an advantage of over three minutes heading into T2. But, just like the men's race, it all changed in the marathon with Wolff moving to the front on the second of six loops.
It remained close for a while with just 20 seconds between them but Wolff gradually started to assert and it was a clear-cut victory in the end with a time of 9:10:10, well inside her previous PB of 9:24:03.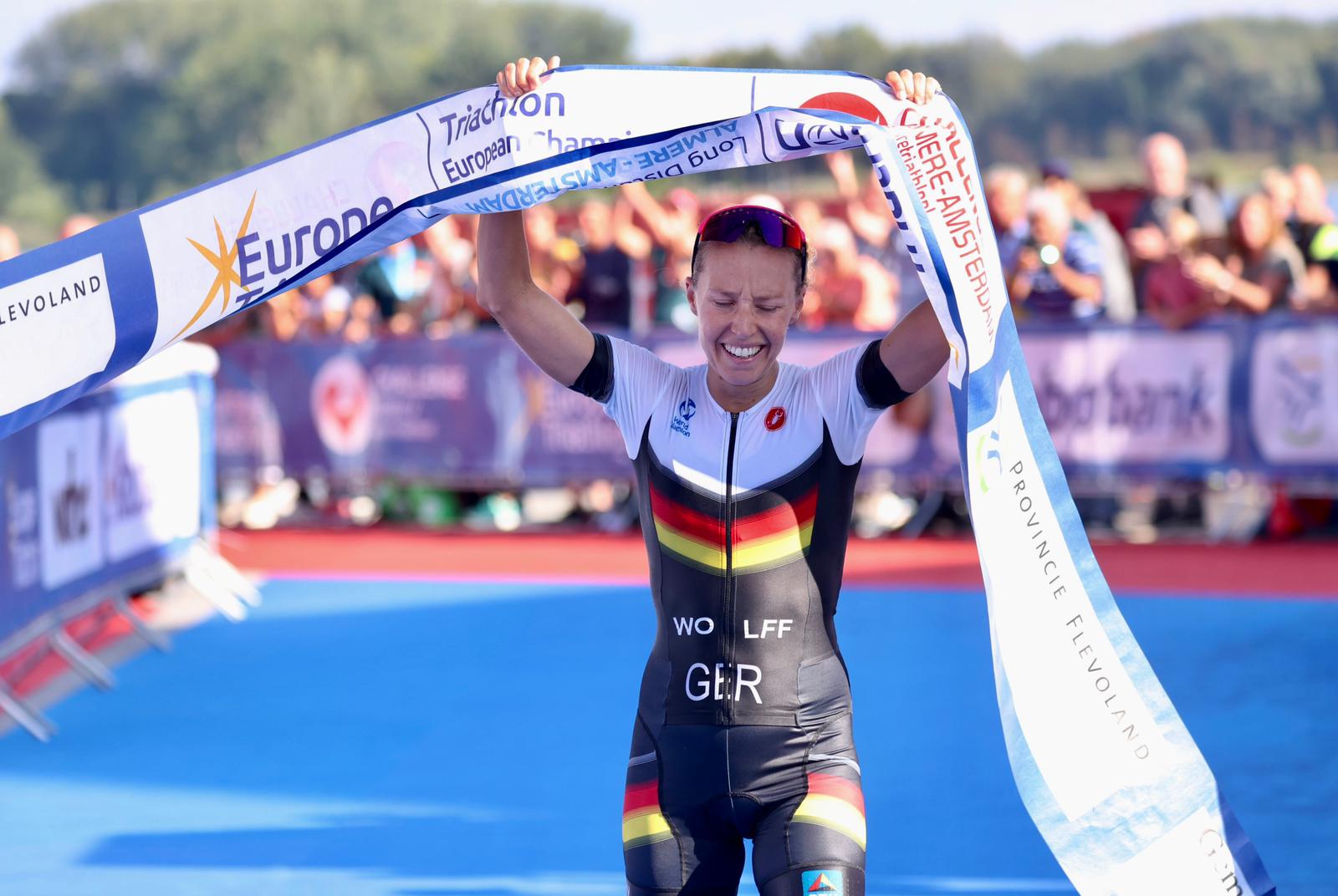 "I'm speechless, it's unbelievable," she said afterwards.
"I had some orientation problems in the water because of the fog and then I struggled with the wind and rain on the bike. On the run, the first half marathon felt great but it was tough after that."
And she's not got long to celebrate her win, explaining: "I'm a primary school teacher and the new class starts next week!"
Challenge Almere-Amsterdam 2022 Results
Europe Triathlon Long Distance Championships
Saturday 10 September 2022 – 3.8km / 180km / 42.2km
ELITE MEN
Kieran Lindars (GBR) – 7:55:44
Niek Heldoorn (NED) – 8:00:38
Andrew Starykowicz (USA) – 8:01:44
Kristian Grue (NOR) – 8:02:25
Joao Ferreira (POR) – 8:03:19
ELITE WOMEN
Katharina Wolff (GER) – 9:10:10
Lina-Kristin Schink (GER) – 9:15:57
Jenny Nae (SWE) – 9:21:04
Julie Aspesletten (NOR) – 9:23:17
Janien Lubben (NED) – 9:31:09