A scintillating half marathon from Spanish favourite Sara Peréz Sala saw her take a commanding victory at Anfi Challenge Mogán-Gran Canaria on Saturday.
The 34-year-old controlled the race from start to finish – sharing the lead with Great Britain's Lucy Buckingham through the swim and bike stages.
But it was on the run where Peréz Sala took command, running away from the field to break the tape in a time of 4:10:38. Buckingham was eventually passed on the final lap by Dutchwomen Els Visser who took second.
Swim – Peréz Sala, Buckingham shine
It was Peréz Sala and Buckingham who took command on the swim as the duo were first out of the water on the first loop.
The pair further cemented their lead on the second swim circuit, exiting the water together before making their way through the lengthy transition zone on to the first of four bike loops.
Nicola Spirig was third out of the Atlantic Ocean waters, followed closely by Visser.
Bike – front two work together
Peréz Sala and Buckingham continued to lead – and worked together to establish a formidable lead on their nearest adversaries.
Visser joined Spirig as the duo attempted to close the gap on the front two, which had increased to five minutes. Visser soon bypassed the 2021 Challenge Gran Canaria winner, taking third position as her own.
As the leaders entered T2, Visser had dropped back even further and started the run 6:12 behind Peréz Sala and Buckingham.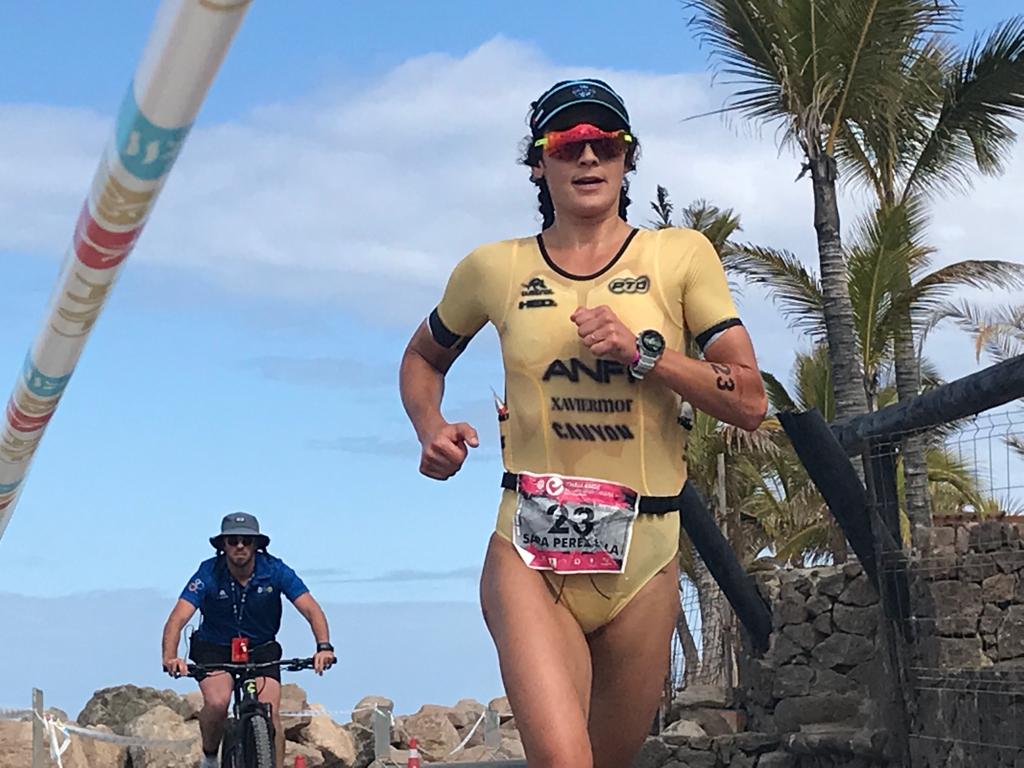 Run – scintillating Sara
Peréz Sala soon ran away from her British rival – gradually at first before Buckingham fell back quickly into the grasp of Visser.
The Dutchwoman made the pass in the final stages of the race, taking second in a time of 4:16:35, just under six minutes behind the winner.
Buckingham was a further 20 seconds back, claiming her first podium of the season after a fourth-place finish at IRONMAN 70.3 Lanzarote in March.
Challenge Gran Canaria 2022 Results
PRO Women
Saturday April 23, 2022
1. Sara Peréz Sala (ESP) – 4:10:38
2. Els Visser (NED) – 4:16:35
3. Lucy Buckingham (GBR) – 4:16:55
4. Nicola Spirig (SUI) – 4:21:07
5. Julia Skala (GER) – 4:37:38