Sam Laidlow and Fenella Langridge both notched dominant victories as pro middle-distance racing came to the UK capital on Sunday with Challenge London 2023.
Laidlow returned to prove he is now recovered from the calf injury which ended his glory bid in Roth in June, while Langridge led all the way for a highly impressive success.
The addition of pro races provided a successful new wrinkle for an event which saw 5000 triathletes take part.
Pro Women – Fenella fantastic
Langridge emerged from the water in front with a lead of 48 seconds, and it was an advantage she would not relinquish for the rest of the day.
The 31-year-old Brit gradually extended her advantage through the bike and run legs, eventually finishing more than six minutes ahead of South African Magda Nieuwoudt. Dutch star Els Visser recovered from taking a wrong turn on the bike to grab third with a terrific run.
Afterwards Langridge was absolutely delighted with her impressive win, revealing: "I'm really happy, it's been a long time coming since I managed to take the tape and execute a race that was quite challenging.
"Leading from start to finish sounds easy but mentally it's really hard. It's amazing to race in the heart of London and to think how many people are here racing, many doing their first triathlon is awesome.
"I had to stay mentally focussed and almost relaxed and keep those legs ticking over. The girls were chasing and I knew they were there but I just had to race my own race at the end of the day."
Pro Men – Laidlow BACK with a bang
French star Laidlow, born in the UK, said he could not resist a 'homecoming' race to make his return to action after that misery in Roth, and everything went according to plan for the 24-year-old ace.
Laidlow was second out of the water, just 10 seconds off the pace, and he quickly took control of things early in the bike leg. He then proceeded to dominate from the front to come home just under three minutes ahead of James Teagle with another Brit Josh Lewis claiming the final podium spot.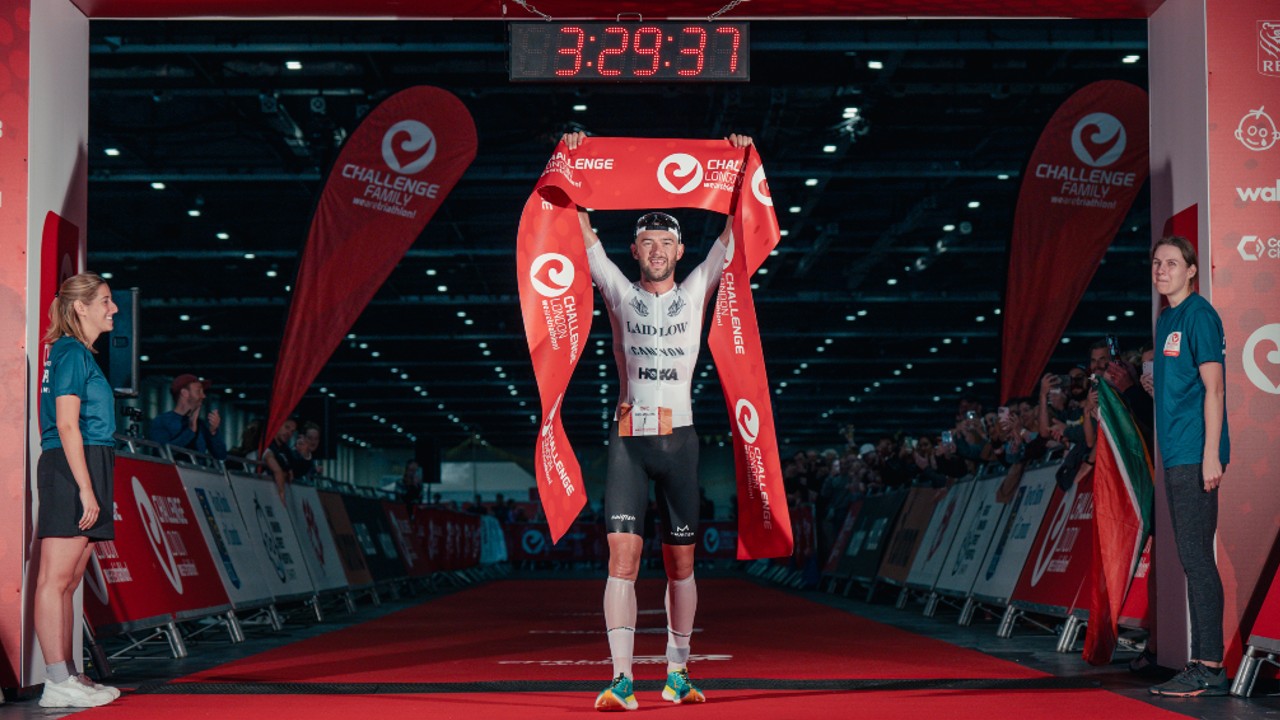 "It's great to race here in front of my family and it's a good confidence booster," said Laidlow afterwards.
"In Roth I had an injury and it's only been four week so I'm really happy to take the win here. James Teagle was running really fast in the first three laps. I was running at 3:20 pace and he was taking time off me, but then he faded and I kept the same pace – it's really exciting for the future. I really love these Challenge races.
"The organisation and how they treat the pros is really amazing. It's a privilege to race here and I'm just so grateful to be healthy and fit and win the race."
Challenge London 2023 Results
Sunday August 6, 2023
Pro Women
1. Fenella Langridge (GBR) – 4:02:11
2.Magda Nieuwoudt (RSA) – 4:08:33
3. Els Visser (NED) – 4:09:26
4. Lizzie Rayner (GBR) – 4:10: 32
5. Susie Cheetham (GBR) – 4:11:55
Pro Men
1. Sam Laidlow (FRA) – 3:29:31
2. James Teagle (GBR) – 3:32:17
3. Joshua Lewis (GBR) – 3:34:02
4. Matt Trautman (RSA) – 3:35:16
5. Thomas Davis (GBR) – 3:36:52