After only making his middle distance debut last month, Belgium's Jonathan Wayaffe showed that perhaps he has found his triathlon calling, running to victory in some very close racing today at Challenge Peguera-Mallorca.
Second last year, Imogen Simmonds returned to the Balearic island to take a clear victory for the Pro Women. A week after racing at the IRONMAN World Championship, the biggest (financial) winner today however was almost certainly the third place of Fenella Langridge. The post-race party should be a very good one.
Read on to see why!
Pro Men
There wasn't too much to separate the top swimmers in Peguera, which included Tom Bishop and previous race winner, Pablo Dapena Gonzalez. His hopes of another win however were soon over, when he suffered a puncture early in the bike.
Out onto the bike and a leading group of four formed – Lukas Kocar (CZE), Rico Bogen (GER), Bishop and Marcel Bolbat (GER). Four then became two, as Bogen and Kocar broke clear, and would gain just over a minute on Bishop over remainder of the 90km bike course.
Third out onto the run, Bishop was soon on the move, into second place and closing fast on race leader, Kocar. While Tom was running well and did indeed make that pass, behind, there were some fast feet approaching too.
As the finish approached, both Wayaffe and Andrea Pizzeghella (ITA) were able to pass the Brit, with the victory going to Belgium. Another very close race however, with the top four separated by less than one minute at the finish – and some new names to look out for.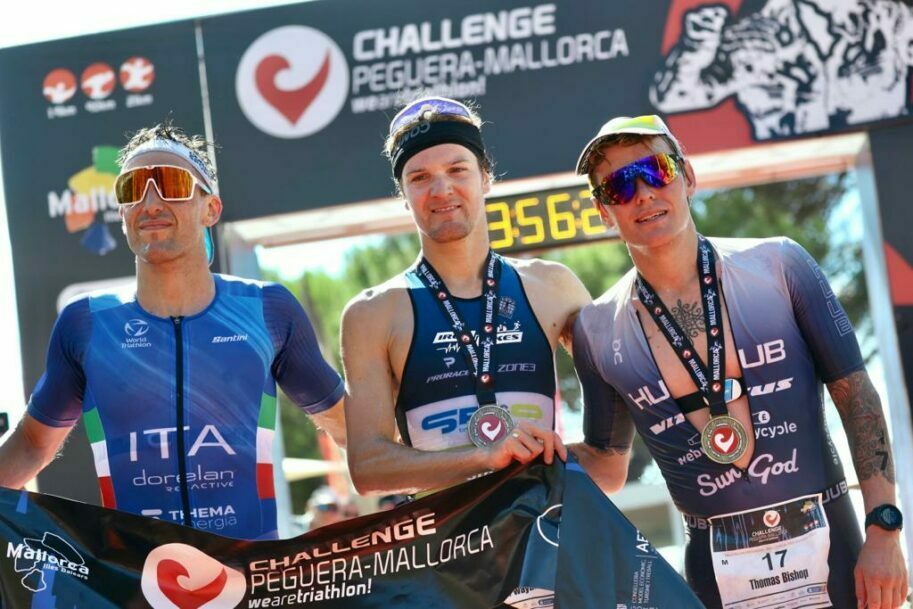 Pro Women
Great Britain's Fenella Langridge proved she was in great swim form in Kona – and despite that effort and lots of travel and time zones since, repeated that today in Mallorca. Sara Perez Sala (ESP) lead the way in the water, but any time you can exit just seconds behind her in the water, you know you've had a good day.
Caroline Pohle (GER) and Simmonds (SUI) followed around 30 seconds later, with Brits Lucy Byram and Megan Mcdonald following 45 seconds later.
Free of any pressure after Kona – this was very much and end-of-season race / holiday combo – Langridge showed she still had something left after her Hawaii efforts, soon moving into the lead on the bike.
By the midpoint of the rolling, two-lap bike course it was Simmonds in front. The 2019 IRONMAN 70.3 World Championship bronze medallist now had two Brits chasing, Langridge and Byram. She continued that charge to start the run with a lead of almost three and half minute over Fenella with Byram starting the run third, a minute clear of Anne Reischmann (GER) and Katrien Verstuyft (BEL).
Simmonds was never threatened on the run, with a 1:25:04 split bringing her home to a comfortable victory – one place higher than her second place 12-months ago.
No major fade from Langridge either (1:26:41), but a best -of-the-day 1:23:30 from Reischmann was enough to make it a hep sports team double at the top of the podium.
Third for Langridge more than justified her post-Kona appearance, as that secures her victory in the 2022 Challenge Family World Bonus rankings. $25,000 will ensure that the post-race party and holiday will be a great one!
Challenge Mallorca 2022 Results
Saturday October 15, 2022 – 1.9km / 90km / 21.1km
Pro Men
1. Jonathan Wayaffe (BEL) – 3:53:36
2. Andrea Pizzeghella (ITA) – 3:54:07
3. Thomas Bishop (GBR) – 3:54:23
4. Lukas Kocar (CZE) – 3:54:32
5. Thomas Ott (GER) – 3:57:05
Pro Women
1. Imogen Simmonds (SUI) – 4:20:57
2. Anne Reischmann (GER) – 4:25:24
3. Fenella Langridge (GBR) – 4:26:11
4. Lucy Byram (GBR) – 4:28:02
5. Alexandra Tondeur (BEL) – 4:28:53