Big day for the BMC-Etixx Pro Triathlon team
Great Britain's Joe Skipper repeats his 2016 second place in Bavaria
(Report courtesy of Challenge Family Media)
Exiting the swim in 23rd, Bart Aernouts (BEL) worked his way up the field on the two-lap bike course and headed out on the run in 5th place. There, together with Joe Skipper (GBR) he set the fastest pace and took the lead at the 26km mark. He did not slow down until the finish, clocking the fastest marathon time in the process (2:44:10 hours). Finishing in 7:59:07 hours he was the only athlete in the 3,400 strong individual field to go under the eight hour mark.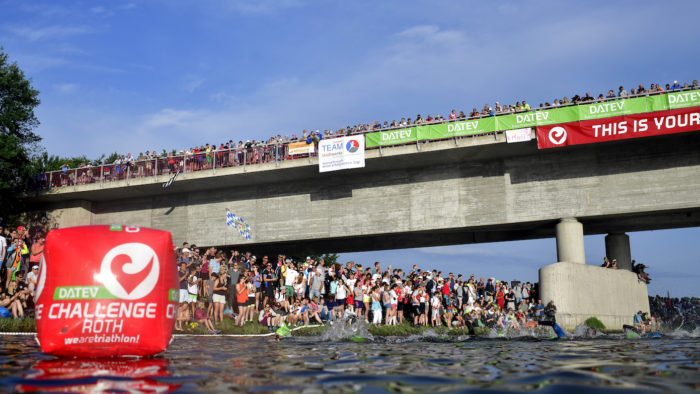 "We had a really close field on the men's side and this showed in the run where there were quite a few position changes. I surprised myself a little bit – I am not the best swimmer and I was alone on the bike most of the time and I felt the headwind quite a lot. They say Roth is a fast race – it's not that fast! It's not flat and today it was quite windy. I know a lot is possible in the run – it's long and hard, especially with the new course. I had to be patient at the beginning and then took the risk and pushed at the halfway point to get the lead and made it to the finish line. I'm always looking for great race and I think it's going to be hard to find a better race now than this one!"
While not the fastest race, it was certainly exciting.  Before the 33-year-old Belgian took the lead, Nils Frommhold looked certain to regain his number one position but a crash with another competitor at 160km put paid to this. While it didn't destroy him, it did break his handlebars and he was out of the race.
Frommhold's bad luck also benefitted long distance rookie, Maurice Clavel (GER), who went from second to first and even extended his lead during the first kilometres of the run.  However from the 20km mark it showed that a middle distance champion does not automatically become a long distance champion, at least not for now. But the youngest pro managed to hang onto third (8:04:53) despite several walking and stopping breaks, "I had to go through hell," he said.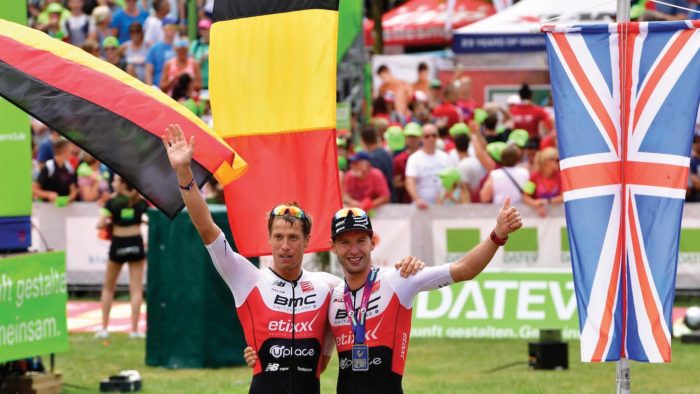 He was overtaken by Joe Skipper, who had a similar racing strategy as Aernouts: mid pack in the water, strong on the bike, fleet of foot on the run.  His finish time could have been 30 seconds faster but he stopped to take selfies with family and friends just before the finish line!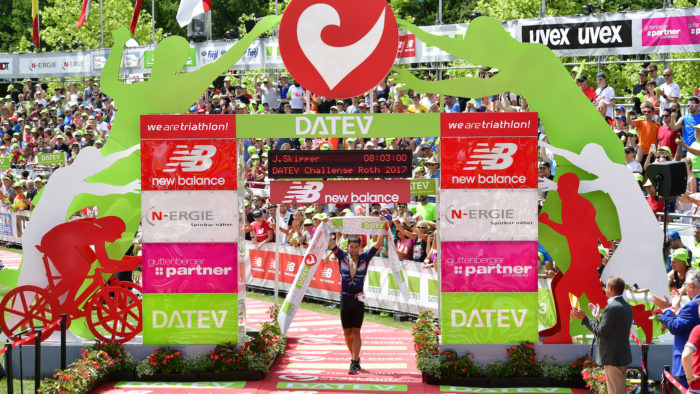 Not only the top three received standing ovations in the Challenge Roth stadium. The fourth was especially emotional: Timo Bracht, 41, finished his professional career at the finish line. "I had a super race," he said. In the last race of his career he even achieved a personal best performance on the bike route.
Challenge Roth, Germany – Sunday 9th July 2017
3.8km / 180km / 42.2km
MEN
1st – Bart Aernouts (BEL) – 7:59:07
2nd – Joe Skipper (GBR) – 8:03:00
3rd – Maurice Clavel (GER) – 8:04:53
4th – Timo Bracht (GER) – 8:07:01
5th – Terenzo Bozzone (NZL) – 8:11:34
6th – Brad Kahlefeldt (AUS) – 8:12:55
7th – Dougal Allan (NZL) – 8:14:43
8th – Roman Deisenhofer (GER) – 8:16:29
9th – Per Bittner (GER) – 8:17:15
10th – Markus Hofmann (GER) – 8:23:25