Ellie Salthouse and Frederic Funk were the clear-cut winners at the inaugural Challenge Samarkand on Sunday – but both admitted their victories were anything but straightforward.
Funk pulled clear of his rivals on the bike leg of what was the first international middle-distance race in Uzbekistan, while Salthouse did exactly the same and would win by nearly 10 minutes from Emma Pallant-Browne.
'We don't have this kind of history in Australia'
But the Aussie admitted afterwards: "It wasn't easy – a very tough course, the headwind out there was ridiculous but then the tailwind was great.
The bike course passed some iconic centuries-old buildings on the Old Silk Road and Salthouse added: "It had a nice combination of climbing, downhils and cobblestones, a mix of everything, a really exciting day and I was happy to take the win.
"I was actually running a bit scared as obviously you never want Emma running you down, to have her behind me is a little scary but when I found out I was opening the gap, I was a bit surprised."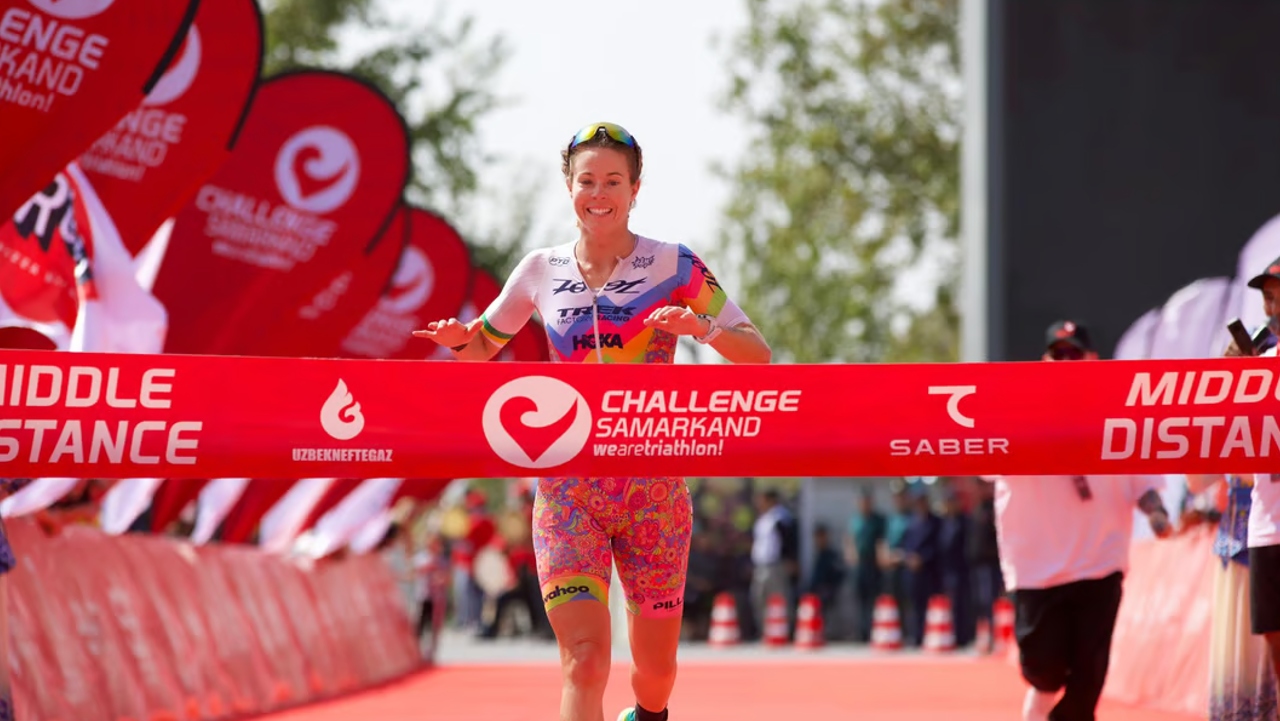 Of the location, she added: "We don't have this kind of history in Australia so to be able to come here and experience the downtown area with the UNESCO heritage sites, it's unlike anything else to be able to ride straight down the middle of that. I think this race definitely has big things coming."
Bright future
Funk echoed those comments as he admitted: "It was definitely far from easy. The swim was OK, I tried to keep it controlled and also managed to lose not too much time to Aaron Royle, who I expected to be out of the water ahead of me.
"And then on the bike I tried to push. But after one lap someone pulled the plug and I could barely push over 300W but I just tried to get as aero as possible. It was a really fast course and aerodynamics played a big role.
"The run felt good and controlled and I knew that if I had a good gap into the second half I could beat Aaron.
I'm really happy to take the win – this is the first edition but already it is a really iconic race.
Funk's win crowned a golden spell which since July has seen him also win Challenge Walchsee and 70.3 Zell am See as well as finish runner-up in the IRONMAN 70.3 Worlds in Finland.
And he added: "The season stated a bit bumpy but it's probably my best so far as a pro. Three big wins and the second place – I hope I can do even better in the future."