Australia's Tim Van Berkel and New Zealand's Amelia Watkinson came out on top in contrasting fashion at Challenge Shepparton in northern Victoria on Sunday.
Leading off the bike, Van Berkel never looked threatened on the run as he cruised to a clear-cut success.
But Kiwi Watkinson transformed the women's race in the closing stages, whittling down the long-time lead of Lotte Wilms (NED) to land the spoils in a thriller.
PRO Men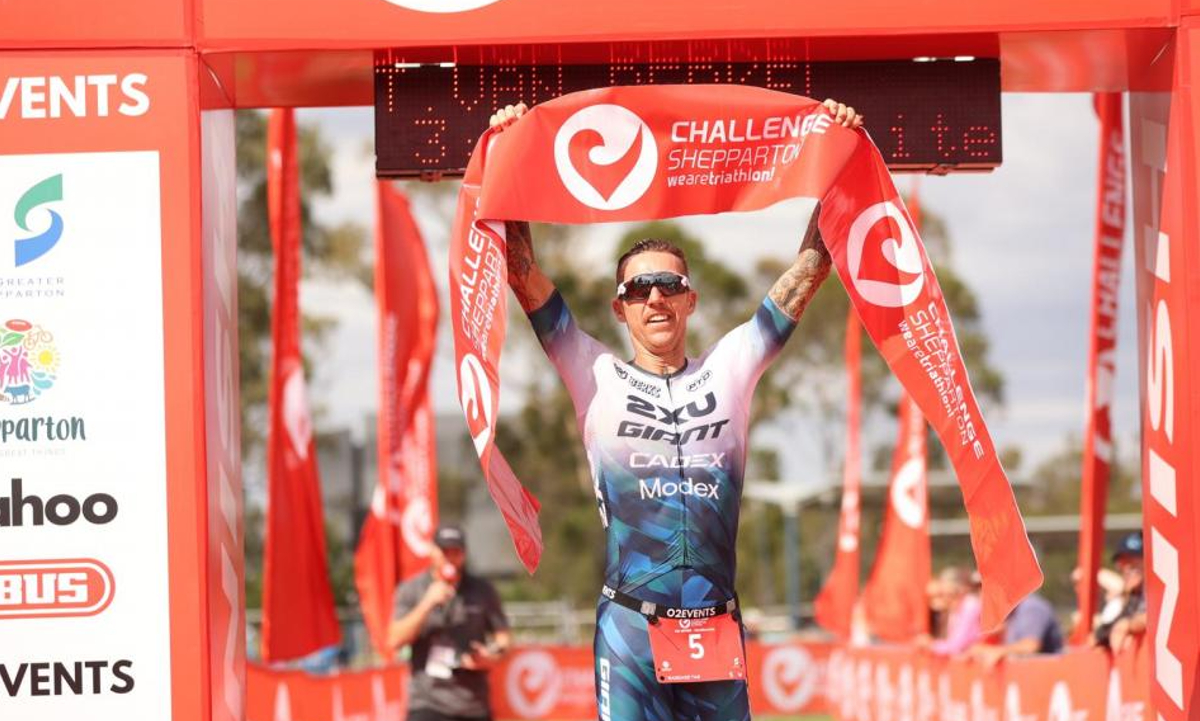 It was Van Berkel who proved strongest of an all-Australian field in near-ideal conditions.
Defending champion Max Neumann took an early advantage and was 15 seconds to the good out of the water, with Caleb Nobel his nearest challenger.
But on a breezy bike section, with a tailwind to start, it was Fraser Walsh who briefly took over at the head of affairs before he was joined by Neumann and Van Berkel at the end of the first of two laps.
It was one-way traffic from then on as Van Berkel clocked a bike split of 2:02:28 to put himself in charge heading out on the run.
Matt Burton briefly emerged as a challenger before dropping back and when the line came, Van Berkel had an advantage of nearly four minutes on Walsh, with a further five minutes back to Neumann.
"Today started off pretty rough with a bad swim for me but I got out on the bike and really got to work and took the lead by the turn around," said Van Berkel.
"On the run I was in survival mode, it was really tough but the support was amazing out there. It's great to be back, this is where it all started for me, I did my first race here 15 years ago!"
PRO Women
There looked to be a strong case of déjà vu as Wilms appeared on course to repeat her recent victory at IRONMAN 70.3 Geelong.
Just as she had that day, she asserted from the off and held a lead of over two minutes at the end of the swim.
Once again too it was Watkinson and Grace Thek (AUS) in second and third and, try as they might, the gap barely budged on the bike.
Even halfway into the run it remained at around 1:30, with the consistent Watkinson looking poised for a sixth successive runner-up spot at the distance.
But in the closing stages Wilms began to struggle while Watkinson, sensing opportunity, started to close the gap, finally overtaking her just 200m before the finish line.
"I had settled on second to be honest," said Watkinson afterwards. "Lotte had a pretty solid lead as usual out of the water.
"It's a pretty honest bike out there and it was windy and on the run I guess I kept on pushing. Unfortunately, Lotte had a bit of a rough day at the end but it's a competition so I made the most of it and pushed to the line in the final metres."
Challenge Shepparton 2022 results
Sunday March 13, 2022
PRO Men
1. Tim Van Berkel (AUS) 3:46:19
2. Fraser Walsh (AUS) 3:50:17
3. Max Neumann (AUS) 3:55:20
4. Mitchell Cunningham (AUS) 3:56:39
5. Matt Burton (AUS) 3:59:17
PRO Women
1. Amelia Watkinson (NZL) 4:08:38
2. Lotte Wilms (NED) 4:09:02
3. Grace Thek (AUS) 4:13:37
4. Renee Kiley (AUS) 4:22:26
5. Penny Slater (AUS) 4:24:54