They're the 'moneybags' team that everyone wants to beat in Super League and it looks like being no different this year as Cassandre Beaugrand and Hayden Wilde lead the way for the Bahrain Victorious Scorpions.
French star Beaugrand has won the last two WTCS events in Hamburg and Sunderland in eye-catching style and, in the absence of defending champion Georgia Taylor-Brown, looks favourite for individual glory.
As does Wilde on the men's side as he aims to retain his crown from 2022, so it's no wonder the Scorpions head into the Championship Series full of confidence.
'Stepping stone' to Olympics
Confidence is something Super League co-founder and team manager Chris McCormack always exudes and he's delighted – but not surprised – that the vast majority of the available big short-course names have signed up for the 2023 event, despite the fact the countdown to the 2024 Paris Olympics is well and truly on.
He told TRI247: "I think everyone knows – you just need to look at the Tokyo results – if you're not doing Super League, you're behind. So a lot of the athletes are coming and using it as a stepping stone to Olympic qualification.
"It's also perfect prep for the mixed relay. It just refines. So I think all the high-performance groups within the federations around the world have now realised the importance of that style of racing. Whether they want to do the full four years has been arguable. This is why we sort of looked at the team concept. But, yeah, this year I definitely see a lot of people stepping in, using it as a platform to sharpen their tools for Paris."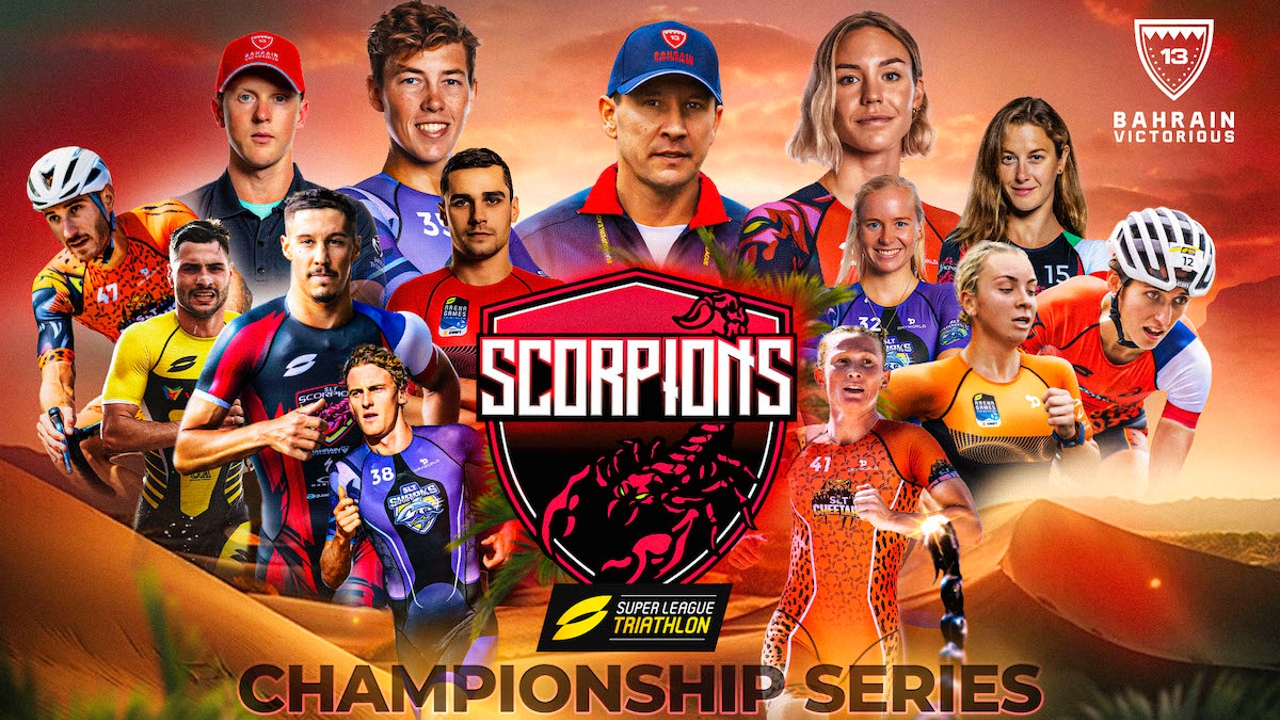 'I'll race all four' – Wilde
And that was echoed by three of the Scorpions' star names when we spoke to them at the most recent WTCS in Sunderland.
Beaugrand told us: "I just really enjoy it, the short distance is the most fun for me and I'm looking forward to Super League again.
"Unfortunately I'm not doing the first race in London but I will be racing the second race in Toulouse on home roads."
And "fun racing" was also a theme for Wilde who added: "It's like a bit of a refresher – and for me, I'm just going out there to have fun.
"I won the series last year and I'm going there to support the event and respect the racing because I know they've put so much hard work into it.
"I'll race all four. I don't know if everyone else is, but I like racing. It'll be my last kind of stint before heading back to New Zealand for a few months for a bit of a rest and then coming back for the build-up to the Olympics."
One step at a time for Schoeman
The Arena Games earlier this year proved a springboard for South Africa's Henri Schoeman to return to the highest echelons of the sport with an overall win and he too is relishing a return to SLT, where he's had some classic battles in the past.
He told us: "It's full on the whole time and you have to be alert throughout. This year is all about getting back to racing for me after the injuries – it's just one step at a time. I'm very happy that the running is going well now too."
Joining Wilde and Schoeman on the men's side for the Scorpions are two-time Series winner Vincent Luis and Tayler Reid – both super-strong swimmers.
Israel's Shachar Sagiv hoovered up bike discipline points and collected a podium finish in 2022, while debutants Roberto Sanchez Mantecon and Vitalii Vorontsov are more unknown quantities and some rotation will have to be used given there are seven rather than five names on the roster.
The loss of Taylor-Brown through injury will undoubtedly hit the Scorpions on the women's side as she was hoping to become the first three-time back-to-back Championship Series winner.
But Beaugrand's French compatriot, Leonie Periault, is coming back to back to her best after injury issues, Verena Steinhauser was a bit of an unsung star in 2022, Nicole van der Kaay has SLT experience, as does Alice Betto and Barbara De Koning is an exciting young talent.
Men: Hayden Wilde, Vincent Luis, Henri Schoeman, Roberto Sanchez Mantecon, Tayler Reid, Shachar Sagiv, Vitalii Vorontsov
Women: Cassandre Beaugrand, Leonie Periault, Nicole Van Der Kaay, Barbara De Koning, Verena Steinhauser, Alice Betto.