Indoor triathlon is back this coming weekend – and there's not a turbo trainer or treadmill in sight.
Last held in 2019, the Europe Triathlon Cup Liévin in France returns to Northern France with the Liévin Triathlon Indoor Festival on Saturday 12 March 2022.
Unlike the SLT Arena Games, there's no virtual-meets-reality element here, as the Stadium Arena Couvert Liévin hosts a completely indoor event by building a swimming pool and transition area inside a 200m athletics track, on which the cycling and running legs will be hosted.

Back to the future
Experienced (read, old… like me!) readers with long memories may recall a similar style event being held in the early 90's, inside the Bordeaux velodrome. That event was won by Brad 'The Croc' Bevan (AUS) and Melissa Mantak (USA) – and was broadcast live on Eurosport.
While those Bordeaux pioneers were racing for the best part of half an hour – including legends like Simon Lessing, Mark Allen and Thomas Hellriegel – Liévin will be far more intense. The Europe Triathlon Cup scoring event will feature multiple rounds of 150m swim / 3km bike / 1km run filling an action-packed day.
None other than twice World Triathlon champion, Vincent Luis, will be kicking off his 2022 season there too.
The Champion's guide
The 2019 edition of the Liévin race was won by Great Britain's Chris Perham and Nina Eim (GER), both of whom are set to return to France.
Given that, it seemed like a good opportunity to give Chris a call, to get the inside track on an event that looks incredibly exciting. There was no event in Liévin in 2020 and 2021 due to COVID of course – during which time the venue was actually used as a vaccination centre.
COVID was something that impacted Perham himself during 2021, as he explained:
"Last year started off quite well. I had a good block of training through lockdown at the start of the pandemic and had a good run at the Barrowford 5km, ran 13:52, and I was in good shape. I was then at that point where I needed to do some races to qualify for other things and I ended up travelling out to Poland to do one of the European Cups.
"It was at the time before my age group could get the vaccines and I think I picked something up at the airport on the way back from that race. I got COVID and was ill and in bed for about two weeks and couldn't do anything. It took a long time to be able to get back to anything like proper training, probably about three months before I actually found myself again.
"When I got back into training I picked up a running injury – achilles tendonitis – that was probably September by the time it started to get better, but it meant that the whole of the summer was knocked out and I didn't really do any races through most of last year.
"I tried to come back for the World Duathlon Champs, to try and qualify for the World Games, but I just wasn't ready. My running injury has been moving up from my achilles, into a shin splits sort of thing, and I haven't really got back to a consistent level. At the moment, my swimming and biking is the best it's ever been, and running I've just done what I can to get that back slowly.
"Hopefully that's all out of the way at last, because luckily before that I'd never had any injuries or anything like that, so hopefully this year I'll be able to get back to racing."
Liévin – it's a celebration
What are his memories of Liévin three years ago?
"It was kind of the first time I'd done something a bit different really. Super League was just getting going around 2019, so it was my first taste of something not the normal sprint or standard distance triathlons. I do kind of enjoy doing relays, and it was more suited to around that distance.
"It was quite early on in the year so it was a good chance to get an early race, but once I was there the actual race and the atmosphere was completely different to what I was expecting. They have a whole day booked out – there's qualification races, then semi-finals and the finals.
"They have turbo trainers on a sort of underground track where you can warm-up, and all of the athletes are there all day. At a normal competition you are there, do the race and go, but here you are mixing all day as you race multiple times.
"As the day goes on, more and more spectators come in to watch and then as you get to the A&B final, they have lots of entertainment with bands, dancers, so it makes it not just a race that people are coming to see. It's a celebration of local talent, as well as triathlon."
A new experience
"By the time the finals came around it was packed out in the arena. At a normal event there might be lots of people, but they are spread out around the whole course. Where this is in a stadium, I haven't experienced that before. You can hear the crowd while you are racing, and the fans being so close was something I haven't had before.
"Overall, it was really enjoyable as a whole day out. I think it was really enjoyable for people to watch as well."
The course set up
"It's an indoor athletics track (200m), and lanes 4/5/6 are banked and so it is almost like an indoor velodrome – and then the inside lanes are for running. Inside the track where you would normally have the jumping and throwing events they build a swimming pool and transition area in there."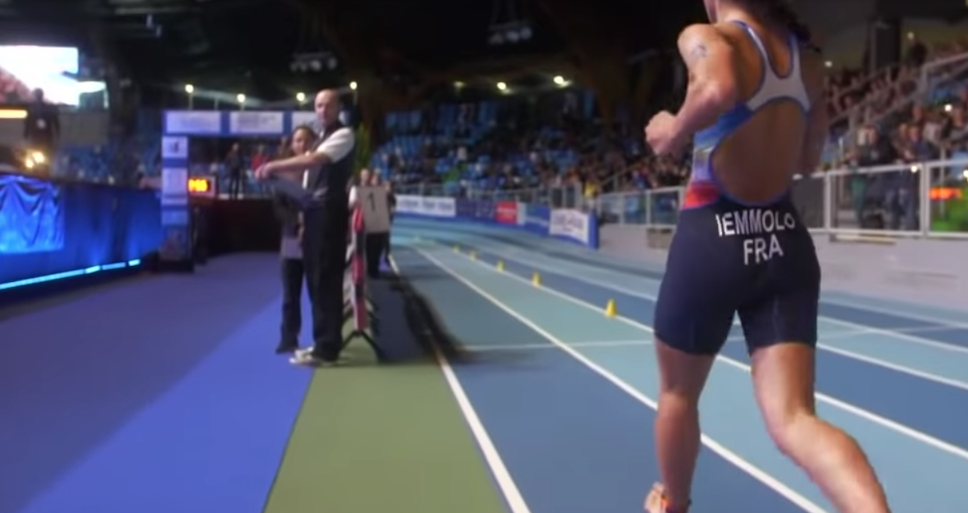 Keys to success
'Transitions are the fourth discipline' really is the case here, says Chris:
"I'd say it's much closer to the Super League indoor (Arena Games) that they do. The swim in this is only 150m versus the 200m in SLT, so it is quite short, so it doesn't make too much difference if you are a couple of seconds down. It's more about your transitions, since as the race distances get shorter, transitions take up relatively more of your race.
"The key aspects are those transitions – if you don't get onto that lead group on the bike, it is quite hard to catch up because the pace is on from the start. The main tactics though I think come down to T2 and the run. There will still likely be people together, and so what position you can get off the bike and through transition is key.
"If there are 12 guys in the race and say 10 come off together, if you lose perhaps one second per person because you are 10th rather than first off the bike, to gain ten seconds back over 1km is too much at that top level."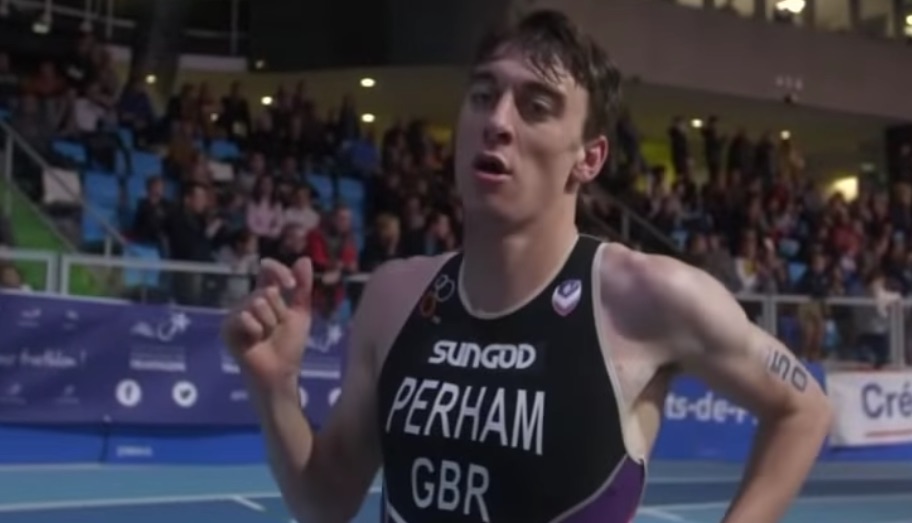 Anyone could win
"There's lots of good names on the list. Raphael Montoya from France, he's won Junior and U23 World Champs before and is a good athlete. There's Vincent Luis like you say, plus the Moroccan guy (Ed. Jawad Abdelmoula] who's won a World Cup, plus there's a lots of guys who are good runners, so if it comes down to the run – and it probably will – there will be a lot of guys in the mix.
"For people watching and even for us racing, it's really open and anyone could do well. You have to get into the top four in your qualification races to go through and there's 12 in each heat, so a tiny mistake and you can get knocked out early on. It's definitely open to a lot of up-and-coming athletes, and names that you wouldn't normally predict to do well. It could go to anybody really."
The racing experience
How does racing three, perhaps four times in a day impact the body? It might only be for 10 minutes at a time, but there's still plenty that goes into it:
"You definitely race twice, but it could be up to four races if you qualify through the repechage. There are then three semi-finals, and the top four in each (from 12) go to the A final, with positions 5-8 going into the B final. Each race is about 10 or 11 minutes.
"You have to warm-up, then race, then cool down. When I was there, I raced four times and so I had that process four times over a period of about eight hours. It's quite compact, and so while you are there all day, there's never really much time to relax as you are either either preparing for a race, racing, or recovering / warming down. It does catch up towards the end, but I found that each race I did I got better and seemed to help me for the final.
"You can almost use that time and the cool downs to flush out all of the impacts of that 10 minute effort and be ready to go again for the next one. I built through as the day went on and actually felt better for the final.
"The atmosphere really helped – when we walked out for the final, there was loads of lights and music blaring. On the start line I was thinking, 'are they going to turn the lights on?!", and then it was 3/2/1 go and the lights came up and it gets you really pumped up for racing."
Best wishes to Chris on his return to France, and fingers-crossed those running niggles don't stop him performing well again.