Ashleigh Gentle produced a stunning performance to register an emphatic victory at CLASH Miami on Friday at a baking-hot Homestead Miami Speedway.
Just a week on from the frustration of having to miss out at the Couples Championship, the Australian was in a league of her own, setting record bike and run splits as well as being the first woman to break three hours for the event.
But the race was packed with drama. Spain's Sara Perez Sala crashed out midway through the bike section when holding a lead of over a minute.
And then early on the run Britain's Emma Pallant-Browne, the highest-ranked athlete, almost passed out when in fourth place with what looked like dehydration issues, while Chelsea Sodaro exited later in similar fashion when in third.
But in stark contrast Gentle looked smooth throughout, crossing the line in 2:59:41. Brazil's Pamella Oliveira was second, over eight minutes back, though she almost threw that position away by trying to start an extra lap before realising her error.
She was able to jump a fence and rejoin, just in time to hold off Denmark's Maja Stage Nielsen who rounded out the podium. Just 10 of the 18-strong field finished as the heat took its toll.
Swim – Perez Sala shows the way
We've seen the swim strength of Perez Sala at several middle-distance races over the past 12 months (she matched Lucy Charles-Barclay at Challenge Miami 2021) and it was in evidence again here.
She opened up an early lead and gradually extended it, to the point where she had an advantage of almost exactly a minute at T1.
Gentle was out of the water in second place, but Oliveira was right behind and by the time they were out of transition those places had swapped.
Around 15 seconds back were a group of four – Sodaro, Sonja Catano, Pallant-Browne and Samantha Kingsford.
Bike – cone clash changes complexion
Despite a gusty wind and the fact the bike section was on the road course on the inside of the speedway, everything had been going smoothly for Perez Sala as she extended her lead to over 1:20.
But the whole complexion of the race changed on lap eight of 17 when she crashed after riding into cones rather than around them.
It was a hard impact and she had road rash on her right shoulder and back and though back on her feet quickly and attended to by medics, she was clearly in shock and didn't try to get back on the bike, instead being taken to the on-site Medical Centre.
That left Gentle in the lead, with an advantage of just under 10 seconds from Oliveira, who she had overtaken on the third lap.
But once in front – and looking smooth riding her SCOTT Plasma 6 for the first time in a race – she started to put distance between herself and the rest. So much so that when she reached T2 she had smashed Charles-Barclay's bike course record of 1:34:49, clocking 1:33:04.
That gave her what looked an unassailable lead of 1:37 from Oliveira, who jumped past both Sodaro and Pallant-Browne in transition.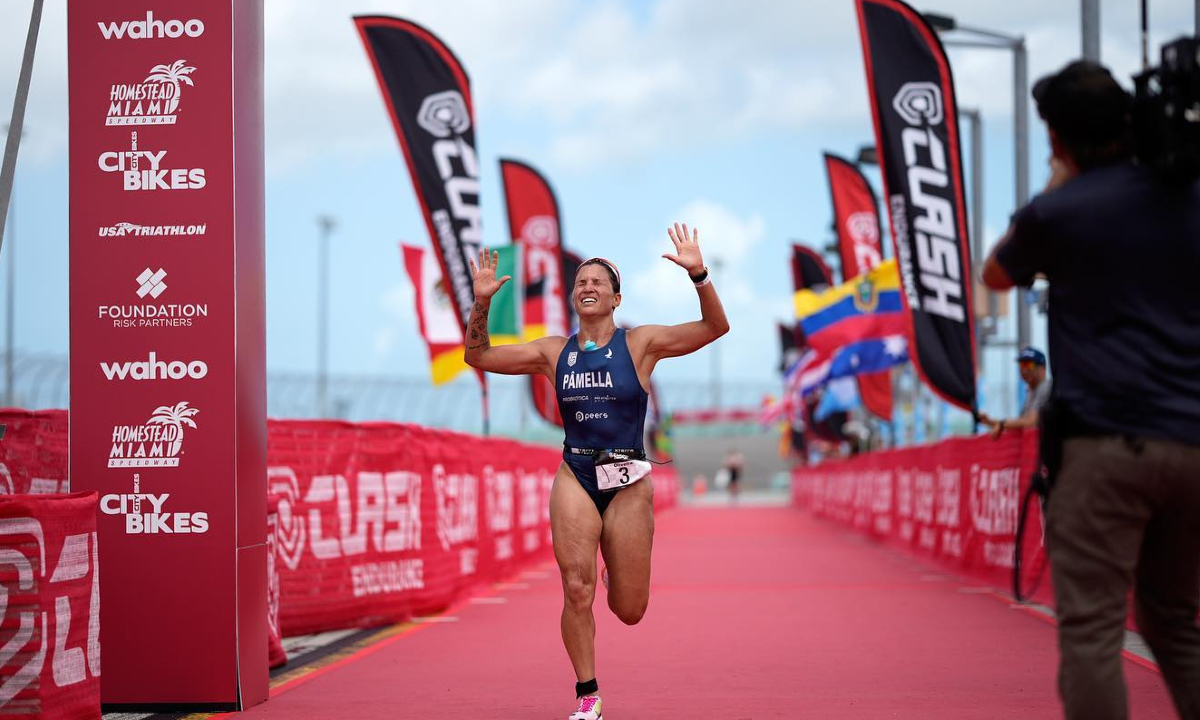 Run – feeling the heat
There was more drama early on the run when Pallant-Browne, who took on plenty of fluids in the closing laps on the bike, pulled up as the temperatures nudged 30 degrees celsius (feel-like mark of 33), with humidity at 62%.
Initially it looked like cramp but it soon became obvious it was more serious and she had almost passed out. Thankfully she was quickly attended to by the medics, was able to rehydrate and start the recovery process.
On lap three of seven, there looked to be the threat of a similar situation with Sodaro, who walked out of the race to get attention and take on more water.
But at the front it could hardly have been more comfortable for Gentle who surged further and further clear to claim an impressive win.
CLASH Miami Results 2022
Friday March 11, 2022
PRO Women
1. Ashleigh Gentle (AUS) 2:59:41
2. Pamella Oliveira (BRA) 3:07:50
3. Maja Stage Nielsen (DEN) 3:08:08
4. Samantha Kingsford (NZL) 3:09:08
5. Sonja Catano (USA) 3:16:17