We waited a long long time for the first ever Collins Cup to take place, so we decided to wait a few more days at least to collect our thoughts before assessing how it all went down. We also asked our audience for their take.
The showdown in Samorin was arguably the most eagerly-awaited triathlon event of 2021, in part because it was new. A lot of money went into this, and a lot of planning. The eyes of the world were on Slovakia this past weekend.
On the back of the marquee events, a few thoughts…
The Collins Cup positives
The first – and perhaps – greatest accolade here is that the Collins Cup happened at all in August 2021.
Putting on a truly global event (still) in the midst of a pandemic with athletes from all around the world is no mean feat. And the Professional Triathletes Organisation managed it pretty seamlessly – at least looking from the outside in.
There is a (long) list of people, media included, within the sport who said this would never happen. Overcoming the hurdles to get to this point cannot be overlooked. That we are even in a position to reflect on an event that has happened is a huge milestone, and a massive credit to the work and commitment behind the scenes over many years.
The PTO also managed to put together an event which appeared to get universal buy-in from the athletes themselves. They are the stars here, and if they don't believe in this, there is no future. That there was vocal opinion about the rights and wrongs of the Captain's Picks was already a win – those things had to matter. If nobody cares, then what's the point?
Jackie Hering summed things up nicely in her post-race reaction with our John Levison in Slovakia, explaining:
"We are not used to, like hardly any of this media attention – maybe Jan is the only one who has any real experience with this – so for us, you know the media, being treated like rock stars and just being catered to, is something we are not used to in this sport… and I think we could all get used to it. It was pretty nice, I'm not going to lie!
"It makes you feel like a true professional, and I think that is really exciting for the sport."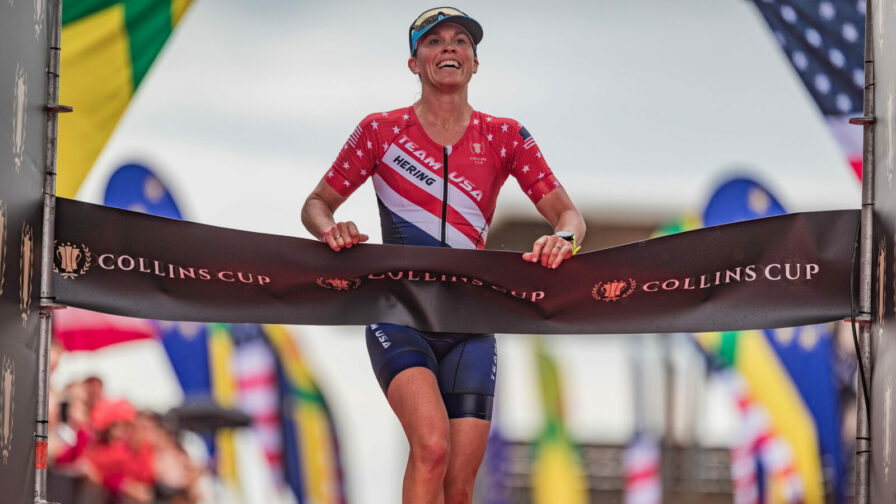 The last line there is crucial – professionalising this sport, putting it on a level playing field with the likes of golf and tennis, that is the aim. First box absolutely ticked there.
The other hugely important bit here is the concept itself – we were sceptical on some levels that a team event in this format would deliver. It does not always work for largely individual sports. We were wrong. It provided an entertaining spectacle throughout the afternoon, and any thoughts of a Team Europe landslide were swiftly wiped out.
Yes Daniela Ryf waking up sick on race day and Holly Lawrence coming off her bike are not going to happen every time, but despite the caveats this was for a while a proper competition. One that all the athletes took seriously right to the end. Which takes us seamlessly on to bonus points.
Before things got started on Saturday we felt the bonus point system was too much – unnecessarily complicated for an event so new. Just explaining the sport to a potentially new audience is tough enough. Doing the math as well?
In the event, we're happy to say it worked. Every race mattered right to the end – even the aforementioned Ryf had every reason to gut it out in the closing stages to claim extra points for Europe. If we did have a complaint here it was the lack of education of the system on the TV broadcast. Make it simple for people, don't take it for granted that they know.
If race day produced some terrific action and some great stories (Taylor Knibb, wow!), then the build-up is also worthy of mention. The PTO digital team put together some epic shoulder programming which told the back stories of the athletes. No better way to introduce people to the sport than by telling their stories. Think F1, Netflix and 'Drive to Survive'.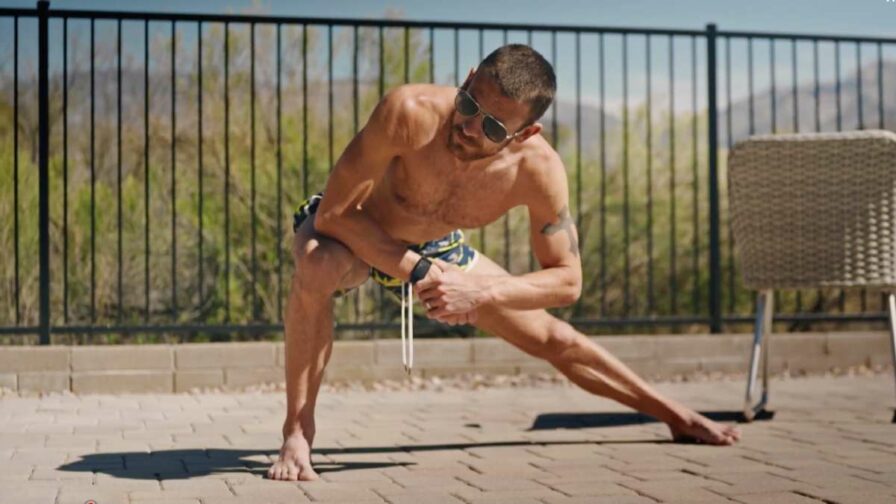 We'd have welcomed more of that type of storytelling being merged in on race day. Something of a missed opportunity, given the groundwork which had been delivered so well in the lead up to the event.
The negatives
Most of the negative sentiment – both internally at TRI247 and from the social media feedback we solicited – pertained to the TV coverage. And some of this comes back to expectation.
In the months leading up to the Collins Cup, the PTO messaging promised a broadcast which would put the sport on a pedestal – elevating it to new heights. Combining innovation and excellence.
In the event, the final on-screen product fell well short of those (admittedly) lofty goals. Had we not been given that pre-event narrative, then this debrief would read a little differently.
Aside from the sporadic and obvious technical glitches, there was no ability to follow multiple matches or split-screen views and for the athletes mic'd up for some potential in-race comms, that function didn't seemingly work. The slo-mo camera meanwhile felt like an indulgence rather than something which provided terrific extra value.
One area which was significantly sub-par was data – crucially not just for avid fans, but to potentially contextualise the sport for newer fans. What we did get was often inaccurate, too sporadic and just lacking in overall depth. An opportunity missed to really raise the bar.
The commentary team lacked an experienced anchor with the triathlon clout to both bring everything together and also tease out the right narratives for both existing and new fans. There was no glue, and it felt a little fragmented at times. Too many voices dipping in and out, which diluted the overall quality.
Vicky Holland and Greg Bennett in particular were excellent – both provided a constant flow of good insight and worked really well together as a team. The Phil Liggett experiment though did not work in our humble opinion. Without doubt a brilliant broadcaster, it just felt like he lacked the requisite triathlon knowledge here to really take the lead.
In a nutshell = more cameras, better data, less commentators. And one great anchor to underpin the whole thing.
The final negative here, and it is minor compared to the broadcast issues, was some of the 'trash talk' in race week. In our experience (and we are all huge boxing fans here), this only works when there is at least one of three factors at play:
The 'beef' is very real
Somebody is naturally obnoxious
Somebody is naturally good at pretending to be obnoxious
If you use fight sports as an example, Floyd Mayweather Jr clearly made a conscious decision in 2007 to change his persona ahead of his megafight with Oscar De La Hoya. Gone was 'Pretty Boy' Floyd, enter 'Money May'.
Mayweather, defensive genius though he was, knew he would not be a massive PPV attraction for his KO skills. He had to be the bad guy, somebody people would pay to watch in the hope he got his clock rung. The transformation was seamless – he made billions. And he never did get beaten either!
While it's laudible for the PTO to try to inject some needle into proceedings, it has to feel real or you need a great actor. Sometimes in the Collins Cup build-up, it was just a little bit forced and a little bit awkward.
The verdict
If we were sitting here five days out telling you the broadcast was terrific but the concept of the competition itself did not work, we'd be worried.
All of the negatives we (and our Twitter followers) pointed out are largely fixable. Just eradicating some of those issues, and filling some of the obvious gaps, would have transformed the overall viewer experience.
For those lucky enough to be on hand in Samorin (our own John Levison will vouch for this), the on-site experience was terrific. For athletes, media and fans alike. But the reality is, if this event is to be the success we all yearn for, 99 percent of people will watch it at home. That is why excellence should not only be promised, but delivered.
The most important thing of all though was producing an event and a concept which has legs. And achieved buy-in from the athletes. Big ticks on both scores. Yes we could tweak some areas (maybe tighten up the gaps between starts for example and find a more challenging course), but largely it worked.
We should also remember that this was Year 1 – and that the (again lofty) aim here to is to produce something which has a Ryder Cup feel to it. The same Ryder Cup it should be noted which was a damp squib when the United States battered Great Britain & Ireland on a regular basis until the 1980s.
Even after Europe got involved, the transformation wasn't immediate. Sam Torrance / 1985 / The Belfry fired the Ryder Cup to a whole new level – almost 60 years after the first event.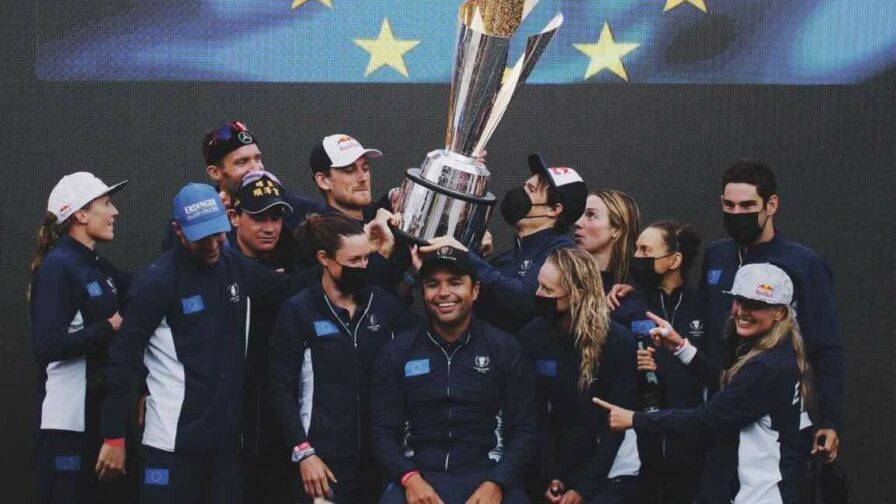 These rivalries take time to build, and with history comes stature and relevance. The snowball impact will be gradual, but the event should certainly increase in importance in the annual triathlon calendar. And wider still.
All in all, we came away from Samorin with great hope for the future. Yes with improvements needed, but with a base from which to build.
Importantly, the passion and drive of those within the PTO leads us to believe that such progression will be seen.
There is significant investment going into professional triathlon right now from a number of angles, and for that we should all be thankful. Channeled in the right direction, success beckons. We await the next chapter with interest.